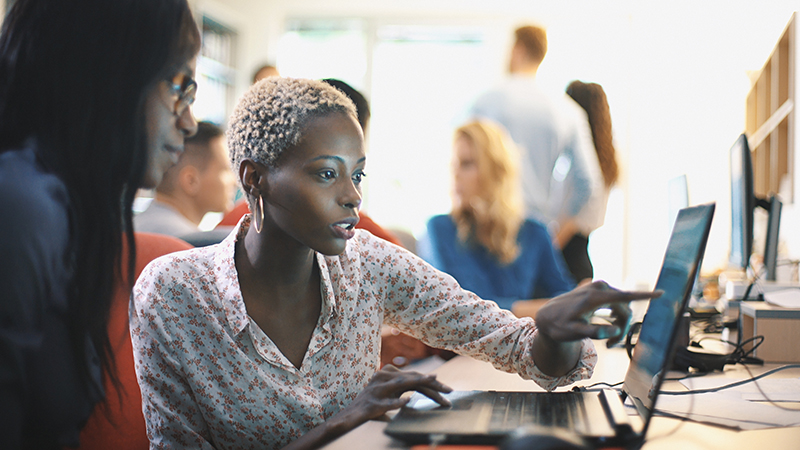 Stories
Is Tech Still An Unwelcome Place for Black Female Founders?
JPMorgan Chase partners with digitalundivided to report on the barriers black women face in tech.
When Farah Allen came up with the idea for The Labz, a cloud-based blockchain business management platform for musicians, she had no idea she would be breaking into two industries: music and tech.
But when it came to breaking into the predominantly white, male-led tech sector1 , Allen, a black woman, had trouble finding mentors, funding and support. As a result, The Labz growth stalled.
"I felt like an outcast in the industry," she said. "I didn't feel like I belonged anywhere."
The State of Black Women Founders
Allen's story represents a broader trend among black female founders in the United States. According to ProjectDiane 2018, a biennial demographic study on the state of black women founders, in 2017 there were 6,791 funded startups led by at least one woman founder2—but black women represent less than 4 percent of that group3.
The report also highlights the critical barriers that black female founders face, including access to accelerators, top investors, and mentors and funding pipelines. The median funding raised by black women included in the study is $04. But the number of black female founders has more than doubled since the 2016 study5.
The report is authored by digitalundivided in partnership with JPMorgan Chase, the Case Foundation, and Ewing Marion Kauffman Foundation. digitalundivided was launched in 2012 by Kathryn Finney, an author, tech entrepreneur and founder of the popular early-2000s style blog The Budget Fashionista.
In 2017 there were 6,791 funded startups led by at least one woman founder
6
—but black women represent less than 4 percent of that group.
digitalundivided's ProjectDiane
Finding a Support Network
For Allen, digitalundivided was the perfect fit. She was accepted into the program's business incubator, a nine-month crash course in crucial skills for business growth—such as customer discovery and product development. Allen sharpened the functionality of The Labz and learned to be a "confident founder," an essential skill, she says, for entrepreneurs. It also finally gave her access to the guidance that she and so many women in tech struggle to find.
According to Finney, there are plenty of women of color who will succeed on a level playing field, and the time to give them that chance is now. After all, Black women are the fastest-growing segment of the entrepreneurship sector7.
Finney predicts that increased diversity will be a big part of the future of tech, and supporting it is a shrewd investment. Businesses owned by women of color generate over $44 billion a year, and in 2017, minority, women-owned businesses employed 2.1 million Americans nationwide8.
"Companies that don't get this will be outsmarted, outworked, and out-innovated in the future by companies and startups owned and led by women of color," Finney said.
Accelerators and incubator programs like those led through digitalundivided aren't the only ones filling the gap in resources. JPMorgan Chase announced a $1 million investment this March to help Black and Hispanic women-led startups thrive. This innovative, data-driven investment to build and grow underserved entrepreneurs is part of the firm's $150 million Small Business Forward initiative to provide flexible financing and other support to underserved women, minority and veteran-owned small businesses and applying what the firm has learned from small business investments in other communities.
Such programs can play a critical role in ensuring that a variety of viewpoints are represented in the innovations created by startups, according to Ted Archer, Head of Small Business Forward at JPMorgan Chase.
While the industry still has a long way to go, some of the earnest efforts to push for diversity in tech are paying off. Many of digitalundivided's alumni go on to receive significant investments and see remarkable growth—including Allen, who plans to formally launch the newest edition of her program and grow its paying membership base to 2,000 users within the next year.
Success like this is rarely easy, but it would have been even harder to come by without the support of an accelerator program. digitalundivided "took me in," Allen said. "I saw people that looked like me that were doing it, slaying it, and I knew that I could slay it too."