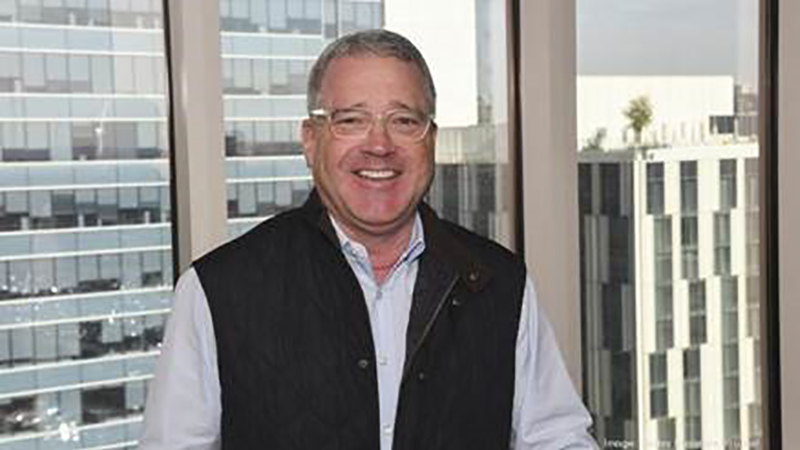 Stories
Investing in Dallas for the Long Term
Rob Holmes, JPMorgan Chase's global head of Corporate Client Banking and Specialized Industries discusses how the bank is taking a long-term view—and investment—in Dallas.
This story originally appeared in the Dallas Business Journal
JPMorgan Chase is looking to transform its wholesale experience to look more like the consumer experience, according Rob Holmes, the bank's global head of Corporate Client Banking and Specialized Industries.
Holmes, who is based in Dallas, said in a recent interview that technology has completely changed the way the bank interacts with clients. In 2020, the bank plans to spend about $12 billion on technology, according to its investor day presentation.
"When you provide those complex solutions for the ease of the client, and to drive efficiencies for the client, it's really important for your bankers to understand the technology behind it, what drives it and the capabilities," he said. "It's not your mom and dad's debits, credits and account transfers."
The CCBSI division in J.P. Morgan provides global treasury management services, credit and investment banking solutions to clients in North America, Europe and Asia. The division oversees verticals such as health care, real estate –primarily real estate investing – energy and entertainment.
Holmes spoke with the Dallas Business Journal about the division, the bank's presence in Dallas and what's ahead this year.
What are your goals for your division in 2020?
We don't take a view on the economy. We run the business and invest irrespective of external factors. We're a little different. That's one of the reasons why it's exciting to work at J.P. Morgan because we will invest when the economy is good and we will invest when the economy is bad. We plan for both and take actions to mitigate the risk on the downside.
What I would say, with that backdrop is, we're investing in a business. We're investing in technology in a big way (for) the client experience. That takes a lot of investment of capital, but also management time. That's because at J.P. Morgan we feel like the business leaders need to be technologists and not just the heads of the business. Down to the banker-level, they need to understand the technology.
Some financial analysts believe we could be heading for an economic downturn. How does that affect your strategy?
We prefer to go forward in a constructive environment. … We have a very conservative balance sheet. We don't over-hire. We have the capital and infrastructure to invest in the downturn.
Would we adjust what we do on the margin based on the environment? Of course. Since we're conservative and constructive during the bull markets or the high-growth periods, we're able to really stand by our clients when it's not so good.
How has this low-interest rate environment has affected your division?
It's apparent and universally understood that low-interest rates negatively affect bank earnings because deposits, etc. It hasn't changed our strategy.
The competition for deposits is great. We feel like we're very attractive to our clients for deposits because deposits follow operating business. Our operating business capabilities—like our global footprint, investments in technology and cyber-safe relationship—make deposits for J.P. Morgan not a commodity.
There's been a lot of volatility in the oil and gas market. Where have you seen that impact this vertical?
The oil and gas environment is very difficult. It appears that the market has changed the way it values E&P [exploration and production] companies. Before it was, "Go gather assets, borrow money, gather assets. The better you are at that, the higher the multiple you have." It's changed to more of a, "What's my cash return? Are you actually profitable?"
And you have the backdrop of ESG [environmental, social and governance], which I think is super constructive.
Neither has really changed how we go to market. We've been through many cycles in the oil and gas business. We have a long history with that sector.
Our clients have good ESG policies that we actually talked to them about. It factors into our client selection of who we bank.
On the MLP [master limited partnerships] side, I mean, everybody knows those issues. I would say it's a difficult time obviously in that sector — nobody can deny that. But we have consistently been there, and (we) will continue to be.
What is the Dallas market like compared to others?
I have offices in almost every major city in America. There's not one that has a central time zone, global airport, cost of living, business friendly, health care system, our infrastructure, ease-to-live, etc.