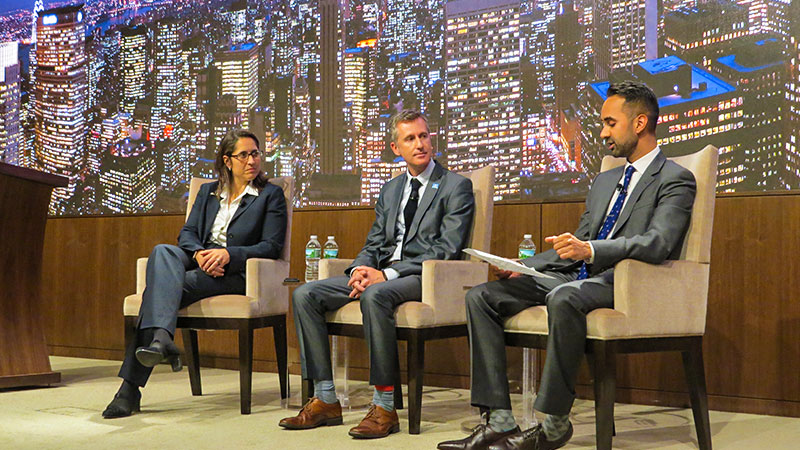 Stories
In Pursuit of LGBT Equality Worldwide
How the United Nations is working to overcome barriers towards LGBT equality worldwide and how the corporate sector can assist in advancing this goal.
As recently as ten years ago, the word "gay" was rarely heard of at the United Nations. But now the LGBT community has become a frontline human rights issue for the diplomatic body. Charles Radcliffe, chief of global issues & intergovernmental affairs at the United Nations Human Rights Office recounted how the LGBT community has been represented in the United Nations.
"It's moved from something only ever really talked about through quiet backroom diplomacy to where the U.N. is actively and publically pushing for change and delivering a very public message of solidarity and support with the LGBT communities of the world."
Charles Radcliffe, Chief of Global Issues & Intergovernmental Affairs at the United Nations Human Rights Office
According to Radcliffe, the first ever statement on the U.N. floor trying to get countries to condemn violence and discrimination against LGBT individuals only came in 2005 from Norway. And that measure was only backed by 36 countries. Within six years, 86 countries had signed a similar statement and, today, in contrast, more than 100 countries have accepted U.N. human rights recommendations to better protect the rights of LGBT people. To touch on the progress the LGBT community has made and the struggles they continue to face, we invited Radcliffe to join Stacey Friedman, general counsel at JPMorgan Chase in a discussion at our New York headquarters.
Cultural Resistance
On the path towards equality, Radcliffe points out that there are places where there was a real pushback against the U.N.'s efforts. "Anywhere LGBT people are standing up for themselves, coming out and showing their face, there is a resistance that is part-political, part-cultural, and that is hard to get past. People are at real risks in those situations."
That means the U.N. sometimes falls back on cultural campaigns to educate communities, said Radcliffe. That includes some lighthearted methods, like a recent Bollywood-style music video the organization produced in India.
Unequal Access to Resources
Healthcare is a major frontier in the battle against discrimination. Gay men and transgender people are two groups that are especially prejudiced against. "In the 73 countries where it's still illegal to be gay, it's very difficult to go into a health clinic and get an AIDS test or seek HIV treatment if you might be revealing criminal activity by doing so," said Radcliffe.
With regards to the ongoing resistance to LGBT communities, Friedman strengthened the importance of a company like JPMorgan Chase to push for acceptance and equality. "There are privileges and obligations that come with being a large and successful global institution," said Friedman. "And one of them clearly has to be how we care for all of our people—from all different backgrounds—and to let the communities where they live know that we value all our people." We place a premium importance on looking after our LGBT employees and the stigma sometimes attached to gay people looking to adopt and the difficulty they may face getting medical attention.
"When I think about what I can try and do as far as bringing this forward for our people and our company, it's about bringing visibility. It's about going to a place and telling people that they're viewed and valued."
Stacey Friedman, General Counsel at JPMorgan Chase
Future Outlook
Both Radcliffe and Friedman viewed the road ahead with optimism. Friedman saw the progress the LGBT community has made in the last few decades. Like the legalization of gay marriage, these progresses serve as building blocks for advancement and progress. Technology too, had been a huge force in bringing progress forward, "thanks to social media and the ability to take and share video, events that used to get ignored now get talked about," said Friedman.
Radcliffe recalled a powerful moment he witnessed in his work with the U.N. after the events of the recent shooting in Orlando, Florida. A few days after the killings, the U.S. ambassador to the U.N. Samantha Power brought a group of ambassadors to the Stonewall Inn to discuss actions needed to protect LGBT communities. "It was very unusual to have a group of U.N. ambassadors come down to the Stonewall Inn on a Thursday afternoon," said Radcliffe. "But there was a lot of symbolism in that, meeting on that very spot where the American gay rights revolution began."