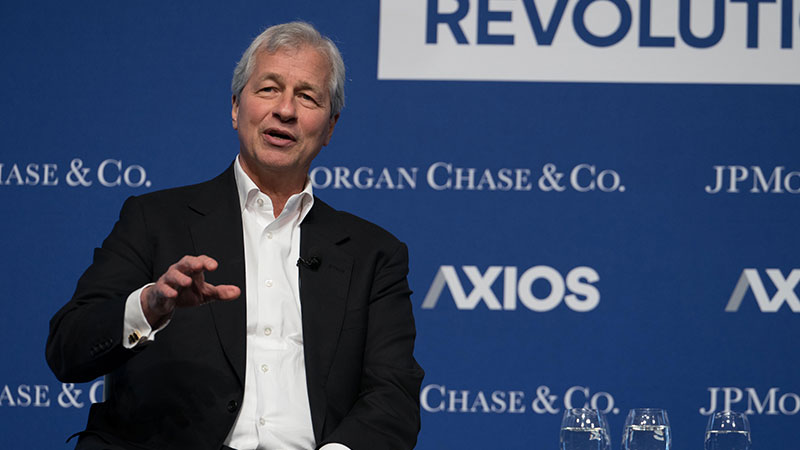 Stories
Why Creating Opportunity for All Matters
Female entrepreneurs of color have often been overlooked, see how JPMorgan Chase is striving to change that.
The world is more complex than ever before. Innovation, automation and technology are rapidly evolving and changing the way society operates. These shifts, however subtle they may seem, have the power to disrupt the world as we know it.
On the fourth leg of the Axios Smarter Faster Revolution series, Jamie Dimon, Chairman and CEO of JPMorgan Chase discussed the changing technological landscape and the utter importance of inclusive growth at Howard University in Washington, D.C.
"Women of color have not had equal access to the resources they need to be successful in business," said Dimon. He went on to explain that those who have historically been underserved might not have the same advantages and resources to attain success in this world.
To address this disparity, JPMorgan Chase announced a $1 million investment in support of two new programs aimed at assisting startups founded by women of color: iNTENT Manifesto and digitalundivided (digitalundivided is also supported by the Case Foundation). Both programs aim to provide women of color who launch tech startups with support ranging from business planning and mentoring to education and flexible investment options.
According to Project Diane, a report from digitalundivided, startups founded by women of color receive less than one percent of all venture capital funding and are less likely to have the financial resources they need to continue to grow their businesses.
Wednesday's investment announcement is a start in the right direction Dimon noted, "My hope is that our investment continues to help unlock doors for Black and Hispanic female entrepreneurs."
Now more than ever, businesses have the opportunity to redefine corporate responsibility and drive meaningful and lasting initiative and culture changes.
In that vein, Dimon encouraged students to be self-starters and take control of their happiness, health, and futures. When asked what advice he would give the soon-to be graduating Howard population Dimon responded, "Spend your life learning, read, build relationships, do the right thing and take care of yourself."
---
About Smarter Faster Revolution
With increasing globalization and an even greater reliance on technology, the future of the workplace and the role businesses play is constantly shifting. Businesses are paving the way and enacting innovative strategies that are truly shaping the future of work. To help our younger generation get up to speed, JPMorgan Chase partnered with Axios to present the four-part Smarter Faster Revolution campus tour series aimed at educating the next generation of workers—college students.
Howard University was the fourth stop on our Smarter Faster Revolution tour, which will arrive next at Ohio State University later this spring.