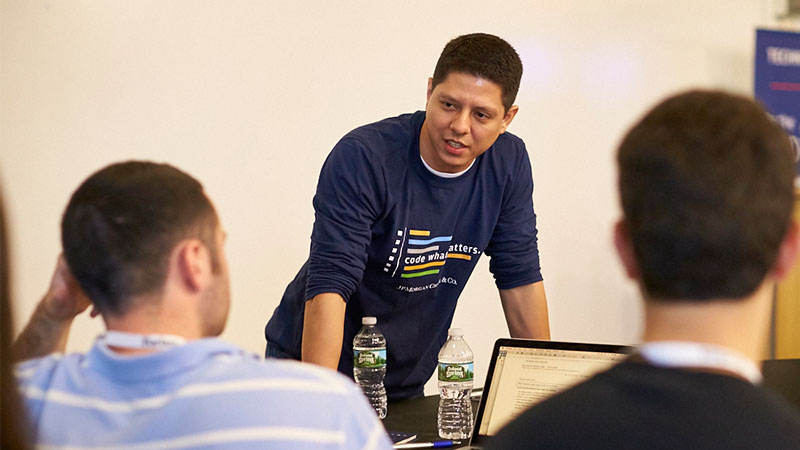 Stories
This Coder Wants You to Ignore the Techie Stereotypes
There's one thing Camilo Hurtado wants people to know: coders are more than a stereotype.
When you imagine a coder, what comes to mind? Someone sitting in a cube, scowling at a screen and tapping furiously on a keyboard? Perhaps surrounded by empty soda cans and pizza boxes, clad in oversize headphones?
According to Camilio Hurtado, a software engineer at JPMorgan Chase, this couldn't be further from the truth. "The job is highly collaborative!" he says. "And, as long as we're debunking myths, we're not all trying to become billionaires before we hit age 25, either."
When it comes to fighting off the social stigmas surrounding coders, Hurtado is keen to set the record straight. Technology, he believes, is the key to solving problems and improving lives—and getting beyond the stereotypes is a key step toward letting people know how rewarding and exciting the industry is. "The possibilities are endless," he says. "Every day, people are inventing new technologies and coming up with new ways to use existing ones."
Hurtado tells us how he began his career as a technologist, how the tech space is more diverse than meets the eye, and why this field has been so rewarding.
Did you always want to be a coder?
No, I wanted to be an archaeologist. I used to watch the Indiana Jones movies, and I thought traveling the world and having adventures while learning about other cultures would be a very fun job. But it turns out technology is an adventure too.
As I grew up, technology became the vehicle I used explore the world on a daily basis. I became interested in careers that allowed me to have an impact, while working with people from around the world. And although I wouldn't call myself Indiana Jones, I do get the opportunity to solve complex global problems every day.
How did you get into coding?
I wanted a career where I would always be learning, and I saw that JPMorgan Chase had a great development program for college graduates—the Software Engineer Program (SEP). I joined the company fresh from college, and, after graduating from SEP, I learned they offered lots of other programs to help technologists advance and grow. I liked how they seemed to understand how important it is to continually develop tech knowledge. I've been here seven years now and just recently completed the Expert Engineer development program, which is for high-performing technologists who want to keep moving up the ladder. The learning never stops!
You view technology as a force for good in this world. Why?
There is tremendous potential from the ideas coders create when they come together—anything from nonprofit cost reduction to life-saving innovations. That's why I jumped at the opportunity to volunteer for one of JPMorgan Chase's Code for Good hackathons, where the company teams up with a nonprofit and poses a challenge to a group of students who are interested in pursuing tech jobs. The students, with help from mentors like me, have 24 hours to work together and come up with tech solutions to the nonprofit's real-world problems. To date, the company has hosted 45 Code for Good challenges across 15 cities around the world.
That's definitely different from sitting in a cube and scowling.
Exactly! As I've said, a huge misconception is that we write code all day without talking to other people much. But the truth is, in software development, soft skills are just as important as tech skills.
So, if you could give one piece of advice to aspiring coders, what would it be?
Break down those stereotypes and be social. Networking—in real life, not online—is so important. And the key to effective networking is recognizing that the best solutions come from collaboration. Having a strong network is going to increase your chances of success.