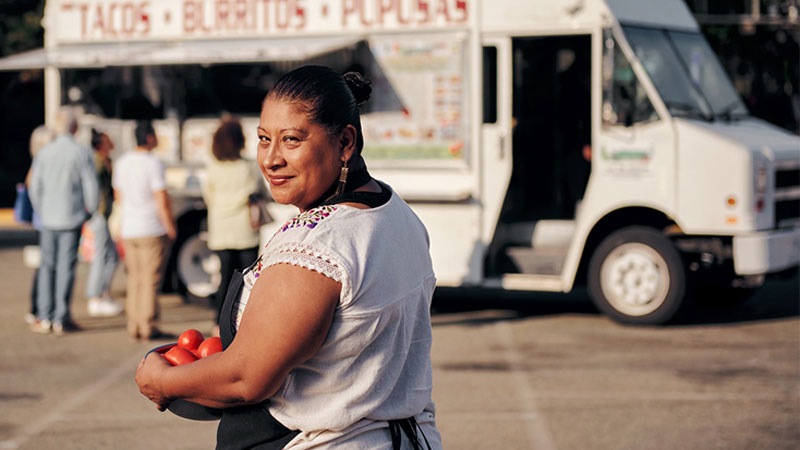 Stories
How Small Businesses Are Thriving Amongst Gentrification
Small businesses are the lifeblood of their communities.
Originally published by OZY on March 22, 2018.


Rosa Martin had always wanted to open a restaurant in Oakland, California, featuring the Guatemalan foods of her childhood. She thought her dream was coming true when, in 2013, she began crawling out from under her credit card debt and launched Las Marianas, a local eatery. But then in 2016, her rent went through the roof.
Unfortunately Martin was not alone. According to housing site Zillow, Oakland's rent spiked 71 percent between 2013 and 2016. And equally startling, according to a 2016 study by the Institute for Local Self-Reliance, 59 percent of independent retailers reported being worried about the escalating cost of rent, with one in four describing it as a top challenge.
For Martin, rent wasn't the only challenge. Her restaurant was one of many located along International Boulevard in East Oakland to be affected by AC Transit's Bus Rapid Transit (BRT) construction. Seeing the writing on the wall, and with Oakland facing gentrification pressure, Martin decided she would reboot: She has since launched a food truck—the second act of her business—and it has been a roaring success.
Martin did not do this alone. She received two loans, in 2015 and 2017, facilitated by Oakland's Main Street Launch, a nonprofit that helps small businesses like Las Marianas grow. The second loan was underwritten by PRO Oakland, a partnership between Main Street Launch and the Northern California Community Loan Fund, which seeks to support custom solutions for unique challenges, like Martin's, that emerging Oakland neighborhoods are facing.
JPMorgan Chase's Partnerships for Raising Opportunities in Neighborhoods (PRO Neighborhoods) program, facilitates these types of neighborhood revitalization projects through partnership with nonprofits like Northern California Community Loan Fund and Main Street Launch to help them provide flexible loans at low interest rates, says Karla De Leon, the organization's Vice President of Economic and Business Development. The impact of the funding is real. Over the last 10 years, with all of their loan programs Main Street Launch has distributed $46.5 million, 43 percent of which has gone to minority-owned businesses, and 59 percent to new businesses. Main Street Launch says its programs have led to the development of thousands of new jobs in the Bay Area, mostly in the food and beverage, professional services and retail industries.
The low interest rate is especially welcome given that minority-owned businesses are found to pay higher interest rates on loans, according to the Minority Business Development Agency, and are also more likely to be denied credit. De Leon has also seen that many minority-owned businesses tend to be wary of applying for loans. She explains that projects like PRO Oakland, can help entrepreneurs learn new ways of doing business so they can be more nimble in the face of change. Case in point: Artesania y Botanica Del Sol, a business on Oakland's International Boulevard, saw sales quadruple after making a few small changes, like accepting credit cards and setting up a Facebook page, at the behest of Main Street Launch.
De Leon admits Main Street Launch can't control gentrification, but programs like PRO Neighborhoods are helping downtowns revitalize and equalize opportunities. "We can prepare business owners, if they're open to it, to changing their products, services and ways of doing business so they can meet the demands of new markets," De Leon says. "We're doing our best to provide tools so that business owners can still be there." And access to capital is vital to succeeding in that strategy.