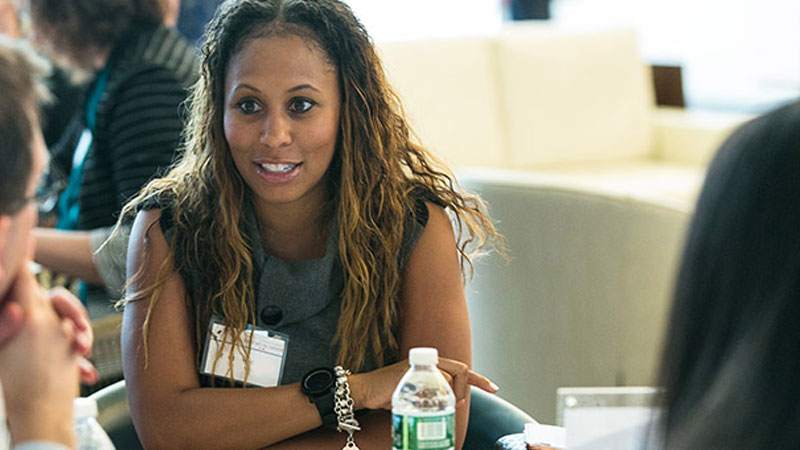 Stories
How Long Does It Take to Help Advance Women? 36 Minutes a Week
Here's your roadmap to helping women achieve their fullest potential.
It's widely known that women face unique barriers to professional success. While shining a light on this challenge is important, real progress requires actionable solutions. That's why JPMorgan Chase launched its 30-5-1 campaign internally last year.
The message is simple and it's easy to participate:
Spend 30 minutes a week having coffee with a talented up and coming woman.
Spend 5 minutes a week congratulating a female colleague on a win or success.
Spend 1 minute a week talking up the woman who had that win to other colleagues around the firm.
Sponsored by our Women on the Move initiative, "30-5-1" brings women and men together to devote 36 minutes a week to support their female colleagues' growth and development. These discussions are also a great way to network with colleagues. By encouraging a culture of open dialogue and interaction across all levels and business groups, Women on the Move aims to see an increase in the number of women in senior management positions at the firm.
"At JPMorgan Chase, we have a truly amazing group of female colleagues," said Mary Erdoes, Asset & Wealth Management CEO and co-sponsor of Women on the Move. "It's up to each one of us—men and women alike—to ensure they have the support mechanisms they need to succeed, and this campaign is one of the most important ways we can do that."
Membership in the firm's business resource group for women has grown exponentially over the last two years, from 16,099 to 22,000 — a growth of 37 percent;
Paid parental leave for eligible employees in the U.S. was increased from 12 to 16 weeks; and
The firm's Re-entry program—which hires talented women who left the industry to focus on personal commitments—has grown from 10 to 28 fellows and boasts an 80 percent placement rate to date.
---
About Women on the Move
Recognizing that women face unique barriers to professional success, the firm launched Women on the Move in 2013. The program began as a series of town halls for the firm's female employees in New York and offered an opportunity to collectively explore the challenges women face in the workplace and share ideas on how to best support career development. Since then, the program has been hosted in 23 cities, with senior women from across the firm meeting with more than 6,000 employees. In 2018, Women on the Move expanded to encompass the company's overall commitment to help advance women everywhere, including $17 million in targeted philanthropic investments globally that are helping women improve their financial health, gain well-paying jobs and grow their small businesses.
Learn more about Women on the Move, our initiative that supports the advancement of women by addressing the unique challenges they face.