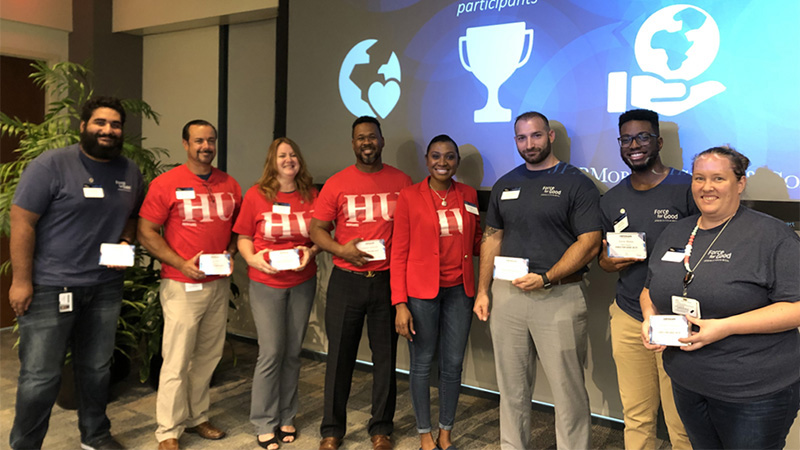 Stories
How Diving Into Data Can Supercharge Nonprofits
JPMorgan Chase employees—volunteering through Force for Good—build data and technology tools that can put nonprofits on the path for success.
Like any business, nonprofits have a ton of data that they can use to measure their organization's impact. But data alone isn't enough: nonprofit organizations need data science and other technologies to make it truly usable.
That's where Tech for Social Good comes in. Through its Force for Good program, JPMorgan Chase employees are helping nonprofits build sustainable tech solutions that they can use to measure their impact, be more efficient, and see the scale at which their work is helping others. Recently, teams of software engineers worked with two organizations to help integrate data and analytics into their everyday tracking systems. Howard University, a private and historically black university in Washington D.C., wanted to create a dashboard to help track their progress toward their strategic goals. Another organization, Local Initiatives Support corporation (LISC), wanted to use data visualization to show the impact of their volunteer activities on the local community in Chicago.
Howard University
Howard University is one of the 118 participating organizations in this past year's Force for Good program. In February 2019, a team of eight JPMorgan Chase technologists met with Howard's President to discuss the university's data management. Howard needed help with the creation of a tool that would centrally track metrics for its Howard Forward 2024 goals and strategic plan—a program aimed at enhancing academic excellence, inspiring new knowledge, serving the community, improving efficiency and effectiveness, and achieving financial sustainability.
What the Force for Good team discovered surprised them: Howard's data problem had manifested itself as a personnel shortage. " We began by talking about redistributing their staff to manage their IT needs, but it soon evolved into an introduction to our Force for Good program," explains Kyle Williams, Industry Executive for Healthcare, Higher Ed & Nonprofit Banking, JPMorgan Chase. "Tech for Social Good has allowed Howard to evolve and leverage JPMorgan Chase's technology skills and expertise."
The team began volunteering its time and expertise to create a data analytics dashboard to track the University's progress toward its Howard Forward 2024 goals. Using a data analytics tool, the team created a dashboard that enables Howard's employees to see the progress the university is making and where gaps still need to be filled.
The dashboard captures benchmarks, goals, and improvements in overall student experience - from lowered risk for diabetes through Howard University's own Hospital, and to gaps such as actual versus targeted number of degrees earned. The team was also able to integrate Howard's IPEDS data (Integrated Postsecondary Education Data System) as well, pinpointing certain trends, like the most popular majors, allowing Howard to invest more in those courses and teachers.
The Howard Force for Good team presented their work to the University's President, highlighting the goal's five pillars. The end result? Howard University found the insights from this data analytics tool so useful that they are now building out their own team dedicated to expanding the uses of the tool. This will allow Howard to continue iterating the dashboards, to further track and enable success. Howard University will also rejoin the Force for Good program in the 2019-2020 cycle to continue to build dashboards for other metrics the university is tracking towards their strategic vision.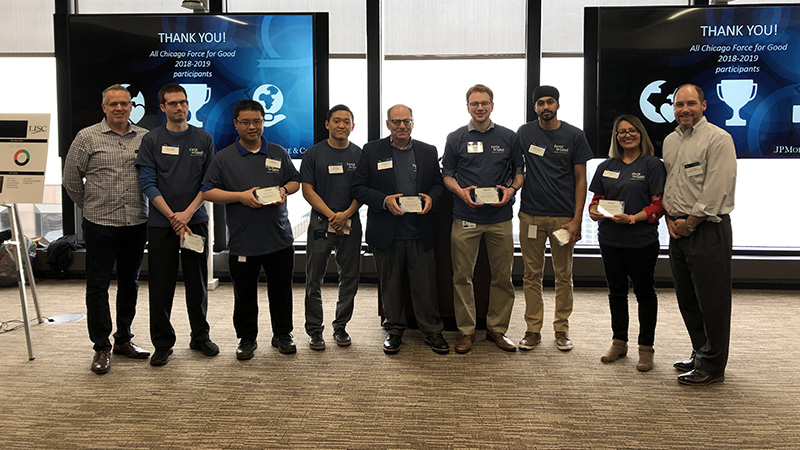 Local Initiatives Support Corporation (LISC)
LISC is a nonprofit community development financial institution that helps support other community development organizations across the United States in 35 different cities. As an organization that connects communities with resources, it helps provide support to over 95 different community-based organizations in 27 LISC markets across the US.
In the process, it also generates a huge, unwieldy mass of data, which it then has to analyze and interpret. "Every year LISC produces a summary of our outcomes and impact – and I would have to manually pull a series of reports, taking into account hundreds of thousands of records, making sure everything was correct," says Carolina Rendon, who manages the data and outcomes for the Financial Opportunity Center (FOC) program at LISC. "It took a long time and the infographic tool we used was static and only updated once a year."
With the help of a team of Chicago-based JPMorgan Chase technologists, LISC was able to implement a data analytics tool to directly connect to and download all of their customer relationship management data. The solution that Rendon and the Force for Good team collaborated on would automatically populate a report and create a digestible dashboard that LISC could use to track key financial outcomes, such as the number of clients receiving services through the nonprofits it supports, how many of their clients are improving their net income and credit score, and how many of them are improving their overall net worth.
JPMorgan Chase software engineers were also able to write custom queries so LISC would be able to highlight certain stats about the data. "The nice thing about having this data analytics tool is that it reduces the amount of time I personally spend on consolidating reports for the 27 different markets," Rendon explains. By using data analytics, Rendon was able to cut out weeks' worth of work and save an estimated $20,000 on consulting fees and training services.
"Having the ability to very easily add filters to look at different populations and variables has been critical to analyze our Key Financial Outcomes, and that is only the beginning," says Rendon. The next project LISC is going to tackle is rolling out the use of this tool in the 27 local offices. Each office lead will be able to login, manipulate the data, and see their reports in an organized and visual way, allowing LISC to give greater attention to other facets like marketing and fundraising. "This technology has given us an edge," Rendon explains. "It gives us better insights and allows us to dedicate more attention to our programming and mission."