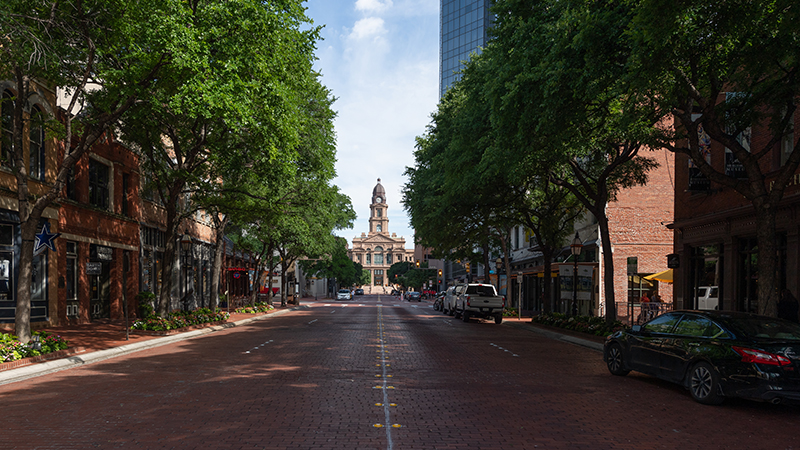 Stories
How an Engineer and a Bank Transformed Fort Worth
How two men a generation apart brought vision and entrepreneurship to Fort Worth, and brought it into the 20th century.
Cowboys. Saloons. Railroads. Stockyards. For over a century, Fort Worth has been famous for its outsized characters and colorful history. But it was two men—a generation apart—who helped make it the booming, internationally-recognized city it is today.
Maj. Khleber Miller (K.M.) Van Zandt was a prosperous entrepreneur and community leader who helped launch the Fort Worth National Bank, which fueled much of the growth of the pioneer town. And John MacDonald Blackstock Hawley, a young hydraulic engineer who arrived in Fort Worth to bid on a municipal water project, founded an engineering firm that is still designing and constructing major infrastructure projects today.
Together these two men helped lay the framework to take Fort Worth Texas from cow town to boom town, leading to its present stature as one of the biggest cities in the state—and the country.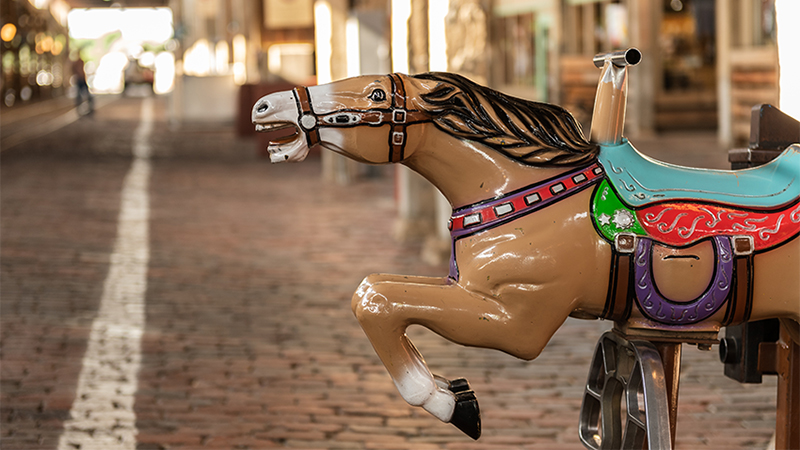 The Real Wild West
When Fort Worth was established in 1849 on a bluff atop the Trinity River, it wasn't even considered a formal fort. It was more of an outpost for Fort Graham, meant to shore-up defenses in the 130-mile gap between proper forts. Beyond the small cluster of hastily built lean-tos and stables sat Native American country, and the true, untamed Wild West—at least for the four years until that line moved westward.
The town soon became a welcome but somewhat notorious stop on the Chisholm Trail, across which cowboys drove large herds of Texas longhorn cattle from Texas to Kansas. The neighborhood on the edge of town became known as Hell's Half Acre—sometimes called just "The Acre"—a place where traveling cowboys could refresh themselves with libations, gambling, and other activities that folks of higher mind might look askance at.
When Maj. Van Zandt arrived in Fort Worth in 1864 after serving as an officer in the seventh Texas Infantry during the Civil War, he was dismayed at the state of the place. The population at that time had dwindled to only 250 people, and—he wrote—lacked "even a saloon." But the war was over, and immigrants and refugees flooded to the area. Everything was needed and opportunity was everywhere. Van Zandt's dry-goods business did so well it enabled him to branch out into other entrepreneurial ventures—which he did with gusto.
He became the President of the K.M. VanZandt Land Company, launched the Tarrant County Construction Company, was a director of the Fort Worth Life Insurance Company and co-founder of the town's first paper, the Fort Worth Democrat. Perhaps most importantly, he helped bring the Texas and Pacific Railway into Fort Worth, which expanded the possibilities for commerce and helped put the city on the map.
He also became a banker. In 1873, he and his partners established Tidball, Van Zandt, & Co., which would eventually become the Fort Worth National Bank, where Van Zandt served as president for more than 50 years.
Water Ways
Van Zandt was a prominent community leader in 1891 when a young hydraulic engineer, John MacDonald Blackstock Hawley, arrived from Chicago to bid on a project to build out the city's water system. Born in Minnesota and educated in the East, Hawley was working for a Chicago construction firm, McArthur Brothers Company. But once he finished building the city's water system, he didn't go back to Chicago. Instead, he married Sue Anna Terrell, a prominent Fort Worth socialite, hung out his shingle, and became the first independent engineering consultant in Texas.
It was a decision he would never regret.
After the railway came, the city's population exploded, nearly tripling between 1880 and 1890. But, for all its growth, Fort Worth still relied on shallow wells cisterns, springs and the Trinity River for its water.
Hawley set to work creating the infrastructure that Fort Worth needed to continue its growth. In 1892, he supervised construction of the Holly Pump Station, which was still in use over a 100 years later. And, in 1914, he helped oversee the design and construction of Lake Worth, a reservoir and recreational area for the city.
During World War I he was commissioned as a major of engineers and sent to France. When he returned, Hawley—now known as Maj. Hawley—hired a young MIT civil engineering graduate named Simon Freese. A few years later, Marvin C. Nichols joined the pair, and, in 1930, they renamed their company Hawley, Freese, and Nichols.
The firm made its reputation with some of the most iconic water projects in Texas. It designed the Great Bend Cut-Off Channel on the San Antonio River in 1929, which made the San Antonio Riverwalk possible. It also designed and supervised the construction of the first large dual-purpose reservoirs in the US.
Maj. Hawley took a well-earned retirement in 1937, and the firm changed its name to Freese and Nichols in 1938.
"The growth of this company is a mirror for the growth of Fort Worth and all of Texas," says Brian Coltharp, CEO of Freese and Nichols. "In 1894, things were just starting out for Fort Worth and this company."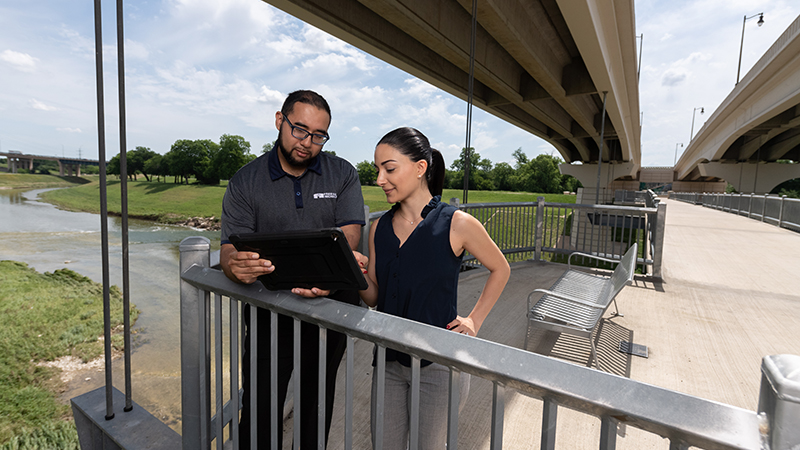 Today...And Tomorrow
Today, Freese and Nichols continues to build infrastructure across the southwest. It seeks out and maintains long-term relationships, often counted in decades, not merely years. And it still partners with the bank that Maj. K.M. Van Zandt founded in 1873. Today, though, that bank has a different name. No longer the Fort Worth National Bank, it is now part of JPMorgan Chase.
As for the city that Van Zandt and Hawley were so crucial in building, Fort Worth has also grown beyond any expectations. No longer a cow town—or even a boom town—it's now the fifth largest city in Texas, and the thirteenth largest city in the US, with a population that's edging toward 1 million.
"Our state is still growing, with a lot of population growth," says Coltharp, noting that some census projections suggest Texas will double in population in the next 30-50 years. "That will require new infrastructure, new water supplies, new roads and bridges.
"We will be a part of that growth ," he says. "Because, proudly, we built some of the early infrastructure."