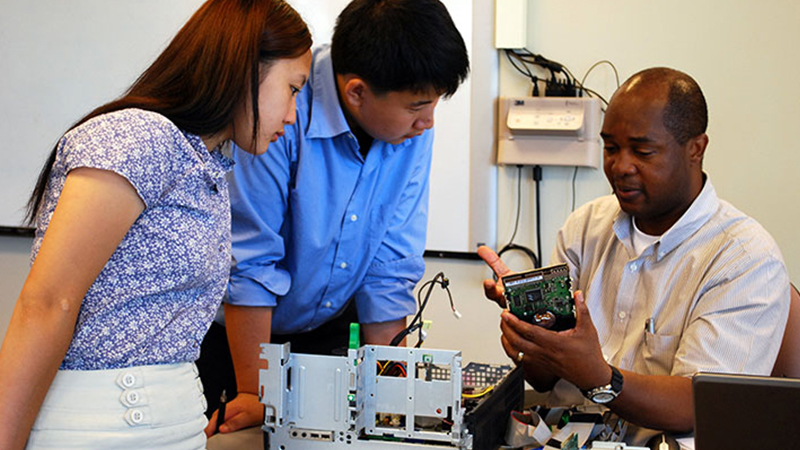 Stories
Lone Star College
Meeting the demand for skilled workers in Houston.
While the Houston metro-area boasts one of the fastest growing economies in the U.S., in 2013, nearly 855,000 Houstonians aged 25 and older did not have the minimum credentials for middle skills jobs.1 Lone Star College, a growing contributor to the Houston economy, recognized this challenge and partnered with the Texas Higher Education Coordinating Board to pioneer a groundbreaking program to match the needs of local employers with the aspirations of potential employees.
Through its educational system that serves more than 95,000 students at six locations in greater Houston,2 Lone Star is bridging the gap and changing lives.
Called ACCELERATE Lone Star, this fast track program is designed to turn a student's prospects around quickly, offering 8- to 16-week certification programs meant to boost his/her educational skills (including acquiring a GED) while he/she earns a certificate in high demand occupations. Many program participants, who generally have the equivalent of between a 6th and 9th grade level education, undergo training to perform specialized manufacturing jobs, enabling them to work as welders, automotive technicians and machine tool operators — positions that often start at more than $40,000 a year3.
It's so inspiring to watch a student go from working at low-wage jobs to a skilled career and making $65,000 a year—and working towards their next promotion.
Tina Dealy — Corporate College Open Enrollment Director of Lone Star College
JPMorgan Chase backed Lone Star's commitment with a $500,000 grant that has helped expand ACCELERATE Lone Star program by adding new training programs in high demand occupations and campuses so that more students could access the training, and providing scholarships to students who can't afford to enroll. The grant has also helped the college acquire state-of-the-art equipment to provide hands-on training in specialized skills, with a focus on workplace safety.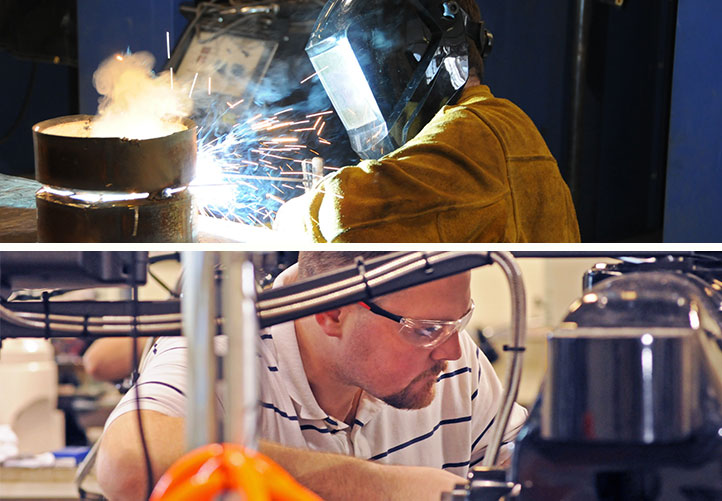 "The ACCELERATE Lone Star program fits well with JPMorgan Chase's initiative to support workforce development efforts in communities around the country," says Carolyn Watson, vice president, Corporate Responsibility, for JPMorgan Chase. "It's a boon not just to the students who enroll, but also to the greater Houston community."
Middle-skill jobs, which require a high-school education and technical training, but not a college degree, are highly sought after in Houston. According to JPMorgan Chase's 2014 Houston Skills Gap Report 1 the number of skilled workers has not kept up with the booming economy in Houston, where there are currently 1.4 million middle-skill jobs, with 74,000 jobs expected to be added every year through 2017.4 "We are committed to bridging a workforce gap and helping our students to be successful personally and professionally," said Nadia Nazarenko, Executive Director of College Preparation Programs at Lone Star College.
Seeing the promise in these numbers, Lone Star students receive high-school equivalency and technical credentials to qualify for these jobs, as well as a supportive environment that ensures they aren't sidelined by practical hurdles along the way. Students are assigned advisors, who work with them one-on-one to assist with everything from time management to securing transportation to class. "I didn't know how I was going to afford it, or if I even qualified; but with the phenomenal instructors and the help of the grant, I'm on my way and almost there. There is light at the end of the tunnel," said Jessica H., Lone Star College welding graduate.
Lone Star also partners with employers to help students transition directly from the program into the workforce.
"Many students come to us with little training or no hope of either a skilled career or a college education," said Pat McDougall, Program Manager: Workforce and Economic Development, Lone Star College, Fast track to careers at Lone Star College. "We're able to help them get back on the right path and find a career that fits them."
For more information, visit: www.lonestar.edu
ACCELERATE Lone Star Program: http://www.lonestar.edu/accelerateLoneStar.htm
By Jennifer Latson
Jennifer Latson is a freelance writer and editor living in Houston.