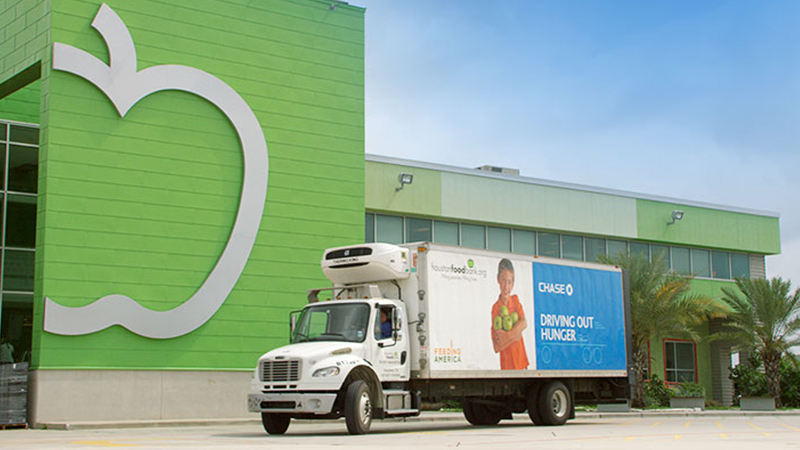 Stories
Houston Food Bank
Leading the fight against hunger through a vast network of community partners.
The statistics are staggering: on any given day, 66,000 people go without food in Houston, and one in five people living in 18 southeast Texas counties can't count on regular nutritious meals.
Fighting this massive problem is the Houston Food Bank, whose own statistics are equally staggering. With a 308,000-square-foot warehouse and a fleet of refrigerated food trucks and mobile pantries, the food bank and its network of community agencies dished up 59 million nutritious meals last year, making it the largest food bank in the U.S. by distribution.
It's an amazing organization, impressive in scale. We connect with 600 partner agencies to feed 800,000 people each year.
Betsy Ballard — Chief Communications Officer of the Houston Food Bank
Instrumental in helping the Houston Food Bank achieve its scope and reach is JPMorgan Chase. In 2010, the bank helped the nonprofit acquire and renovate the space it currently occupies, a former Sysco Foods warehouse, by arranging $9 million in financing through the New Markets Tax Credit program, established to spur investment in low-income communities. This money allowed the food bank to move forward with its building plans without draining essential funds reserved for helping the people they serve everyday.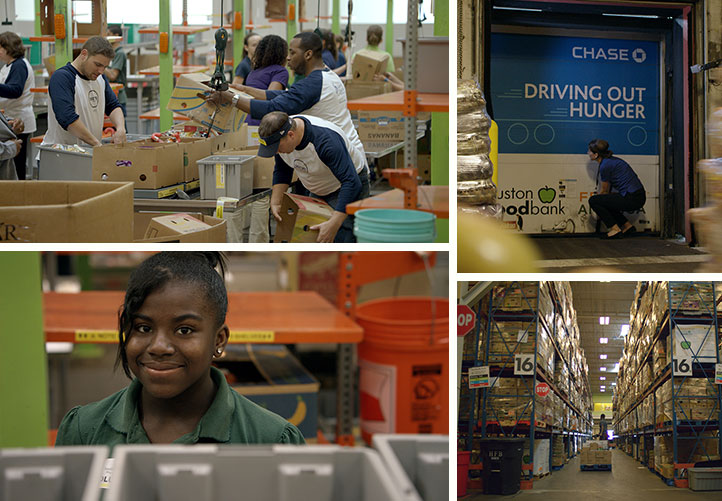 The same year, JPMorgan Chase donated three state-of-the-art refrigerated trucks, enabling the food bank to collect even more food through its Retail Pick-up Program. In collaboration with local grocers who contribute near-shelf-life meat, produce and baked goods, the food bank's program collects more than a million of food each month that would otherwise go to waste.
By 2018, the nonprofit aims to provide 100 million meals a year.
"The Houston Food Bank and our member agencies are working harder than ever to provide nutritious food to hungry people," says Brian Greene, president of the Houston Food Bank. "We're grateful to have committed allies like JPMorgan Chase helping us in the ongoing fight against hunger."
For more information, visit: www.houstonfoodbank.org