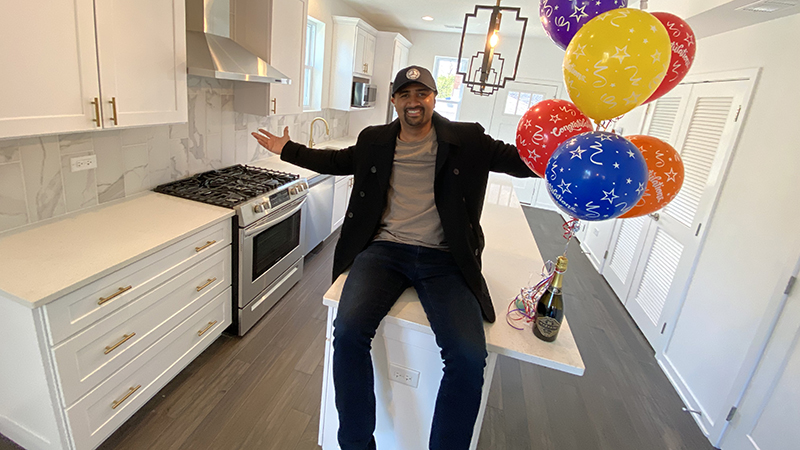 Sustainable Homeownership
Chicago Murals Led Chase to Help Local Artist Become Homeowner
To say Phillip Sinclair wears many hats is an understatement.
He goes by the moniker P. Scott, and is an artist, gallerist, master barber, father, community advocate and, most recently, a homeowner.
Originally from Rochester, New York, P. Scott moved to Chicago in 2006 to work in fashion and continue his career as an artist. In Chicago, he established himself not only as a talented creator, but as a local gallerist who champions other artists.
"I saw early on from giving other artists a platform that it was something I was interested in" Scott says. "A lot of these artists were marginalized like myself, and I felt good about giving them a platform and pushing them to do more."

His work firmly rooted him in Chicago. So, when he wanted to realize his lifelong dream of becoming a homeowner, he began his search in the Windy City.

"I'd been wanting to buy a home for a very long time, probably about five or six years," Scott says. He tried for years to purchase a home, but as an entrepreneur, he had faced obstacles in the past proving he had a reliable income stream. Scott felt that it was an uphill battle for lenders to take him seriously and didn't feel like anyone was taking the time to help him understand the various steps in the homebuying journey.
Still, P. Scott, kept his dream of owning a home alive. He just didn't know when it would happen – or how.
Then one day in October of 2020, Scott met Felton Ellington, a Community Lending Manager for Chase. Felton had recently moved back to his hometown of Chicago and would take familiar walks along Chicago's South and West sides to reconnect with his old stomping grounds. On his walks, Felton noticed beautiful murals throughout the city by the same artist, and was interested in his artwork. When Felton started asking around about the artist, a mutual friend made the connection. It was during their conversation about art that Felton learned that Scott was looking to purchase his first home.
"I wanted to meet P. Scott because I love his work. Connecting with him just happened to also create an opportunity for us to work together to realize his dream of owning a home," says Ellington. "There's real value in not only having presence in the communities we serve, but actively engaging as a part of these communities to impact change. This is exactly what inspired me to move back to Chicago—it's a chance to give back to my hometown."
Felton and his team helped to demystify the homebuying process for Scott, clearly explaining the steps he needed to take and partnering with him throughout the journey. Scott found a home in a neighborhood that qualified him to receive a $5,000 Chase Homebuyer Grant, a down payment and closing cost assistance program offered to customers purchasing homes in 6,700 majority minority neighborhoods in the U.S.
"Felton gave me the confidence that I could buy a home," Scott says. "Before that I was kind of discouraged…. he really gave me courage again."
On May 11, 2021, Scott closed on his dream home. This purchase is the start of something positive for Scott, his family and his neighborhood. He understands that his new home can be part of his legacy, providing security, opportunity and perhaps even income for his family for years to come.
"This doesn't just feel like me buying a home," Scott says. "This feels like I bought into a movement, and that's a pretty good feeling."

Visit Chase.com/homelending to learn more about the Chase Homebuyer Grant and find a Home Lending Advisor near you.