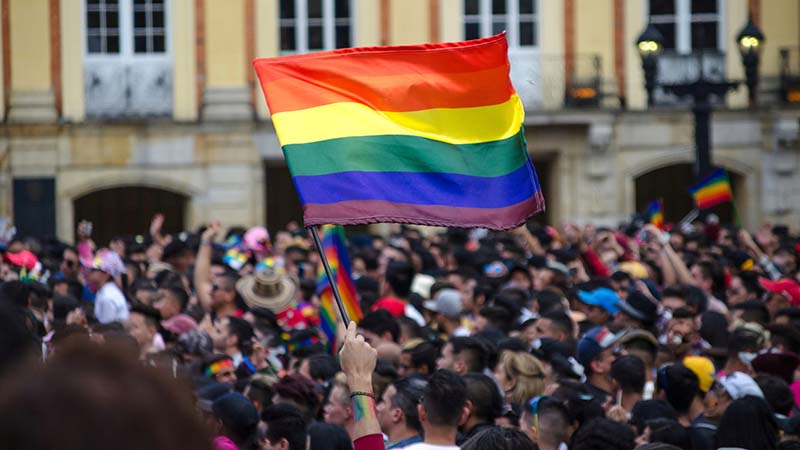 Stories
Helping LGBT Asylum-Seekers Find a Safe Refuge
When ORAM, an international LGBT refugee non-profit, needed a new tool to help asylum-seekers, they reached out to JPMorgan Chase's Force for Good program.
When the COVID-19 pandemic hit, the Organization for Refuge, Asylum and Migration (ORAM) was faced with a difficult problem.
Since 2008, ORAM has helped LGBT asylum-seekers in approximately 70 countries where consensual same-sex relationships are criminalized, exposing millions to the risk of arrest, prosecution, imprisonment, and even death. LGBT individuals in these countries often have no choice but to flee their homes in search of a safer and better life.
"LGBT asylum seeker and refugees often cannot access the services that other refugees do as they fear discrimination," ORAM Executive Director Steve Roth says. "This marginalized group often struggle to access critical information and services, like legal support or support groups."
With a network of 400 referral organizations and support groups spanning over 120 countries, ORAM provides asylum seekers with access to information on local organizations that can help them on their journeys to escape repression and find new lives. At the same time, it supports these organizations—all while raising enough money to fund its desperately-needed work.
COVID made that mission harder—and more urgent. As the pandemic raged, countries closed their borders, mobility decreased, crack-downs became more common, and violence from family members and communities ramped up.
Previously, ORAM dealt with help requests through its email helpline, where a small staff of workers answered every email directly, providing answers from the its vast database of support groups. But with more requests coming, the organization knew that it needed a better solution—one that asylum seekers could access on their own.
"Technology can play a critical role in empowering refugees and asylum seekers," says Roth. And that was the solution ORAM needed—an automated website or app where asylum seekers could find the help they needed, refugee professionals could access the resources they needed, and potential donors could learn about ORAM's programs and offer their support.
Unfortunately, with all of its resources dedicated to helping asylum seekers, ORAM couldn't afford to handle the problem on its own. It needed a partner.
Building a Solution
ORAM's search for a partner led them to JPMorgan Chase's Force for Good initiative, a program that connects the bank's engineers and technologists with non-profits in need of tech support. A Force for Good team, based in Glasgow, volunteered to work on building the tech solution ORAM needed.
For Laura Portabales, a member of the Force for Good team, the project hit particularly close to home.
"Being a trans woman, the mission of ORAM really spoke to me," she recalls. "I lost family members when I came out, but at least I had a safe place to exist. I am glad to be able to help the little that I can to make the world a safer place for everyone."
Early on, the Force for Good team encountered a major problem. Their original plan was to develop an app that could be easily downloaded to any smart device. However, after a survey, they soon learned that LGBT asylum seekers and refugees were concerned about safety. Downloading an app onto their phones was dangerous: If they were arrested and their phones were searched, any evidence of their sexual orientation could be used against them.
After working closely with ORAM, the Force for Good team decided that the organization needed a low cost, professional-looking website that catered to all three groups that it worked with—asylum seekers, refugee professionals, and donors. It needed to position ORAM as a global, leading source of information about LGBT migration. It also had to be easy to edit, as ORAM's staff was going to be tasked with maintaining it.
The team chose Wix—a user friendly, website building platform that helps companies build their online presence. Working with ORAM, they then integrated the group's vast database and information, tailoring it to each of the three main users. The site features a "Seeking Help" application that is available 24/7, enabling asylum seekers and refugees to get the information and support they need anytime and anywhere.
Creating a Safe Space
The website that Force for Good built for ORAM balanced useability with security. Asylum-seekers can access it from their smart phones or computers, but because it is on a web browser, the users don't need to log in or insert any personal information—an added security measure. Instead, they can easily open the site, select a country and get all the safe organizations and support groups near them.
On the other side, the site also gives humanitarian and aid organizations a tool to reach refugees and guide them to the right services.
The new database is a significant improvement upon the previous approach, says Bella Stevens, ORAM's Communication and Development Coordinator.
"We used to answer each request for help manually, but we now have a digital solution where LGBT asylum seekers and refugees fleeing persecution can access 24/7 information," she says. "That's sped up the process massively."
Ultimately, the platform will enable ORAM to keep pace with the rising wave of LGBT asylum seekers and refugees."We are thrilled to debut our new website to our clients, partners and supporters who are looking to understand the breadth of ORAM work and services," says Roth. "It's going to help us expand our operations and services. It's going to help us save hundreds of lives every year and provide better service to the LGBT refugees and asylum seekers we serve."
Laura said that she gained a deeper understanding of LGBT asylum seekers and refugees and their challenges. "I learned a lot about ORAM and Wix but most importantly, I learned a lot about the struggles many LGBT individuals are experiencing in some countries and that really made me want to do better and change the world how I can.