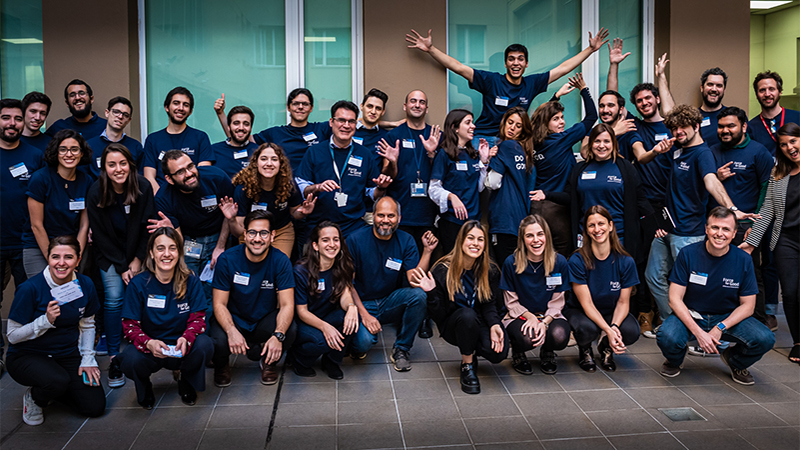 Stories
Helping Disabled Children in Buenos Aires Find Their Voices
Working with a nonprofit in Argentina, JPMorgan Chase's Force for Good developed a program to help disabled children find their voices and communicate with their loved ones.
Emi was born with a genetic condition similar to cerebral palsy, which makes it hard for her to speak or communicate through a keyboard. "She lacks the motor skills," her mother, Natalia Umpierrez Crosta, says.
To help her, Crosta and her husband enrolled the nine-year-old in AEDIN, a nonprofit in Buenos Aires, Argentina that works with disabled children, particularly those with neurological impairments like cerebral palsy. The organization needed new technologies to better serve the children, and Crosta—who works at JPMorgan Chase in Buenos Aires—knew that Force for Good, one of the bank's community engagement programs, could help.


Building a Tech Solution
Force for Good pairs nonprofits with JPMorgan Chase tech employees, who work together for eight months to design, create and implement tech solutions to help the charities further their missions. After AEDIN reached out to the program, a Force for Good team began working with them. It started by looking into tools that would help Emi and other children like her to communicate their ideas more clearly.
After a trip to AEDIN's offices, the team learned that the school had an interface and communications tool that worked reasonably well, but was only available on the school's tablets.
To make the school's communications tool more user friendly, the team decided to build an interface that was easier to use and more accessible to students, parents, teachers and caregivers, many of whom couldn't afford to buy expensive tablets. "We sensed that we could create a way to help," Crosta recalls.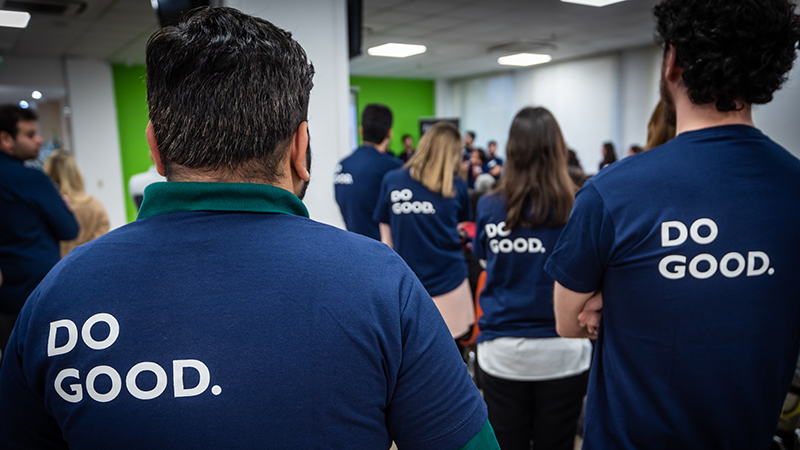 Enter Force for Good
The Force for Good team's first focus was to redesign the interface of the tool, which needed larger buttons so the children with limited motor skills could use it. They also decided to increase the contrast between the background color and the text, so the children could more easily decipher the words on the screen.
To make the tool, later renamed as "Launcher," available to more users, the Force for Good team wanted to build an app that worked on different types of smartphones and tablets. "We felt good making an app that can work on more devices—multiple devices—and it's free," Maria Jose Vannicola, the Force for Good team leader, says.
After successfully building Launcher, a tool to help students with motor difficulties, the team realized that they could do more to help students with speech difficulties. They wanted to create a separate solution that would help these children communicate, but—given that it had taken them four months to revise the school's interface—was there time to build a second app from scratch?
The team stayed optimistic. They knew the time they had spent on Launcher had helped them to grow closer and develop a better work flow, so they were able to work faster and more efficiently. The team members agreed to forge forward and divided into two sub-teams: one to iron out Launcher's kinks, the other to create an additional tool—which they named Expresate—that would help students speak to family members.
As the Expresate team got started, they found they could carry over fonts, code, colors, and templates from Launcher, enabling them to progress quicker with the build. Having seen the students they were working for, the team also felt a renewed sense of purpose. "The mission of our work felt important and drove us," Crosta says. "The level of commitment from the team was amazing. They took things very seriously."


Pushing for success
The Force for Good team's decision to forge ahead continues to pay off: the improved version of Launcher, which went live with Expresate in December, is far more functional than the school's original tool. Through user trials, the team found that the children were better able to select words and letters they wanted because the font contrasted more with the background. In one trial, when a teacher asked a boy his sister's name, he could select and type it.
Meanwhile, Expresate also allows children to send words or sentences to the printer or to social media platforms like Facebook or WhatsApp—a feature that allows the children to interact with their friends and family. And, as the app spells out the words aloud, the children can hear the spelling, helping to improve their literacy.
For Crosta, Expresate has been a particularly major improvement. "My daughter can now send a message to her dad via WhatsApp," she says. "This is new for them."


Keeping the User in Mind
Reflecting on their success, Team Leader Vannicola says keeping the end user in mind was vital. As they added functionality and modified both platforms, the team agreed not to add any component unless it served the children. "As we innovated, we kept reminding ourselves: the customers are the kids—they are the main users of this app—does this function help?," she says. "If it didn't help, we didn't include it as part of the build."
AEDIN plans to offer Launcher and Expresate to its other locations, and the Force for Good team hopes to introduce these apps to other organizations in need. They're also considering adding other languages and offering them to other communities, like the elderly, who may also struggle to communicate. In the meantime, Vannicola says, Launcher and Expresate are doing what they were designed to do—giving a voice to some of the people who need it most. "For the children, it is a gift that keeps on giving," she says.