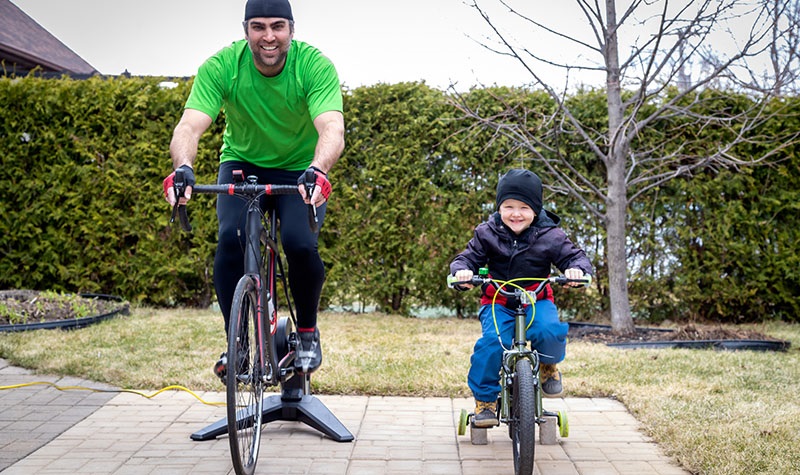 Stories
Helping Children Stay Active—and Healthy—During COVID
In a middle of a pandemic, JPMorgan Chase's Interns for Good program found a way to help a community and give students a way to stay healthy during a crisis.
When the COVID-19 pandemic hit, Ana Reyes knew she had a problem. As the executive director of I Challenge Myself (ICM), she realized that her organization needed to quickly adapt if it hoped to continue helping the 3,000 middle and high school students who rely on its services. The trouble was, ICM's program wasn't easy to adapt to an online environment: It uses cycling and other fitness activities to teach goal setting, team building, self-reflection and other college and career readiness skills to kids in New York City's underserved communities.
To make things worse, ICM's students were facing problems of their own. "As soon as New York City was ordered to shelter in place, we started hearing that our students had family members they'd lost to COVID, or jobs they'd lost, that they didn't have enough money for food," Reyes recalls. "So there were a whole new set of needs that came to the surface suddenly."
ICM helped, giving gift cards to the students' families to help with costs, but Reyes wanted to do more. "We wanted to create a safe space for our students to process their experiences and have some sense of community, to nurture themselves, both emotionally and physically," she explains.
With schools closed, students were no longer able to access ICM's bicycles and other recreational equipment, and social distancing guidelines prohibited ICM from organizing alternative activities. Determined to be there for its students, ICM decided to take its programs online. But with a small staff and even smaller budget, the organization didn't have the resources necessary to undertake the massive transition to digital services.
Changing the Face of Volunteering
While ICM and other nonprofits were furiously reworking their business models, JPMorgan Chase also found itself facing unanticipated challenges, says Madeline Hutchinson, Vice President of Tech for Social Good, a company initiative that lifts up communities through the power of people and technology.
"We realized that we wouldn't be able to offer our traditional 10-week internship because of COVID-19," Hutchinson says. "At the same time we were realizing that, our Tech For Social Good program was being flooded with requests from nonprofits outlining all sorts of challenges they were facing as they switched to virtual."
Then a lightbulb went on, Hutchinson recalls. "We realized that we have all these nonprofit partners looking for support, and more than 3,000 interns globally across all of our disciplines – finance, operations, technology, human resources – and an internship program that we suddenly needed to revise. So we thought, 'What if we leveraged our interns to help these nonprofits to address their needs?'"
The result was Interns for Social Good, a new program that deployed teams of JPMorgan Chase summer interns, each of whom volunteered about a third of their work hours to helping nonprofits solve the unanticipated challenges suddenly facing them. ICM, a longtime partner of JPMorgan Chase, was assigned three groups of teams, each with different goals.
Mentoring and Supporting from Afar
A team of technology interns was tasked with gamifying instruction across all of ICM's programs—including cycling, fitness and college and career readiness—to give students a virtual experience that would be both engaging and educational.
A second group of tech interns identified ways to create online communities for students who were sheltering in place. They came up with ideas for a Pokémon Go-type challenge in which students would travel to local landmarks in their neighborhoods. When they virtually pinned their arrival on an app, they received a clue to another community site. The interns also outlined an app that would allow students to track their moods with emojis, helping the app send signals to ICM when a student needed support.
Finally, a team of finance interns identified and did cost benefit analyses for possible workspace options for ICM, since the organization still needed to store its bicycles and other fitness gear, even while employees weren't coming to the office.
Serving the Community
The support ICM has received through Interns for Good has been critical to helping the organization weather the pandemic and support its students, says Reyes.
"It would have taken us, as a small nonprofit, forever to do all this research and come up with all of these ideas," she says. "We'd probably still be doing it!"
But Interns for Good hasn't just saved ICM a lot of time. It's also helped the organization expand its operations—and help a lot more people.
"As we figure out how to make more of our programs virtual, there are so many opportunities to increase access to the outdoors," says Reyes. "Before COVID, we only focused on students, but by going virtual, we have the opportunity to engage entire families, people we otherwise never would have worked with. We are super excited about that."