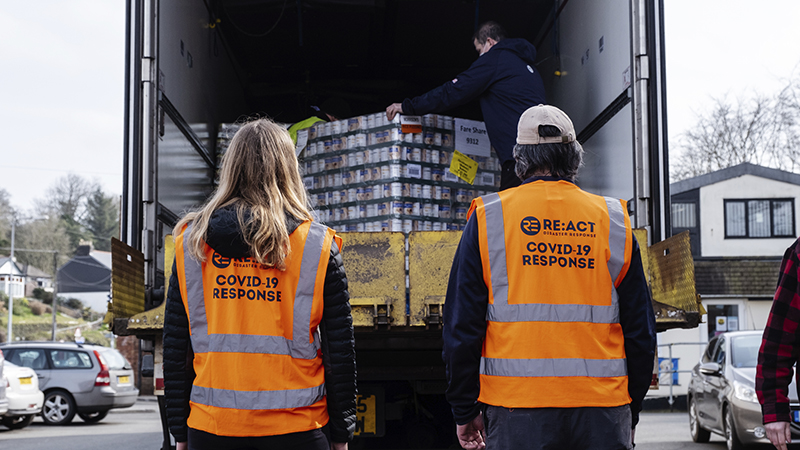 Stories
Helping a Charity Fight Today's Disasters...And Tomorrow's
When RE:ACT, a British disaster relief charity, needed to scale up for the COVID pandemic, they reached out to a familiar partner: JPMorgan Chase's Force for Good program.
Building Tools to Help Disaster Relief
2020 began like any other year for the staff and volunteers at RE:ACT, an England-based humanitarian charity that sends volunteers to deliver aid and assistance in disaster zones around the world. The organization deployed teams to the bushfires in Australia, and were preparing to go to Nepal to train local residents on water safety and medical care.
Then COVID-19 hit.
Everything changed virtually overnight as the charity turned to addressing the unfolding emergency in its own backyard. "Within hours of us deciding to support the COVID response, we had a team of regional representatives in place around the country to identify what was needed," says Chris Lyon, Re-Act's Head of Technology and Innovation.
The New Normal
One of the biggest problems the charity faced was the lockdown. "People couldn't get to the pharmacy to get their medicines, and people facing food poverty because the food bank was understocked," Lyon says.
New requests for help were arriving daily, from around the country, and Lyon soon realized that RE:ACT had to change the way it dealt with calls for help. It needed to find a way to catalogue the incoming requests, prioritize them according to greatest need, address them, and track them. And the system needed to get up and running immediately.
It was a tall order, but RE:ACT was able to pull it off relatively quickly, thanks in part to a longstanding relationship the organization has with Force For Good, Lyon says. An initiative of JPMorgan, the program pairs the bank's technology employees with area charities to address pressing social problems.
"One of the coolest things about Force For Good is that it brings together nonprofit staff and technologists, two groups of people who think very differently," explains Andrew Vasili, a software engineer at JPMorgan and the project leader for the Force For Good team. "Combining those two perspectives, and two different sorts of expertise, helps you to get a great solution."
Building on a Relationship
Even before the arrival of COVID-19, the Force For Good team was already working with RE:ACT, helping the charity to use its existing technologies to more efficiently track and communicate data between its headquarters and its volunteers in the field. Given that RE:ACT operates all over the world, often in areas with limited access to the internet, this can be a very complex problem.
To help, the JPMorgan team built a digital survey tool to allow volunteers to more quickly assess and catalogue needs. It also identified a more secure method for communicating the data so that it would be stored safely offline until the field person's device connected with the Internet, at which point it would be automatically sent to headquarters.
The new system was a significant improvement upon the previous approach, says Lyon.
"We used to do it all manually, with paper or spreadsheets," he recalls. "Then we got a digital solution with an iPad and it sped up the process of collecting information in the field and processing volunteers massively."
Adapting for the Next Challenge
What was more valuable than the new tool was the mentorship, says Lyon.
"Over the four years we have worked together, the Force For Good team has guided us through a discovery of how to build things, how to think about the problems and the solutions," he explains. "We have grown a lot from it, and we can now do a lot more for ourselves."
As an example, Lyon points to the charity's response to COVID-19, which he says required Re-Act to revise some of the technology built by Force For Good to make it more applicable to the pandemic.
"Even though the technology became defunct, the thought process around it was still completely relevant," he says. "When COVID hit, I was able to change our current system in only 48 hours into something we needed, based on what I had learned from the JPMorgan partnership."
For Samuel Singh, a JPMorgan software engineer and member of the Force for Good team that worked with RE:ACT, that is what excites him most about the partnership.
"RE:ACT can build upon the tool to make it whatever they find themselves needing in the future," he says. "That's the best case scenario, that what you have built isn't just something that will help the organization in that one moment. Rather, it's a tool they can evolve and grow alongside the organization to better help people in need."