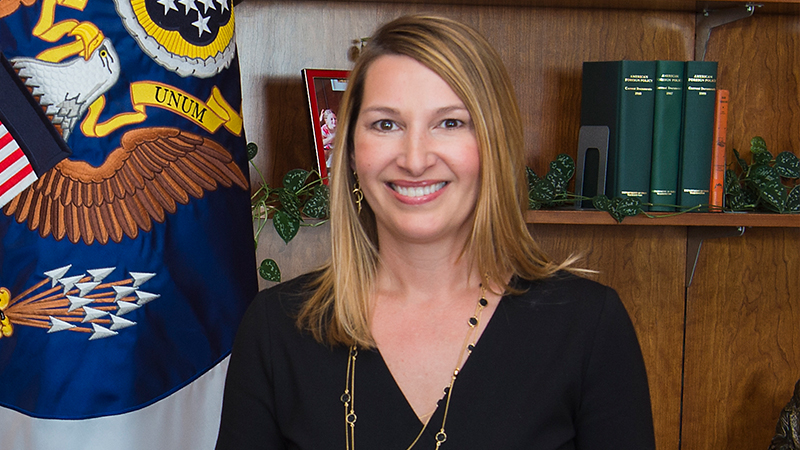 Stories
JPMorgan Chase is Diving Into New Areas of Public Policy. Here's Why.
Heather Higginbottom, President of the JPMorgan Chase PolicyCenter, shares the company's plans in advancing its public policy agenda.
In a focused effort to expand economic opportunity for more people, JPMorgan Chase launched a new public policy center in 2019. Complementing the company's business efforts and expertise, the new PolicyCenter is developing and advancing solutions to address complex barriers to economic opportunity at all levels of government in the U.S. and around the world. Heather Higginbottom, president of the JPMorgan Chase PolicyCenter, shares how the company is taking its unique insights and expertise to the next level with actionable public policies.
1. Why did JPMorgan Chase launch the PolicyCenter?
We believe that business has a vital role to play in driving inclusive economic growth. So we're using our resources and expertise to advance effective solutions that help people who have been left behind benefit from the rewards of a growing economy.
We know we're only as strong as the communities we serve. We have seen the needle move for people in underserved communities through collaboration between business, government and community organizations. Policy change is another necessary step to unlock barriers to economic opportunity and make impact at scale.
2. In April 2021, JPMorgan Chase and 29 other large companies launched the Second Chance Business Coalition. Why did the firm join this coalition and what is its objective?
JPMorgan Chase is proud to be a founding member of the Second Chance Business Coalition (SCBC). We are committed to expanding second chance hiring and advancement practices within our company and sharing our experience with other companies. The SCBC will promote the benefits of second chance employment and provide major employers with tools, relationships and expertise to allow them to provide career advancement and greater economic opportunities to people with criminal records.
3. What role does the PolicyCenter play in helping drive inclusive growth?
JPMorgan Chase has substantial expertise and insights for how to address some of the most vexing social and economic problems facing our country, whether from our core business activities, our philanthropic investments or from data and analysis developed through the JPMorgan Chase Institute. So, we are using those insights to develop and advance policy solutions in order to address barriers to economic opportunity.
Put simply, we're taking our existing work in cities and communities around the world to scale by working with others to change laws and regulations.
4. What does taking JPMorgan Chase's existing work to scale look like in practice?
Policy solutions are an important tool for making impact at scale. The goal of the PolicyCenter is to advance informed policy changes based on the insights and experience we have gained through our business, philanthropic investments and data analysis.
So for example, through our $500 million, five-year AdvancingCities initiative, we have gained insights, knowledge and experience about neighborhood revitalization in several cities including Detroit, Chicago and Greater Washington D.C. region. The PolicyCenter enables us to identify and advance policy solutions that can be applicable in other cities as well as nationally.
5. What helped prepare you to lead this work?
I've spent over 20 years working on a wide range of public policy issues for the U.S. Congress to the executive branch. I served as deputy secretary of state, deputy director of the White House Office of Management and Budget, deputy director of the White House Domestic Policy Council, and a senior legislative aide in the U.S. Senate. Through these roles, I have had the opportunity to work on domestic, economic and foreign policy issues at the highest levels of government. I'm thrilled now to apply my experience at JPMorgan Chase.
6. The PolicyCenter released its first focus area: Second Chance. Why is JPMorgan Chase starting with this area?
We've recently announced our public policy agenda to help reduce barriers to employment for people with criminal backgrounds. Our priorities include reforming financial services industry hiring rules, restoring Pell Grants in prison, fair chance hiring policies and more.
This policy work isn't being done in a vacuum, it is coupled with company-wide efforts that are focused on enhancing our hiring strategy and recruitment efforts, new philanthropic investments in career development for people with criminal backgrounds, and encouraging more companies to hire formerly incarcerated citizens by sharing best practices and learnings.
7. What else can we expect from the PolicyCenter?
This is just the beginning. We will focus on a range of policies that we're uniquely positioned to help address, including skills development and education, small business capital and growth, community and economic development, infrastructure, affordable housing, financial health and more.
---
Click here to learn more about the JPMorgan Chase PolicyCenter.