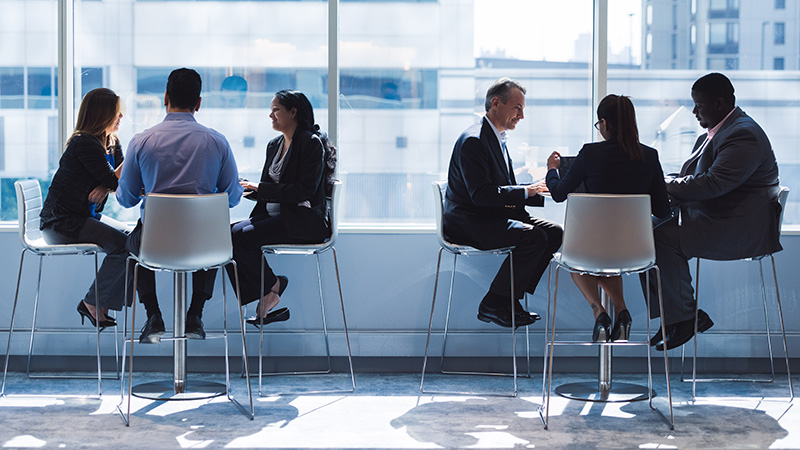 Stories
A Guide to Five Mentorship Models That Could Shape Your Career
Not all mentorships are created equal. Here's how you can identify the type that's best for you plus tips on getting started.
This article was originally published by The Lily.
Mentorship can be instrumental to success especially for women. That's likely why a survey from a workplace-driven social media site revealed that 82 percent of women believe having a mentor is important.
But there's no rulebook on how to find the right mentor. Careers aren't one-size-fits all, so neither is career advice. It's simply a matter of finding what works for you and deciding what you want to get out of a mentorship which is often easier said than done. To help you determine which type of mentorship is best for you and your career, we compiled a list of five mentorship models, as well as tips on how to get started with each.
1. FIND YOURSELF A SPONSOR, NOT JUST A MENTOR
While mentorships can take you far, sponsorships can take you even further. On top of offering advice and guidance, sponsors can put you in touch with other influential people and recommend you for big assignments and jobs.
But because sponsors put their own reputations on the line when they vouch for you, they can be somewhat harder to find. In order to stand out to potential sponsors, you should take on challenging assignments and do anything else that helps your talents and abilities stand out, according to Sylvia Ann Hewlett and Melinda Marshall of the Harvard Business Review.
Fortunately, you won't have to do all of the work yourself when it comes to finding a sponsor. Some of the nation's biggest companies are instituting programs to help sponsors connect with top talent. For example, JPMorgan Chase developed an initiative called 30-5-1 to help women achieve their fullest potential in the workplace; the idea is that women within the company share their time, influence and insights in 30-minute, five-minute, and one-minute intervals proving that it doesn't take long to contribute to someone else's growth in a meaningful way.
2. GET MULTIPLE PEOPLE IN YOUR CORNER
For years, having a single mentor was an effective way to receive all of the workplace support you needed. These days, though, that's not as realistic, since the working world is much more complex than ever and career tracks are not as linear.
So instead of looking to a single person for guidance, try creating your own "personal board of directors" an informal group of people who can provide different perspectives on your work. In a perfect world, this board would include fans (who will support you unconditionally); sponsors (who can advocate for you); critics (who will speak candidly about your weak spots); and mentees (someone you mentor, which can make you a better mentee yourself).
The biggest upside of this system? It allows you to mold who your mentors are over time, giving you room to seek out new advice and guidance as your personal aspirations and career goals evolve.
3. EMBRACE REVERSE-MENTORING
Traditional mentoring tends to be top-down: senior leaders offer career advice to more junior employees. But the reverse-mentoring model flips that idea on its head, putting those senior leaders in the mentee's chair for a change and giving more junior employees the chance to share their insights.
This model not only gives young talent a meaningful chance to elevate themselves and create relationships with senior executives, but it also fosters a workplace culture that values what all generations bring to the table.
4. REALIZE THAT SOMETIMES, LESS IS MORE
A great mentorship doesn't have to last a lifetime. In fact, knowing that a relationship has a specific endpoint often inspires mentors and mentees to be more efficient and purposeful with their time together. That's the thought process behind short-term "micro-mentorships," which are built around clearly-defined, actionable goals, such as learning specific skills (think: managing a team for the first time) or solving specific challenges (think: getting a promotion).
On top of that, limiting a mentorship to one or two months can improve the odds that a busy mentor will be able to find time to help you out.
5. JOIN A MASTERMIND GROUP (OR START YOUR OWN)
"Mastermind groups" are small coalitions of about five people, all around the same age and career level, who meet regularly to talk about goals, growth and workplace challenges. The coaching that comes out of mastermind groups can be particularly beneficial sometimes as beneficial as the advice you'd get from a boss since it gives you a place to get honest, creative feedback from impartial peers.
To start your own mastermind group, look around your network for like-minded, driven people who may be willing to participate. And to ensure that people get what they truly want to out of the meetings, you can ask them for input on what should be workshopped and discussed: what do they need help with? What's an issue they solved recently? What are their goals?
But if you don't have the bandwidth to start a group, you can always track down podcasts, content or shows that discuss how to overcome challenging situations in the workplace.
The more you learn, after all, the more valuable you become.