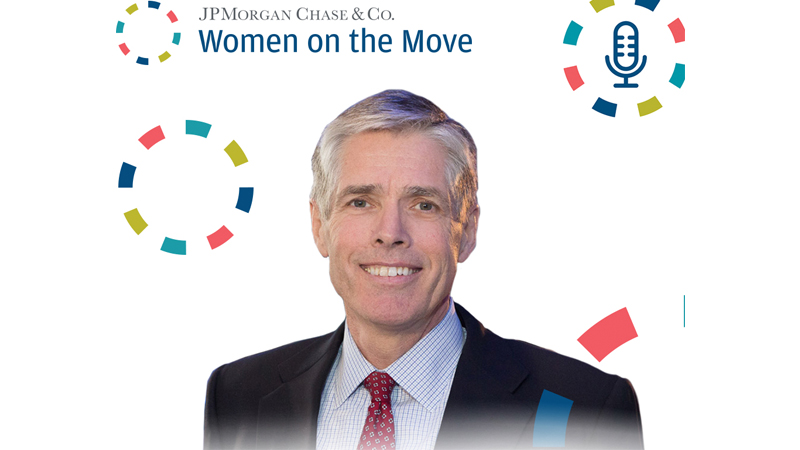 Gordon Smith
Diversity, Equity & Inclusion: A career-long focus
Gordon is a leading champion for JPMorgan Chase's diversity, inclusion and talent development efforts.
It was years ago while working with a female mentee, when Gordon became keenly aware of the need for diversity, equity & inclusion. While expressing her concerns about organizations lacking diversity, she told him companies are sending the message that they are not the place for diverse talent. From that point on, Gordon has maintained a keen focus on management accountability and instituting real business metrics designed to help managers maintain and grow the firm in this area.
Gordon believes driving the organization to better reflect diversity will positively impact JPMorgan Chase's overall culture and better serve customers and the communities they live in.
Simplification is Innovation
You could say that Gordon is fixated on the customer experience and looks for meaningful ways to take complexity out of business. Gordon understands that by simplifying products and making them easier to understand, customers can continue building their businesses and focusing on growth.
Advancing Gender Equality
On male allies and advancing gender equality… Gordon discusses the importance of having senior male leaders leaning-in to provide mentorship, deliver talent reviews and give constructive developmental feedback.
Building a diverse workforce takes a thoughtful, organizational approach. It starts with the role of the recruiter who understands their role in building the talent of the future and carries through to managers who remain focused on diversity as they grow their teams. Promotions and stretch opportunities need to be reinforced with a support system designed to encourage, fill knowledge gaps and ensure success for employees and the company.
View Transcript

(updates content above)
Hide Transcript

(updates content above)
Speaker 1:
We've got so many things right, but now I think we've got to move from the sort of programmatic, the well-intended, to the execution and the action.
Sam Saperstein:
Welcome to the Women On The Move Podcast from JP Morgan chase. I'm Sam Saperstein. Women On The Move is a global initiative at the bank. It's designed to help women grow their businesses, improve their financial health, and build their careers.
Sam Saperstein:
Women On The Move is a core part of JP Morgan Chase's mission to build a diverse culture as the head of Women On The Move, I'm thrilled to welcome you to this podcast series.
Sam Saperstein:
In each episode we dive deep to get at the how of their success. These leaders are showing us new ways to think about challenges, manage inclusive teams, develop strong relationships, and stay focused on their goals. It's hard to find someone who embodies these attributes more thoroughly than our first guest for this series. Gordon Smith.
Sam Saperstein:
Gordon is co president and chief operating officer of JP Morgan chase. He's also the CEO of Consumer and Community Banking, a business with 135,000 employees, that serves 61 million households and 4 million small businesses.
Sam Saperstein:
Gordon is a key champion for JP Morgan Chase's diversity inclusion and talent development efforts. Internally, he's known for having a keen eye for identifying and developing talented people with diverse backgrounds.
Sam Saperstein:
Over the course of his career, Gordon has led by example from the C suite. So when the opportunity to host Gordon as a guest on this podcast arose, I couldn't pass it up. Take a listen and learn how Gordon makes diversity and talent management true business priorities. Gordon, thank you so much for being with us.
Gordon:
You're very welcome. Thank you for inviting me.
Sam Saperstein:
[crosstalk 00:02:05] Of course. So first of all, I want to recognize you for your leadership and diversity at JP Morgan chase. And I think it's fair to say that you have single handedly elevated more women and people of color to leadership positions than any other person at the bank. And so I want to talk to you about why diversity, equity & inclusion are so important to you.
Gordon:
It's very generous of you. I've definitely for a number of decades, tried to make it a very real focus and it's just incredibly important. I mean, we have got to represent the communities we do business in, we have to represent our customer base and it's just the right thing to do.
Sam Saperstein:
You've talked about it as wanting to have metrics around diversity, just like any other business metric.
Gordon:
Yeah.
Sam Saperstein:
How are you looking to do that and put that in place?
Gordon:
Everyone has just a different point of view from their experiences through life. So we want to bring all of those to the workplace so that we can get the best possible leadership for our people and for our customers. So that's how I think about diversity overall. And then what we tried to do at the leadership conference, and actually we were very direct about this. I did all the analysis of the 250 people roughly who were there. We looked at their diversity results and specifically how they had gone about hiring. So if they had to hire X number of people, how diverse were those people?
Gordon:
Around half the people had done a really nice job, actually to be precise. It was 45% so less than half the others less so. And so I was just very clear, we're making progress but half the people or 45% generating all of the momentum and everyone else I think is a believer, but you can't just be a believer, you actually have to deliver.
Sam Saperstein:
And it seems like using those numbers could hold people more accountable for better results over time. Will you share that with folks who are not in the 45% doing this hiring?
Gordon:
Yes. Very clearly. Yes. Everyone for 2019 of the top 250 people in CCP have their own diversity scorecard. They can see how they did, not just in 2019, but 19 18 17.
Sam Saperstein:
Wow.
Gordon:
So we're trying to use a rolling three years.
Sam Saperstein:
Right.
Gordon:
So for me, and we have to start with my own score card, we can say how many open positions has Gordon recruited for over a three year rolling window. And then we can see how well I did or didn't do, and it's not initially intended to be punitive. It's initially intended to be educational, to build awareness, to give leaders the opportunity to reach out to the 45% and to others and ask for help. Over time, we will have to, I think, make it much more part of the bonus program.
Sam Saperstein:
Meaning if people don't hit targets or maybe that's not the right way to say it, but over a course of time, if they're not making progress, that that was somehow be reflected in compensation.
Gordon:
Yes. I didn't see it as any different than any other business metric. If we aren't delivering on our customer goals, if we aren't delivering on as shareholder goals, then the bonus payments are affected in some way, shape or form. That's why they're called bonuses. So why would diversity be any different?
Sam Saperstein:
So looking at it over a three year period, my diffuse, some of the criticism that you can't reach those things in a year or maybe you just had bad luck. Do you think that smooths things out and just gets people to look at it over a period of time, you need to be making progress?
Gordon:
Well I think it does smooth that out for many people. I think for others it takes away an excuse. Because you move jobs, a bunch of different things can happen and people will say, well I just took over this role and there was this reason, that reason. But then you start saying, well how about last year? Or how about the year before that? And now there's a much longer window that you can look at it and say, "Well I just think they can't be a reason every year."
Sam Saperstein:
So you had spent many years of your career focused on this and I'm wondering in the beginning, what made you so interested and passionate about this? When you were starting out, whether it was at other companies too, were there things that really influenced your views on this?
Gordon:
There are, I mean I've always felt it was the right thing to do and it's always obviously very visibly was a problem. I mean, when I started working in the 1980s, there would rarely be a woman in a meeting.
Gordon:
I see interest in it and I'm quite proud of this. And I do make a little joke of it when it happens and actually with some frequency now I'm the only man in the room.
Sam Saperstein:
That is interesting.
Gordon:
Seriously. And these are very senior people.
Sam Saperstein:
Absolutely.
Gordon:
But it happens with some frequency. But there was an inflection point for me just in my thinking about it. I was a mentor of an African American woman happened to be and she's very talented. It wasn't here and I was trying to help her grow and she said something just that has stuck with me all these years. And she said, "Gordon, when you look up in an organization..." When she looks up in an organization, and she sees no one that looks like her, it's very hard for her to believe that this was a place for her. It stuck with me. I can almost remember the conversation, word for word. And so that's always lived with me.
Sam Saperstein:
I really can understand that. And I think a lot of women and people of color definitely can. So I'm glad that that was part of your early experience and you can carry that to this day. So what do you think JP Morgan chase has gotten right varsity. So not only within when it comes to diversity? So not only in your part of the organization, but broadly.
Gordon:
I think our people really care. I think we have numerous programs, great momentum. I mean, we're talking about Women On The Move today. I remember the start of Women On The Move. It was tiny and now it's kind of this global force. I mean in a short number of years it's just grown with such energy and passion. It is making such a difference. So I've had no role in it, but I'm incredibly proud of it.
Sam Saperstein:
I think you were there from the start.
Gordon:
But no. People like Marianne Lake and Mary Erdoes and Kristen Lem cow and yourself, have all had a huge role. And so we've got so many things right, but now I think we've got to move from the sort of programmatic, the well-intended, to the execution and the action.
Sam Saperstein:
And what do you think that looks like on a day to day basis with our 250,000 people who work here? It's a big place.
Gordon:
But again, I like to start with people who recruit people. Hiring people into the company is a very real job, a very real job. And people have to take it that they are building the talent for the future. So that's where we have to start. And then everyone who leads people, as they are promoting people in the organization to being incredibly conscious, not just that it's good for the company to build a diverse workforce, but that they have a role in doing that every day.
Sam Saperstein:
And I think we see at certain key points for managers that this role of recruiting is so critical. So for example, managers of early and entry level folks, especially getting people into their first promotions, and women and people of color into first promotions. How do you influence managers at that level, to think very focused about this? To just be very intentional about what they're doing.
Gordon:
Yeah. I think we have to be very clear about our expectations. Just enormously important that leaders across the company are thinking about not just filling the job for the moment, but thinking about who is the right person, who is the diverse person to fit the role.
Sam Saperstein:
And then it's also especially important for lateral recruiting or recruiting at more senior level roles. When we tend to see that as men and women leave the firm, more men come in hired and lateral recruiting. How do you also then work with managers at more senior levels to make sure they're thinking about it that way?
Gordon:
Yeah, we've tried to use the talent assessment process as a real process. I think my earliest talent reviews in the company felt a little bit late. We'd all sit in a room and if you didn't say something that might appear negative about one of my people, I wouldn't say about yours. And so everybody will come in and there'll be very little substance and then everyone would leave and now the meeting was checked off the list.
Gordon:
And so I think what we tried to use those meetings for us just to be really candid, really open, where people had development needs, lay them out and then give excellent feedback. So that would be the first thing.
Gordon:
The second thing is then to identify the diverse talent throughout the company, and think about what might be the next role that that person could play that would help them to grow, help them to develop? I like to be really clear about this because it's the individual who's going to make the decision about whether they take a job, but my role and the management team's role to serve up the opportunities. So I don't want anybody to ever feel that, job X is open and either Gordon or the management team want you to move into it, so that's what you have to do. You don't.
Sam Saperstein:
Right.
Gordon:
But for us to help serve up the opportunities.
Sam Saperstein:
Let's go deeper on that because I think that is such a thoughtful process. I don't think everybody does it necessarily, but the fact is that you're looking at talent, several layers deep in the organization. You're thinking about next roles, you're moving people. Tell us about how that works. So how well do you personally know talent at several levels down and how are you actually finding folks?
Gordon:
Quite well. And Jamie is amazingly good at that too. He often surprises me, I'll mention someone who I think he'll have no idea who they are, and he actually has a fairly good view of them.
Sam Saperstein:
And do you expect then your direct reports to be always doing that to several layers down and to elevate the visibility the talented folks see you?
Gordon:
It's such a great team that they are, I know they do exactly that because they bring people to me that I don't know. So I know that permeates through the company.
Sam Saperstein:
So when you have to have a conversation with an employee about moving into a new area, maybe something really different, a stretch role for them, what are those conversations look like? How do you approach that and really have that person embrace that idea?
Gordon:
Often there's a sort of tentative mindset that it sounds like a big stretch. It feels a little bit worrying. Can they actually make the jump? And so, what we've tried to do is to be able to say, look, you know the expression, it takes a village. Even here in your career, and perhaps particularly in specifically here in your career, we'll try to be quite structured about it. There's an informal side and a more formal side.
Gordon:
So we'll look at, let's say the person has less experience in the areas of finance or risk management. And so we'll actively say, let's take this person and this person that will offer some support and be sort of assigned mentors if you like. There's an expectation on the senior team that we help everyone to be successful. And I think actually that's just worked really well. I think the village really does work.
Sam Saperstein:
So the feeling is you wouldn't put someone in a new job if you didn't feel like they really could succeed at it and you're conveying that to them.
Gordon:
Yeah, and that they know that there's this kind of blanket around them. If you like of help and support, that there isn't an expectation that you're going to be able to know it and be straight in there in 60 days and to be able to answer every question. I've run CCB since 2012 and I don't know the answer to all the questions. I will call on other people, you probably.
Sam Saperstein:
What does that it factor that makes somebody get someone on your radar? What are you looking for that other people would want to cultivate in themselves?
Gordon:
I'm looking for people who can be intellectually curious. They're always learning. They're trying different things. That's one. They've obviously got to have impeccable ethics, a good work ethic as well. Although I like to see real balance in people's lives. Probably eight minutes ago before we started talking here. One of my teams said that she's just leaving for the next few hours because there's a thing going on at one of her children's schools. I'd be horrified if she or he missed any of those things because I never did by the way.
Sam Saperstein:
So when you have to have tough conversations with people, so let's say, you're trying to sear them, you're helping them generally in their career, what are the ways that you like to bring, harder feedback and criticism to them?
Gordon:
Honestly people crave feedback. And it never has to be mean spirited but it has to be honest and it has to be authentic and it has to be backed up with examples and ideally do it quickly. Think if you sit down and give somebody feedback in December because it's sort of the time of year and say, "You know what, I saw you do this thing in April and you know it was not well done." The person sitting there thinking, my boss has harbored this irritation for months.
Gordon:
So, what I just tried to do is if I see something, I'll call the person afterwards and never do it in real time or we'll sit down together. But try to be really specific. When I sit down to give feedback, I'll try and write notes so that I can offer just a little bit of structure to my thoughts and again, make them actionable, never mean spirited, always developmental. Sometimes in the moment people don't love it. I got to be honest.
Gordon:
But generally speaking, and I would say the vast majority of the times people will come back afterwards and say that was really helpful. I appreciate it.
Sam Saperstein:
How would you counsel mid level managers on giving that feedback the right way and making sure that it's always fair consistent among folks and performance based?
Gordon:
Yeah, real examples, be constructive, be supportive and then have follow up so that the person can see where they're making real progress.
Gordon:
I have a member of my leadership team who is really amazing. It happens to be a woman. She had a number of areas that she had to focus on. And she and I talked through it probably three years ago now and she really took the feedback, well she really focused on it and here's the powerful thing. She went and shared the feedback that I had given her with her direct reports and with her team.
Gordon:
And so all of them worked with her to help her to keep growing. And I think she's one of the most talented people that we have in the company.
Sam Saperstein:
So in addition to being a leader here at JP Morgan Chase, you also have leadership roles on several other companies' boards. You're on the board of directors for Nordstrom and for the International Rescue Committee. Can you talk about those roles and how you can bring an emphasis on diversity to these other organizations as a board member?
Gordon:
A board member is different from being an operating executive. You're more advising. Thankfully being part of those organizations over time, you can share best practices and because they're great organizations, they're just excited to learn from what other people are doing and how they can improve their own practice.
Gordon:
So it's much more of a sharing than an executional role. But both terrific companies who really care about diversity.
Sam Saperstein:
So Nordstrom has done a lot of different things on innovation and really trying to compete better. What do you see there that they do that's helpful to us in our business?
Gordon:
It's a tough market to be a retailer these days and they also have large numbers of employees spread out all over the United States. And I think they've really done a wonderful job over generations, building a culture that is focused on the customer and the diversity of the customer and the diversity of the management team reflecting each other.
Gordon:
But that intense focus on the customer is something that certainly we've done here for decades and it really does pay dividends.
Sam Saperstein:
The other thing I think you're just so well known for is how you think about taking complexity out of the business. That's simplifying things is so important. It's important for our business. It's important for our control environment, it's important for our customers. Talk to me about your just never ending quest to take complexity out of the business and why that is so important to you.
Gordon:
I like to get back to the focus on what's important to the customer every time. And banking is a complex business. And so, customers don't want to be sucked into that complexity. They want to make a payment, complete a transaction, whatever it is they want to do. They don't want to get into our complex language. You think about where on earth does a term wire transfer come from?
Sam Saperstein:
Great question.
Gordon:
1820 or something. I don't know. And so, we have tried to relentlessy simplify the products, streamline them, make them easier for customers to understand. So that intensity has been with me for many years, but we took it to whole business lines as well. So we tried to also say we want to eliminate hobby businesses. And I think about hobby business, just simply ones that we don't have scale that we perhaps are not the best in the market. And student lending was one of those.
Gordon:
So I think we wrote our last student loan in the fourth quarter of 2012 and exited that business. So I've used this term for a long time across CCB that simplification is innovation. You don't have to be thinking large strategic thoughts sometimes. You can just say, "How do I take this simple process that a customer wants to achieve and take all of the complexity out of it?" Get the sand out of the gears.
Sam Saperstein:
So I want to talk to you about the subject of male allies and the importance of having men play a role also in advancing gender equality. And of course we've talked about your role in that. What do you think other men can do here and at other institutions to help women?
Gordon:
It's true for women as well, but when men are in a senior leadership role, they've got to be doing all the things that we've been discussing today. They've got to be mentoring and they've got to be holding talent reviews and giving constructive developmental and positive feedback along the way. So they have to do all of those things, and they have to make sure that they don't shy away. And I hear that sometimes that people will say, well, in a me too world, should you treat someone differently? Never treat anyone differently, treat everyone the same.
Sam Saperstein:
Do you hear that from men now that they feel more concerned about doing that?
Gordon:
I don't. I've actually heard it more from women.
Sam Saperstein:
Who are afraid of that happening.
Gordon:
Exactly. So sort of have that question.
Sam Saperstein:
Right.
Gordon:
I was asked a question once actually, which I thought was a strange question in a town hall, so I was really glad I was asked there. And somebody said, "Well, Gordon, would you take one of the women that works for you out to dinner to give feedback?" And I said, "Yeah, no, probably not. But you didn't ask the question in the way that I would prefer to answer it, which is, would you take any of your leadership team out to dinner to give feedback?"
Gordon:
The answer would be no. Probably not. Why? Because people have busy lives. They work really hard. They've got children, they've got family commitments. Why do I need to go to a restaurant? I don't think I ever do it by the way. Why do I need to go to a restaurant to give someone feedback that's packed with people likely shoulder to shoulder. Then just sit in my office during the day and have a conversation.
Sam Saperstein:
Nice private time. They're expecting that.
Gordon:
Yeah.
Sam Saperstein:
Yeah. Do you think there are myths or assumptions about professional women that we need to debunk? You know, myths around when they start having families or their desire to work the same hours. Are there things that you think we should challenge more?
Gordon:
I mean I really hope those are behind us, but I'm sure in pockets they appear. What I can do is really try to drive those out when ever I see them. Thankfully, I hear that so rarely now, use the example earlier of a parent should be able to go and see their events at their children's school or whatever else it is that's really important. And when men are doing that and women are doing that, then all of a sudden, I think it begins to break those barriers down. So I very rarely hear it now.
Sam Saperstein:
We are approaching the end of this year. So when you reflect back on the end of the year or the end of the quarter, what are the things that make you most proud of in terms of our company and our people?
Gordon:
From a diversity perspective, I think we can all take pride in the progress, but we are still early in the journey. And so about 70% of MDs across the company, amen. And that has to get to 50 50. And so there's a great deal of work still to be done. But I think that we have the momentum, the green shoots are there, but green shoots really have to be nurtured and we can't allow ourselves to take a few successes and say job done.
Gordon:
We have many, many years ahead of us to really be sure that women and people of color and other minorities really are fully, fully represented in the company.
Sam Saperstein:
I know people look at stats like that and they say, this is going to take us a long time to get there, but you still have to maintain hope that we're going to have progress along that way. What do you think both individuals, women and the organization need to do so that a 50% MD level is a reality?
Gordon:
Goals are really important. Consequences are really important. Diversity is not a side job that we do. It is the core job that we do, and so driving that message, bringing it to life, it's a little bit like a flywheel. It builds momentum and then it's sustainable. That's how I think about a flywheel. It will just keep going. Right? When I look across CCB, we're not there yet, so it's going to take really, really focused leadership to get to the point that I've at least will feel comfortable that, that's just going to keep going.
Sam Saperstein:
I think people will be pretty inspired by that. Just knowing that that is another step we can take and that might actually make more progress given that we've done things to this date.
Gordon:
And of course women hire more women, because they're able to attract women into the company who look and save this person going to do it, then I can be successful too. It's true of people of color and so on and so forth. So the more people we start to see, and I do think 18 and 19 have been years where we have really started to get people into senior roles. That's the start of the flywheel and I hope over the next three or four years that we'll really reached that point of sustainability.
Sam Saperstein:
So thank you for being with us Gordon, and we really appreciate hearing your topics on this and just thank you in general for all you do for the company.
Gordon:
Well thank you that's much appreciated and thank you to you and all of the women who are involved in Women On The Move and who are helping us to hire more women in the company into more senior roles. You guys are making a very real difference yourselves.
Sam Saperstein:
Thank you to Gordon Smith for joining us today and for being an ally that leads by example. What a way to kick off this series, and thank you for joining us today.
Sam Saperstein:
Women On The Move exists because all of us at JP Morgan chase want to see women be successful in their professional and personal lives. Our goal is to introduce you to people with great ideas, inspiring stories, and a passion to make a difference. We hope you enjoyed this episode and we'll explore the entire series. For JP Morgan Chase's Women On The Move, I'm Sam Saperstein.
Subscribe