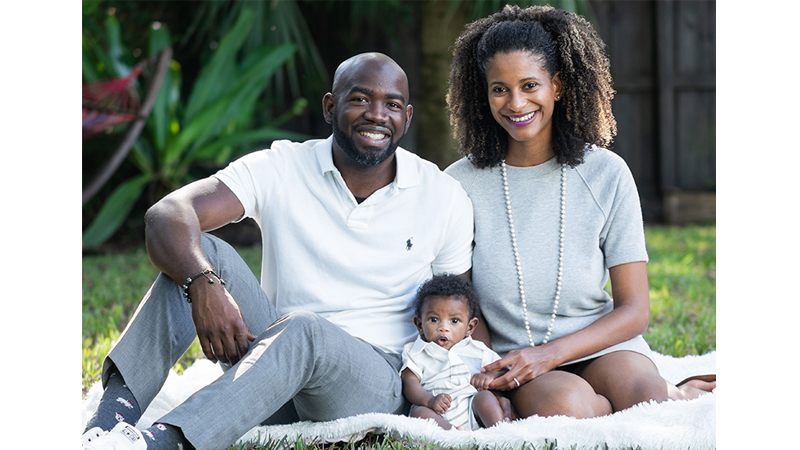 Stories
Going From Banking to Building Communities
Marvin Wilmoth left J.P. Morgan to tackle one of America's biggest problems: Housing inequality. Years later, he's using his banking know-how—and the relationship he built with
J.P. Morgan—to give sustainable communities a fighting chance.
For the last 12 years, Marvin Wilmoth has worked on fighting housing inequality in America.
It's a daunting problem, and the recent pandemic has put it in harsh perspective. Despite rent freezes and moratoriums on eviction, millions of Americans remain in danger of losing their homes. And the problem extends far beyond COVID: In 2018, one in four renters spent more than half of their incomes on housing, according to data from the Harvard Joint Center for Housing Studies. Housing costs and availability affect almost every aspect of income inequality, including access to healthy food, school quality, and even healthcare.
Wilmoth, the Managing Principal and co-founder of Generation Development Group, may have a potential solution: Silo City. Built on the site of an early 1900s grain mill in Buffalo, NY, the development is a test case for a new model of housing that addresses many of the problems facing renters. Open to residents of all income levels, races, religions and genders, it's a mixed-use housing development that is designed to address not only the need for housing, but also other systemic issues like housing and wealth inequality, disparities in education, chronic disease, and access to fresh food.
A New Type of Housing
When it came time to develop housing that would address social problems in Buffalo, Wilmoth started by talking to community members about their needs—a process that Generation will follow on future projects. "We design solutions based on feedback from our community partners," says Wilmoth. "Then we figure out a financial structure designed to best achieve the desired outcome."
These conversations led Wilmoth and his partners to develop innovative solutions to pre-existing problems. For example, to address Buffalo's high rates of obesity and increase access to affordable, nutritious food, Silo City will include a hydroponic farm. It will also commission local artists to paint stories throughout the development, inspiring residents to walk.
"Everything we do is through the lens of human-centered design," Wilmoth says. "We're trying to provide unique solutions for communities, nudges to improve quality of life and make lasting impact. Our goal is to expand the narrative around successful community development to more than just financial metrics."
Finding Help—and a Partner
Developing a new type of housing development requires strong financial backing, and the fact that Wilmoth was looking at more than just the financial bottom line meant that he needed partners with vision. Luckily, he had a lot of experience in building and developing a business. While an undergraduate at Florida A&M University, he interned with J.P. Morgan's debt capital markets group, and then joined the firm in 2004. "I was drawn to the complexity and challenge of finance," he says.
In J.P. Morgan's Financial Institutions Group, Wilmoth helped raise over $2 billion dollars of capital for growth companies. Along the way, he learned a host of business management skills, which he says are "an integral part of Generation's successful operations."
After he left J.P. Morgan, Wilmoth went to graduate school at Columbia University, where he studied real estate development in the School of Architecture, Planning and Preservation. That's where he got the idea for developments like Silo City. Over the years, the idea evolved and in 2018, it got a boost after he and his business partner raised capital from private investors.
When it came time to find a financial backer, Wilmoth reached out to J.P. Morgan. The firm provided Generation Development Group with a construction period letter of credit and will be the lead servicer during the construction period.
"It is surreal being on the other side of the table," says Wilmoth. "The J.P. Morgan underwriting team was incredibly flexible, and understood the greater purpose of providing quality housing opportunities for those in need of affordable options. Never once did they lose sight of the community we were working for."
Working Toward Equity and Equality
J.P. Morgan's involvement in Silo City is part of its recently announced $30 billion commitment to help address U.S. wealth inequality, especially in traditionally underserved Black and Latino communities. This inequality is especially pressing when it comes to housing: In a recent study, only two percent of the 889 real estate investment management firms included in the data set were minority-owned, underscoring not only the need for significant investment in affordable and workforce housing, but also comprehensive systems change to promote racial equity.
This struggle is especially meaningful to Wilmoth. The child of Honduran immigrants, he learned about service from an early age: His mother is a retired Spanish teacher, and his father is a veteran of the Army and Navy. In addition to real estate, Wilmoth is also committed to civic service as Vice Mayor of North Bay Village in Miami-Dade County, where he's focused on sustainability and resilience efforts.
If Wilmoth weren't busy enough, he's also now the proud father of a baby boy, Blake. He envisions a world for his son that's more equitable and sustainable.
"The common denominator for me is always providing opportunities for others," he says. "In real estate, it should be about providing ecosystems to help everyone engage and continually learn. Together, we can build resilient communities for future generations."