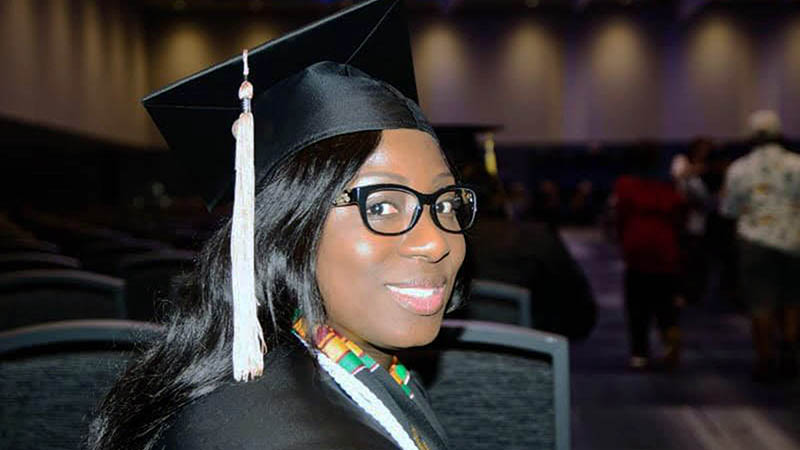 Stories
From Ghana With Gratitude
Jennifer Mensah's polio didn't keep her from accomplishing great things and helping others overcome their disabilities in her native country.
When she was three years old, Jennifer Mensah was stricken with polio. She survived, but the disease left her with an underdeveloped right leg. For much of her childhood in Ghana, West Africa, she watched the world from the sidelines as her classmates soared on the swings or played games like Tumatu, the Ghanaian version of hopscotch.
"People would look at me like there was something wrong with me," Mensah recalls. "I would ask myself, 'Why should I be blamed or looked down on because of something I didn't cause?'"
Early on, she grew determined to succeed and, ultimately, to find a way to give back to people with disabilities who deserve a chance at a better life.
Finding a Path to the Future
Sitting on the sidelines, Mensah put her time to good use, reading and studying. When she was ready for high school, she enrolled in a fashion program to complete a technical degree.
At school, her teachers nurtured her talent for sewing and Mensah won an advanced fashion design contest in her senior year. The prize? An all-expense-paid trip with her teacher to explore textile trends with other fashion school students in London.
That was in 1995, and the trip was just what Mensah needed to see that opportunities were waiting for her outside of Ghana. She soon began looking for other opportunities, and it wasn't long before she found one: her Uncle Emmanuel, who lived in New York City, bought her an airline ticket and filed the initial paperwork to get her into the country.
"That's when I realized that life is what you make of it as long as you work hard," she recalls.
Mensah lived in New York City for several months, but the high cost of living got her thinking about moving somewhere less congested. A friend who lived in Columbus, Ohio told her the area might suit her needs better, so she packed up and made the move.
A Home of Her Own
Mensah found a job to support herself, and it wasn't long before a co-worker told her about another opportunity at a night job where, she said, she worked with great people handling customer calls. That job turned out to be at a Chase call center; after interviewing there herself, Mensah started working nights there in 2004.
Eventually, she quit her day job and began working full-time for the bank. She also learned about its Access Ability Business Resource Group from a coworker and quickly found out that it provides resources, sponsors events and offers support for thousands of employees affected by disabilities, long-term illness and caregiving responsibilities.
Mensah was surprised to learn that the bank had such resources for people with disabilities that kind of support wasn't offered in Ghana.
The program taught her how to build a resume and gave her opportunities to network with people who could coach and mentor her. One of them, Doug Hodge, was the head of Home Lending Organizational Effectiveness. As a sponsor of her Access Ability chapter, he took an interest in Mensah and hired her for a salaried position in change management.
It was a good job, but Mensah's dream was to work in Human Resources, helping people to find jobs and communities that suited their needs and abilities. Hodge was supportive, but pointed out that she would need to get a college degree if she wanted to move in that direction.
"He said, 'Jennifer, you can come work for me, but you have to make me one promise: You have to complete your degree regardless of any adversity that comes your way,'" Mensah says.
An Empowering Force
It took Mensah ten years to graduate and she almost quit seven years into it. "Doug kept pushing me to complete it, telling me my degree was number one," she says. "He trusted me even more than I even trusted myself."
Hodge says Mensah has proven to be an amazing role model. "I'm so proud of Jennifer for achieving her goals and for how she continues to pay it forward to help others," he says. "Despite her own struggles, what caught my attention was how focused she was on helping others with disabilities."
Eventually, Mensah graduated cum laude from the Keller Graduate School of Management at DeVry University in Columbus with a bachelor's degree in Human Resources Management/Personnel Administration. And, in January 2020, she started her dream job as a recruiter with Chase's Consumer and Community Banking division.
Giving back
Visiting Ghana in 2018, Mensah returned to the hospital where she was fitted with her first crutches. Seeing people with disabilities far worse than her own, she reached a decision: It was time to start giving back to the community she came from.
Her solution: Create a non-governmental organization (NGO) to advocate for people with disabilities in her native country. She named it Vigilo, "a mash-up of the first two letters of each of her three daughters nicknames."
Today, talking to people with disabilities in Ghana, Mensah wants them to know that, like her, they can find a path to success. "I tell them, 'Once upon a time I was like you, so I understand exactly how you feel,'" she says now. "Don't ever look down on yourself. Prove people wrong: Get an education and sell your brainpower."
"I've learned from experience that it can be done."