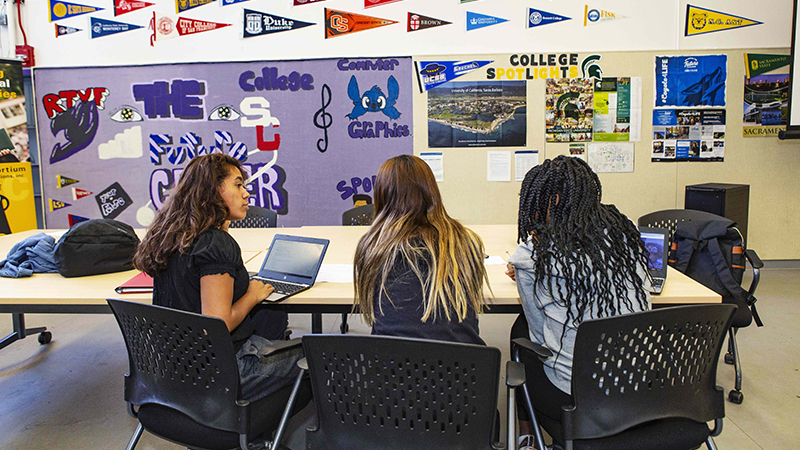 Stories
In Oakland, Future Centers Nurture 
Future College Students
With help from JPMorgan Chase, "Future Centers" in Oakland high schools are preparing students for college.
Rodzhaney Sledge dreamed of becoming a neurosurgeon, but didn't know how she was going to get there. Her parents weren't able to help, and she didn't know how she was going to pay for college on her own.
But her school, Castlemont High School in Oakland, CA, had a plan. Castlemont had a "Future Center," a college and career hub that was able to connect her with multiple medicine internships. Ultimately, it helped her win two college scholarships—one to help with living expenses and the other dedicated to helping low-income, first-generation college students.
"The Future Center is really the closest I have for somebody to look over things," Sledge says.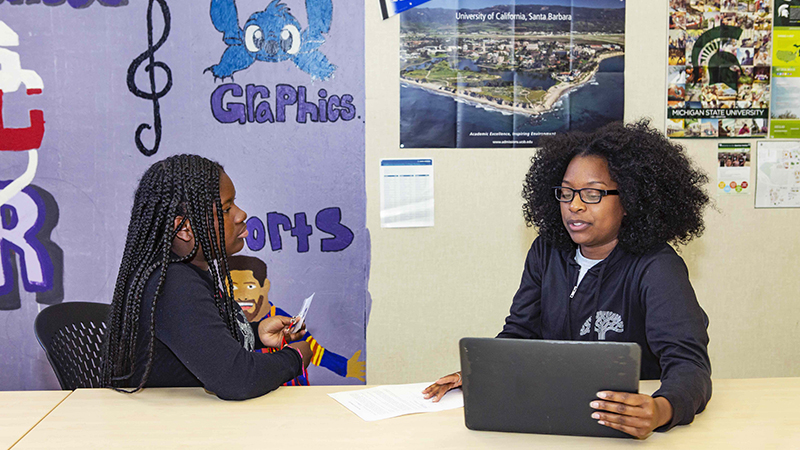 A Partnership to Help Students
Oakland's Future Centers aren't alone in their quest to help students. As part of their commitment to help ensure that Bay Area students have equal opportunities to succeed in college and beyond, JPMorgan Chase has partnered with Oakland Promise—a non-profit organization—to establish the Future Centers. Through them, schools are able to give students the opportunity to meet with a mentor, identify research scholarships, get help with applications, learn about internships, access technology and more.

At Castlemont, one of four Oakland schools with a Future Center, 83 percent of students are economically disadvantaged, and 99 percent are a minority. But the Future Centers are making an impact, and Rodzhaney Sledge is just one of their success stories: Between 2017 and 2019, Castlemont's applications for federal student aid and for the DREAM Act—which allows certain undocumented and nonresident students to receive financial aid—increased by 17 percent.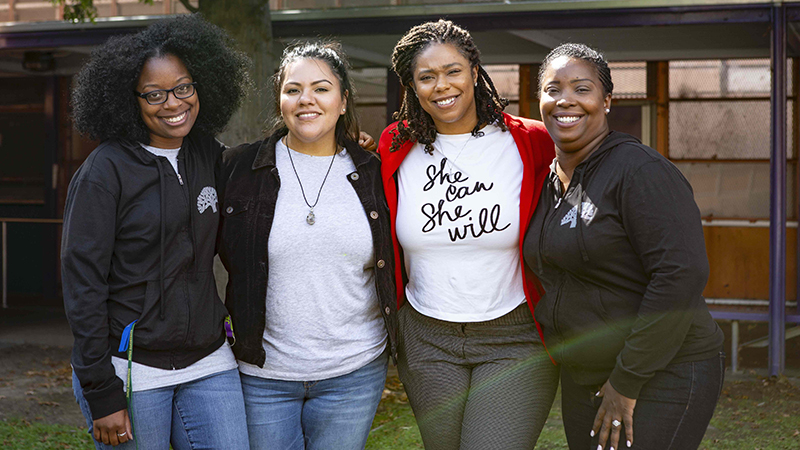 Preparing For the Future…And the Present
Jennifer Early, a college and career readiness specialist at Castlemont, points out that Future Centers aren't just giving students a way to go to college. For many students, they also represent the first opportunity to even consider the possibility of college.

"What I have noticed in the Future Center is we're able to have conversations for the first time around, 'Why college?'" she says. "It's about getting students who have not even thought about college, or didn't think that they could go to college. We're breaking down those notions."
Even before the students go to college, Future Centers are preparing them to meet the world. This spring, thanks in part to the support from JPMorgan Chase, Future Center experts will teach students about financial literacy. These lessons, Early says, will include advice on managing finances—including the money they receive from scholarships—and are designed to help them develop good habits that will serve them throughout their lives.
"Not only do we graduate our students, but we graduate them to be more successful," she says.
Next year, Sledge hopes to begin her studies at the University of California, Santa Barbara. Meanwhile, the team at Oakland Promise will be cheering her on.
"Oakland Promise is creating a generation of talented, resilient students who will become the diverse, skilled leaders and workers of the future," says Oakland Promise College Access Coordinator, Ay'Anna Moody.
"By investing in Oakland students' education and success, companies are investing in the future of their workforce."
---