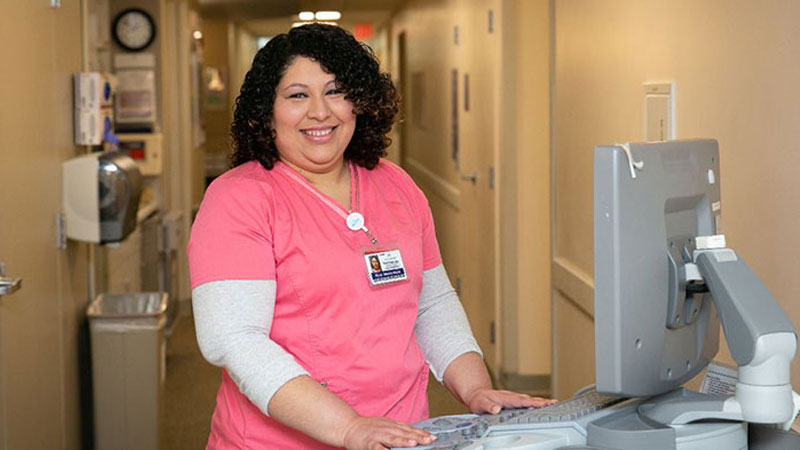 Stories
From Homeless to Healthcare Assistant
With support from JPMorgan Chase and Jewish Vocational Service (JVS), Nuria Reyes received the training she needed to secure a job and provide for herself and her daughter.
Nuria Reyes never expected to end up homeless. Valedictorian of her high school, she had a good job as a medical assistant and had waited to start a family until she and her husband felt they could afford one.
But life doesn't always go as planned. Reyes's daughter, Emily, was born with bilateral hip dysplasia and brittle bones. When the doctors told the new parents that their daughter would require surgeries, braces and physical therapy, Reyes's husband decided he couldn't handle a sick child and ended the marriage.
And like that, Reyes found herself a single mom to a child with special needs in one of the nation's most expensive cities. She got a second job, and worked sixteen hour days.
Driving between jobs one day, Reyes was hit by a car. She required three weeks in the hospital, and six months of physical therapy. By the time she was healthy enough to return to work, one employer had fired her. Making matters worse, it was time for Emily's first surgery. Her remaining job paid her $14 an hour, but the cheapest professional babysitter – someone who could care for Emily's post-surgical wounds and rotate the child to avoid bedsores – cost $25 an hour.
"That's when I knew that I couldn't go back to work," explains Reyes. "Emily needed me more than I needed a job."
Reyes spent down her savings. Then she sold her television. Then Emily's crib. Soon she had nothing left to sell. All the while, Reyes searched feverishly for work, but between the physical therapy for the car accident and Emily's surgery, she had been out of work for nearly a year, and the long period of unemployment deterred potential employers.
Absent other options, Reyes and Emily moved into a homeless shelter, where they stayed for seven months while Reyes continued applying for jobs to no avail.
Then they moved into Compass' Clara House, an 18 to 24-month live-in program that helps families build lasting success. There, Reyes learned about the Medical Assistant Refresher Program at Jewish Vocational Service (JVS), a nonprofit that helps Bay Area residents to build skills and find work to achieve self-sufficiency. The program, which is funded in part by JPMorgan Chase, provides certified medical assistants with five weeks of classroom training and a six-week paid externship with Bay Area-based Kaiser Permanente–one of the nation's largest healthcare systems.
Over the past six years, JPMorgan Chase has invested more than a million dollars in JVS to support healthcare training programs that provide job seekers, like Reyes, with the specific skills necessary to fill immediate job openings in the healthcare industry. The programs narrowly target healthcare because the industry is one of the fastest-growing in the country, and offers well-paying jobs, with salaries averaging nearly $53,000.1
By helping people to acquire the necessary skills to secure good jobs, JVS and JPMorgan Chase are not only helping to reduce income inequality in the Bay Area, but also increasing economic mobility. Just ask Reyes, who completed the JVS program in April 2018. Based on her performance during the externship, Reyes was hired full-time at Kaiser-Permanente. She now earns $27 an hour. Plus benefits.
"JVS showed me how to build my resume, be professional, and interview well. And at my externship I got to build my skills and learn how Kaiser-Permanente works. Because of that program, I'm now living in a two-bedroom apartment. We have a roof over our heads and we have food on the table," says Reyes.
And she adds, Emily, 5, is thriving.
"The doctors expected Emily not to walk, and she's walking. She's running. She's jumping. She's very happy. And she inspires me every day."
---
1.
https://datausa.io/profile/naics/health-care-social-assistance#about