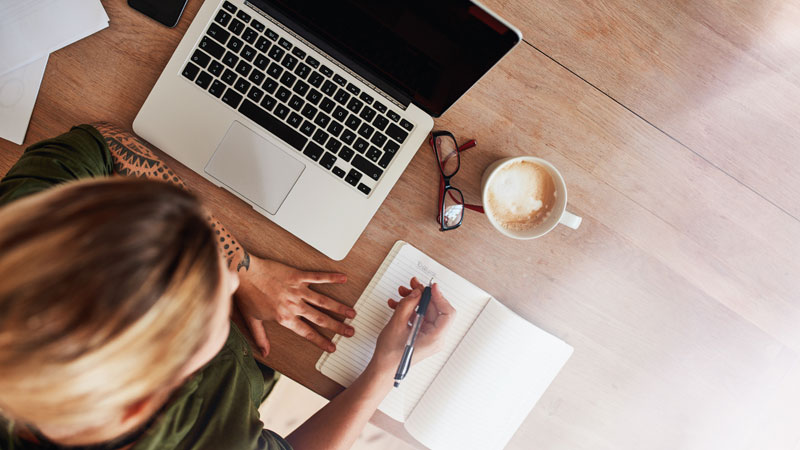 Stories
Forget New Year's Resolutions. Achieve Your Goals Today
This piece was originally published by OZY on September 7, 2017.
Forget New Year's resolutions. If you've got life-changing plans on the back burner, now's the time to bring them front and center. September is increasingly beating out January as the month for refocusing on your goals and accomplishing long-term aspirations.
"Grocery stores have reported 20 percent rises in shopping-cart sales between August and September, as consumers move toward healthier, home-cooked meals."
Weight Watchers International has said fall is among the most popular enrollment periods for weight-loss programs. And, according to research firm comScore, time spent browsing career development online rises around 30 percent compared with August.
But feeling motivated is one thing; staying the distance is quite another. Here, six top executives from JPMorgan Chase give their advice on how to set a course for success — and stick to it.
Know your goals …
"Organize your goals into categories, such as personal, career and financial — and always keep them in your line of sight. I carry mine with me every day," says Valerie Rainford, head of Advancing Black Leaders & Diversity Advancement Strategies. "Revisit each category on a regular basis, but don't try to review them all at once, because it can be overwhelming."
Pamela Lipp-Hendricks, development executive for Corporate Talent & Development, advises creating visual reminders. "Set digital alerts. When you're constantly reminded of your goal, you're more accountable for achieving it."
Jim Sinocchi, head of Disability Inclusion, adds knowing your goals includes the why as well as the how: "Be passionate about your goals for the right reasons. Values and beliefs are key."
… But be ready to move the goalposts
Sinocchi says to prep for success, you should be primed to adapt: "Continually review goals and assess where you are. You may have to adjust them based on new information or changes in the environment or marketplace."
Adrienne Kay, business manager for Chase Merchant Services, agrees flexibility is crucial. "What you do today should be on the path to the finish line," she says, "but you can redirect or change your path if you need to pick up the pace or stay the course."
Ask for help
They may be your goals, but that doesn't mean you should keep them to yourself. Lipp-Hendricks advises: "Tell your inner circle what you're trying to achieve, so they regularly ask about your progress." That keeps the goal in sight.
"Seek guidance when you hit a roadblock," Kay adds. "Opt to go through an obstacle rather than around it — you may have team members who have been there, and they are usually happy to offer guidance. If you go around the obstacle, you may miss valuable lessons."
Assess your progress
To reach a specific end point, you need to track your journey. "Create a log of your accomplishments along the way," says Kay. "It took a lot for you to achieve your objectives — take credit for all you've done. And remember, no one can get to where they need to be if they have no clue where they are."
Sarah Steinberg, vice president of Global Philanthropy, concedes keeping your eye on the prize can be hard amid the daily minutiae. "When work gets crazy, it's easy to fall into the trap of putting out fires, responding to emails and generally spending too much time being reactive," she says. Her advice? "A couple of times a year, I set three to five medium-term goals for myself — things I want to accomplish over the next year. It helps me to take a deep breath, look at those goals and consciously reorient my time and energy toward activities that will help me reach them."
Remember to take breaks
While pursuing your goals with intent is important, you won't cross the finish line if you burn out. Tara Shannon, Civic Engagement specialist, urges you to make sure your vacations are actually time off. "I make two to-do lists before I leave," she says. "The first is for my last week in the office, and includes everything I need to get done before I go. This helps me make sure I'm not leaving any urgent loose ends untied and to know where I need to prep colleagues to handle things while I'm out. The second is a prioritized to-do list I make on my last day in the office. This gives me a starting place to dive right back in once vacation is over."