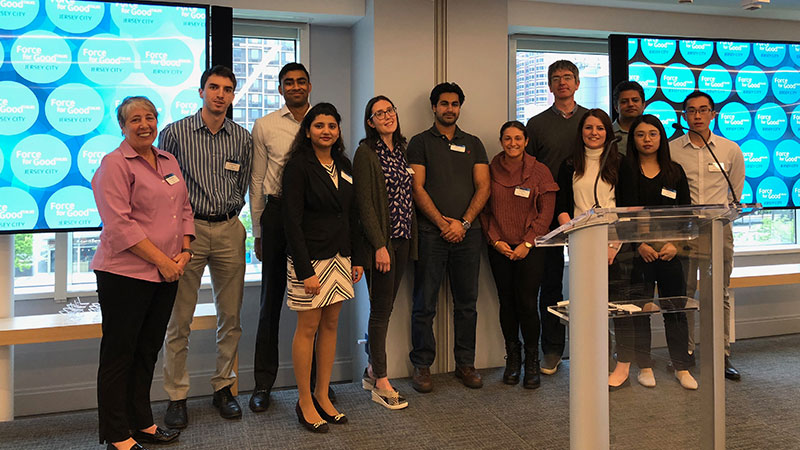 Stories
Force for Good is Breaking Barriers for Students with Autism
At the Eden II School in Staten Island, New York, students with a broad range of autism aim to achieve their full potential—but despite top-tier education, communication barriers between students and teachers can slow the process.
Approximately 30 percent of the students have unique speech patterns that can make it difficult for them to communicate with new teachers or caregivers. And frustration from not being understood can lead to behavioral problems that impact the level of independence that students are able to achieve.
Enter the JPMorgan Chase Force for Good Program, which pairs technologists with nonprofits like Eden II to solve challenges through tech. Last year, the school asked Force for Good to create a technology platform that would help students communicate with an easy-to-use, speech-to-text solution.
"Our technologists had a uniquely hard problem to address," Force for Good team sponsor and Managing Director in Global Technology Jody Spearing says. "When we took on this challenge, there was no existing technical solution in the industry."
The Force for Good Eden II team included eight first-year technologists, a product owner, a development expert and a scrum master—a typical model for a lean Agile tech team at JPMorgan Chase. They had just eight months to design, implement, test and deploy their innovative solution.
So, how does the Eden II app work?
The iOS application is capable of unique and personal speech recognition. The app interprets unique speech patterns using a personalized dictionary. Students can simply open the application on a device and press record as they speak. The app interprets the spoken word and displays it on the screen with a supporting image, so that it can be read aloud. The simple translation makes it possible for students to communicate more easily with people they meet outside their usual day-to-day interactions.
Eden II Director of Educational Services Jamie Arnold says the team understood exactly what the school needed and how to make it happen. "This app is a very useful tool for nonverbal people with autism and has the potential to change many lives. The JPMorgan Chase team has done great work."
Besides helping Eden II, the project provided a unique development opportunity for the technology team members.
"For many first-year technologists participating in Force for Good, this has been their first corporate team experience," says Eden II product owner Gerard Kirk. "The team is responsible for a project from design to delivery. Everyone has to do their part, or the project will fail. It was rewarding to see the team come together, evolve and make a difference."
According to first-year software engineer Haroon Rashid, the project was challenging but valuable. "Building this app was a fantastic experience," says Rashid, who worked on the Eden app's user interface design and implementation.
"None of us had previous experience with speech-to-text technology, so we had to learn a lot. We had the opportunity to apply our skills and technical learning to a real-life situation and deliver a solution that brought immediate, demonstrable value to the Eden II community."