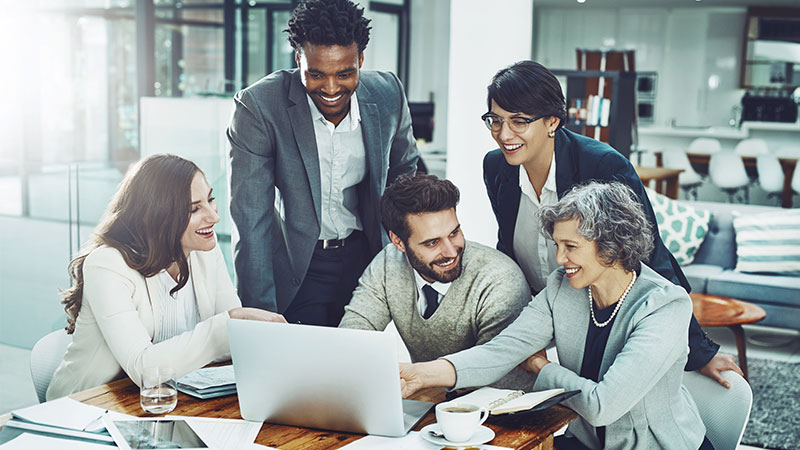 Stories
Focus on the Message, Not the Messenger
Diverse leaders share advice they wish they could tell their younger selves.
A robust body of research has proven the often assumed positive correlation between gender diversity in corporate leadership and financial performance. The research shows that diversity increases productivity as well as client and employee satisfaction.
This was one of the topics addressed during a recent Women on the Move event at the London Asset Management office. The discussion, which was led by a panel of senior female executives, focused on the actions that can be taken to advance and promote diversity, equity & inclusion in the workplace. The research and the panel concluded that inclusion is not just the right thing to do, it's the smart thing to do.
Marilisa Barbato, a member of the Women on the Move Private Bank network, presented a variety of research studies1 that showed the positive impact gender diversity has on financial performance is not random, but statistically demonstrated. According to a study conducted by McKinsey&Company diversity creates increased client orientation and a diverse talent pool, which fosters creativity, improves collaboration and results in enhanced employee performance.
In particular, since the 1990s, talent has become scarcer and more expensive, and as consequence, the competition to recruit and retain talent has intensified. At the same time demographics of the workforce have changed, with women representing almost half of the workforce in the United States and the United Kingdom. Diversity in leadership teams can help companies increase the sources feeding their talent pool and to gain a competitive recruitment advantage, leading to better financial performance. Finally, diversity decreases turnover rates and increases productivity by about 22 percent thanks to increased employee satisfaction, reduced conflicts between groups and improved collaboration and loyalty.
"One of the things we pride ourselves on at J.P. Morgan is that the strength of our franchise rests on our people and our culture, and the success of our culture depends on the attitude and actions of individuals," said Ilaria Calabresi, Vice President, Wealth Management and co-Chair of the WOTM Private Bank network. She added, "[In order to foster greater inclusion] each of us has to own our career, promote change and support others in their own advancement."
With that in mind, here are three pieces of advice our diverse leaders would have, given the chance, told their younger selves as they built their careers:
"A key part of being successful is having that confidence to aim higher and avoiding underestimating our own abilities. Keep your eyes on the stars and your feet on the ground. Develop leadership skills, take on responsibility and have both male and female role models and mentors."

-Piera Elisa Grassi, Lead Portfolio Manager, J.P. Morgan Asset Management


"Own your career and have an open dialogue with your manager. You need to own your outcome and raise your hand to ask for things, be it more responsibility or your next role. Know that the choices that worked for you might not work for the people reporting to you. In this case, as a woman, the choices you made in regards to your job and family might not be the same ones people around you want to make."

- Diana Robinson, Head of Equities in EMEA, J.P. Morgan Wealth Management


"Focus on the idea, not who is saying it. Be open to opinions regardless of where they come from. Focus on the message and not the messenger. This applies to gender but also age, listen to juniors' opinions."

-Tatjana Greil-Castro, Lead Portfolio Manager, Muzinich & Co.


Diversity benefits both men and women and gender equality will be reached if, and only if, everyone works together towards it. "Everyone plays an important role in change, inclusion will work only if we all work in partnership," said Calabresi.
---
Credit Suisse, The CS Gender 3000: The Reward for Change, September 2016 http://publications.credit-suisse.com/tasks/render/file/index.cfm?fileid=5A7755E1-EFDD-1973-A0B5C54AFF3FB0AE
Deloitte. "Inclusive Mobility: How mobilizing a diverse workforce can drive business performance."