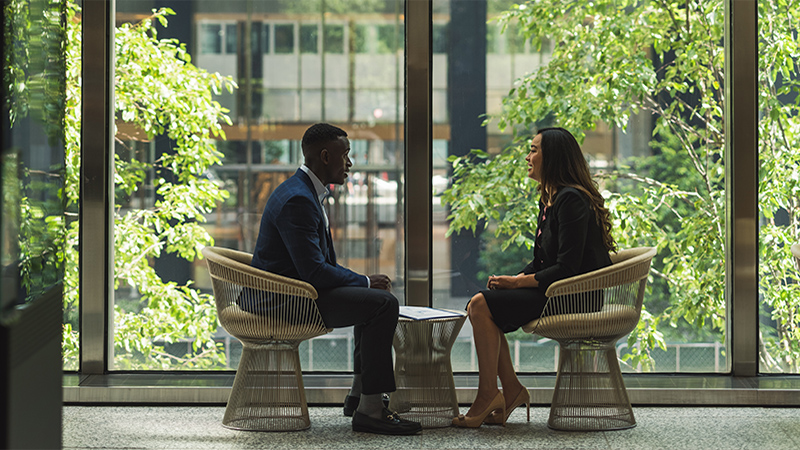 Stories
Financing the green transition
An interview with Chuka Umunna, Head of EMEA Environmental, Social and Governance (ESG)
What is 'Green Finance'? How important is the role of finance in transitioning to a climate neutral economy?
Climate change is one of the most critical challenges of our time and business has a crucial role to play in advancing the transition to a low-carbon economy and helping to put our planet on a path to net-zero. At JPMorgan Chase, we want to do our part by applying our capital, data, expertise and other resources to help our clients transition to a low-carbon economy and advance long-term, innovative technological solutions, creating a more sustainable future for our stakeholders around the world.
How does carbon intensity of companies feature in JPMorgan Chase's decision-making about its financing activities?
We are committed to working closely with our clients to drive meaningful change by facilitating the transition to a low-carbon world, and believe carbon intensity will be the most helpful metric to bring our commitment to life. It enables us to measure performance at the sector and company levels and account for the progress clients are making over time. We believe that using carbon intensity as a metric combined with setting informative targets that are aligned with science-based scenarios will allow us to truly maximise our impact and get our portfolio and our planet on a path to net-zero.
JPMorgan Chase has announced $1 trillion of financing for green initiatives over the next 10 years, to accelerate the transition to a carbon-neutral economy. How will that work substantively? What kinds of projects will the firm be targeting with such investment?
In April, we announced our target to finance and facilitate more than $2.5 trillion over the next 10 years, including $1 trillion for green initiatives, amounting to one of the biggest, most substantial commitments of any bank in the world. This is an ambitious target and represents a significant increase in green activity over time. We will meet it by leveraging existing and new business initiatives, and are building our capacity to help provide clients with specialised advisory, financing and research through new teams. The amount allocated for green initiatives will contribute to the financing or refinancing of any projects that support climate action with the goal of accelerating solutions for cleaner sources of energy and facilitating the transition to a low-carbon economy, particularly in the realms of clean technology, water, waste management, conservation, sustainable transportation, green buildings and energy efficiency.
What is the Center for Carbon Transition, and what are its principal objectives? Has it succeeded/Is it succeeding in these objectives so far?
We are committed to helping our clients transition to low-carbon operations and technologies over time and the Center for Carbon Transition (CCT) will play a significant role in this. The CCT provides clients with the data and firmwide expertise needed to navigate the transition to a low-carbon future, and will help deliver on our commitment to align our financing with the goals of the Paris Agreement. We launched the CCT in 2020 and it has since provided our clients in the Corporate & Investment Bank and Commercial Banking with centralised access to sustainability-focused financing, research and advisory solutions.
How can public and private finance work together to push the world to the Paris goals? Are you optimistic that we can reach those goals?
We know that the challenge of transitioning to a low-carbon world will not be easy, but we are committed to advancing solutions. We recognise that significant changes in government policy and the creation of new technologies will ultimately be required to reach net-zero emissions by 2050, especially for those sectors that currently lack alternatives, and we support a number of potential public policies that would enhance markets' ability to provide the private sector finance necessary to address climate change. For instance, we collaborated with the Rocky Mountain Institute (RMI) for the launch of the Center for Climate-Aligned Finance to help shape the financial industry's role in facilitating the transition to a low-carbon, sustainable economy and society. We are optimistic that, with cross-sector collaboration, we can positively contribute to the world's meeting these goals.
This content was originally published on The American Chamber of Commerce's Invested in Europe platform.
Read more: