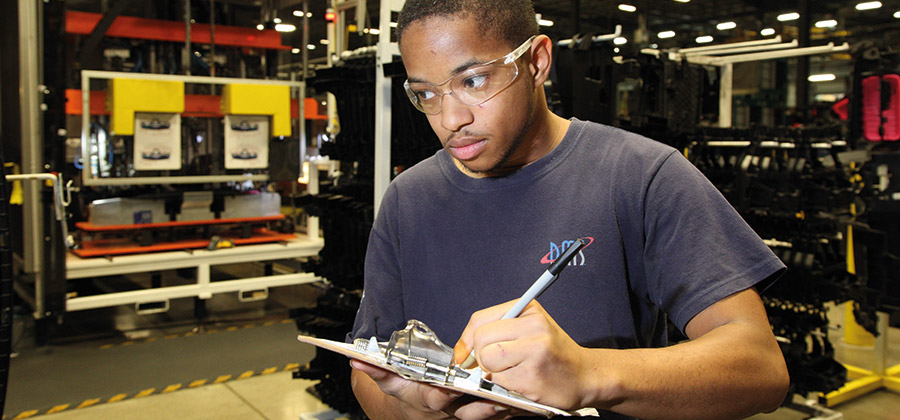 Stories
Opening the Doors to Opportunity for Detroit's Youth
Talent is distributed evenly. Opportunity is not.
It's a point Detroit Mayor Mike Duggan, among others, has made, and it's one that is starkly apparent in Detroit. More than 55 percent of Detroit's children live in poverty. The city has a 30 percent youth unemployment rate — the highest among the 25 largest U.S. metro areas. Only 62 percent of the city's African-American and 55 percent of its Latino young men are graduating from high school. More than 30 percent of young people in Detroit's lower-income African-American neighborhoods are neither working nor in school.
In Detroit, as in too many communities around the world, young people of color and young people from distressed neighborhoods are being shut out of opportunity. JPMorgan Chase is working to help change that reality.
In 2016 our firm launched New Skills for Youth, a $75 million global initiative to expand high-quality career-focused education programs that lead to well-paying jobs and long-term careers. These programs can truly transform lives by showing students that there are many pathways to success, including ones that do not require pursuing a four-year degree right after high school.
As part of this initiative, we are investing $4 million to support work by the United Way of Southeastern Michigan to strengthen college and career pathways for students at 20 Detroit high schools. JPMorgan Chase joins the Skillman Foundation, the Ford Foundation and the Ford Motor Company Fund as part of a coalition working to connect 10,000 Detroit high school students over the next three years with career education and work experiences to boost employment.
Our support will enable the United Way to expand its Linked Learning initiative, a career-oriented education program. Through Linked Learning's curriculum and work-based learning, students earn credentials, qualifying them for career pathways and college, in growing industries such as advanced manufacturing, health care, information technology, digital communications, engineering and public service.
"As parents fight to encourage their children to stay in school in hopes that they have a brighter future, it's an uphill battle without access and opportunity that our youth can see," said Sharlonda Buckman, CEO, Detroit Parent Network. "With support from JPMorgan Chase, the Linked Learning approach is an opportunity to affirm parents' resolve to push and support their youth and the relevance of their education experience."
By creating more opportunities for Detroit's young people, JPMorgan Chase is helping lay the foundation for a real, lasting and broadly shared recovery.