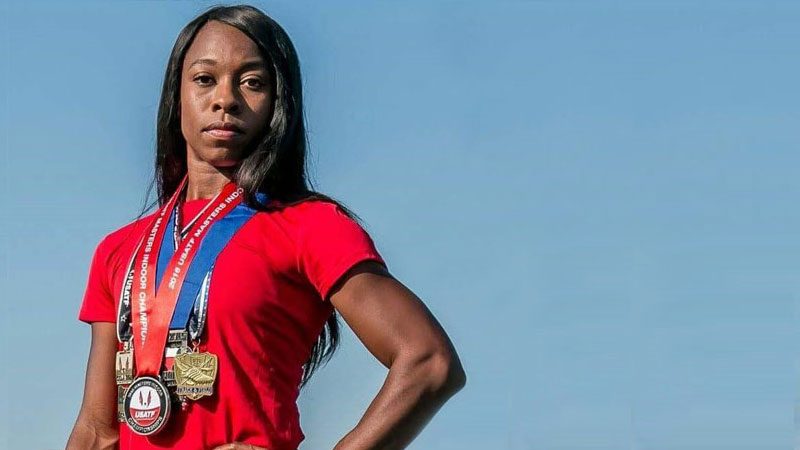 Stories
For This Gold-Winning Track Master, Failing is Just the First Attempt in Learning
JPMorgan Chase's Shameika McAllister knows that perseverance gets you to the finish line.
The Starting Line
The crowd settles to a dull roar.
It's the World Master's Athletics Championships and thousands of people have come from around the world to Malaga, Spain to cheer on their country's team. I take a deep breath, lower my rear leg into set position, and carefully place my hands shoulder-width apart behind the manicured, white starting line. My feet are pressed firmly on the starting blocks.
Lowering my eyes to the ground, I align my head with my spine—I'm ready. The instant the gun goes off, I see all the work that led me to this point. I hear the sound of crumpling metal from the car crash that paralyzed the left side of my body and took me out of competition in college more than 20 years ago. I hear my physical therapist and grandmother encouraging me as I took my first unassisted steps 18 months later. I hear the first cries of my two children in the hospital and remember how these defining moments changed my life by changing my motivations.
Motivation is constantly evolving. At work, as an Operations Analyst at JPMorgan Chase, I am motivated by my team and clients. At home I am motivated to be a better mother, friend, role model, to be better for my family. At school I am motivated by my grades and the desire to achieve my degree. And it all comes together for me on the track, because here, my motivation is simple: I just need to be better than I was yesterday.
Accelerating the Pace
I focus on my breathing — applying techniques learned through meditation that I have used throughout my personal, professional and athletic career. They are the same techniques that I use when I coach the summer youth track & field team, my son competes for.
I'm two paces behind Jamaica now—too close to give up. I think about a handwritten Post-it I have hanging at home on the mirror that reads "success lies outside of your comfort zone." With each race or transition in my professional career, I further understand the meaning of that note. It would have been easy for me to give up after the car accident, after I lost my grandparents, who raised me, or after I had children. But leaving my comfort zone has meant growth, inspiration and new opportunities. It is why I am here, 5,000 miles away from my native Texas, competing for Team USA.
Making up Time
I think it is easy to inspire with words, but I seek to inspire myself and others with action, by pursuing what makes me happy and appreciating what I learn along the way. I've found that the potential to evolve is boundless and there is always the possibility of exceeding your own expectations. My faith and my family drive me to challenge myself every single day, to remain disciplined, patient, and manage my time wisely.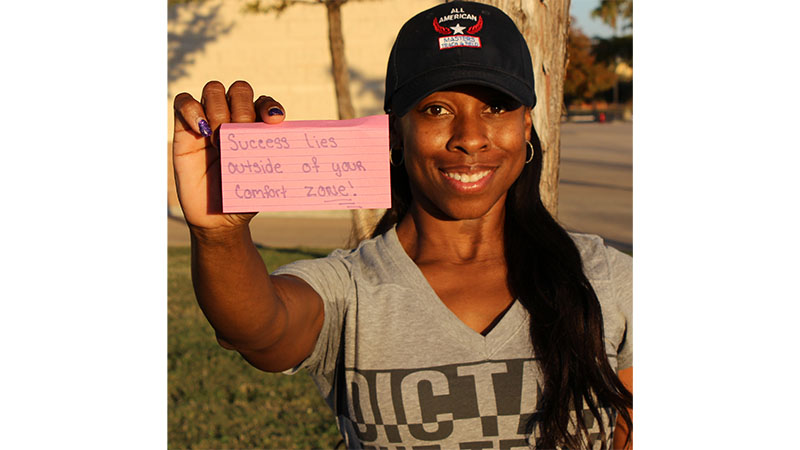 Nearing the Finish Line
I let my muscle memory take over, engaging in a sprint that drains every ounce of my energy. I hear my fourteen-month-old daughter and teenage son screaming their hearts out, and wonder if they'll ever know that they inspire me more than I could ever inspire them.
As I'm nearing the finish line and realize that I am not going to win. This time, Jamaica wins the gold.
With this thought in the back of my mind, I keep pushing forward to the finish. Because, just as I tell my children, the teams I coach and my colleagues at JPMorgan Chase, failing is simply the 'first attempt in learning.' Win or lose, hardware or no hardware, I have already won. I have experienced yet another moment that will help define my life moving forward. After all, I just competed for Team USA in the World Masters Athletics Championships at 41 years old.
And I'm just getting started.
---