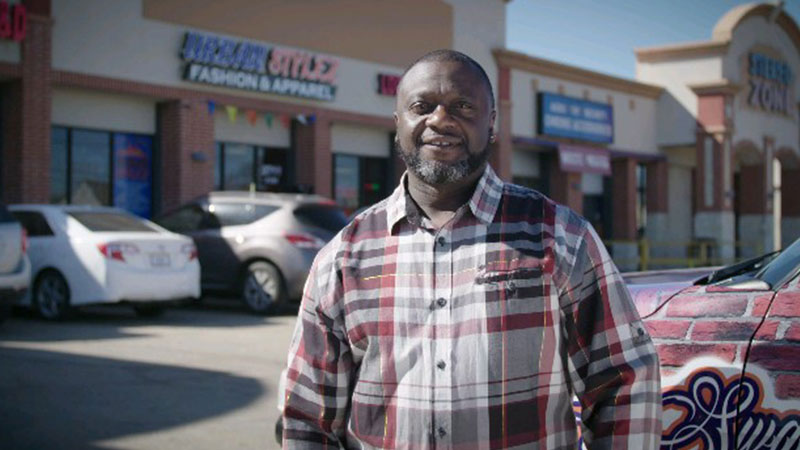 Stories
Faces of Opportunity: From Incarceration to Successful Business Owner
Orlander Johnson took the leap with help from JPMorgan Chase.
Orlander Johnson had a good childhood in a supportive home in Dallas. As a teenager, he played football and had bright prospects. He even started college.
But then he ran with the wrong crowd and ended up dropping out of school. He found himself in and out of prison, including serving a five-year sentence in a federal facility for nonviolent drug charges.
His turning point came when the mother of his children died while he was incarcerated. He wasn't able to make it to the funeral or to be there for his children. He describes the time in his life as "one of the hardest things I've had to deal with."
That's when Orlander decided to "find something else to live for other than myself." He participated in a special entrepreneurial program in prison, which was funded in part by JPMorgan Chase, and then proceeded to start his own business when he transitioned back to civilian life.
Urban Stylz, an apparel and accessories store in Dallas, needed the same seed support and assistance that all businesses need to succeed.
Orlander found that because he had no credit established, though, he was challenged in accessing traditional business loans. That's when he found LiftFund. JPMorgan Chase invests in the nonprofit, which is a Community Development Financial Institution (CDFI) that offers low-interest small business loans to entrepreneurs that needed access to capital. He was able to secure a small loan that helped him get his business off the ground. That initial loan allowed him to establish credit, which opened up the door for him access to additional loans, including from larger financial institutions.
More than just a traditional loan fund, LiftFund also offers critical technical assistance and advising to business owners like Orlander who are just starting out and can benefit from the added resources and guidance.
Today, Urban Stylz is a successful apparel and accessories store in Dallas that continues to grow. More than that, Orlander has become a community pillar, a family man who sets an admirable example for his children and grandchildren and for kids coming of age in the neighborhood, many of whom come by his store regularly.
"This entire process has allowed me to show my kids that I matured and became responsible. It's a blessing," said Orlander.