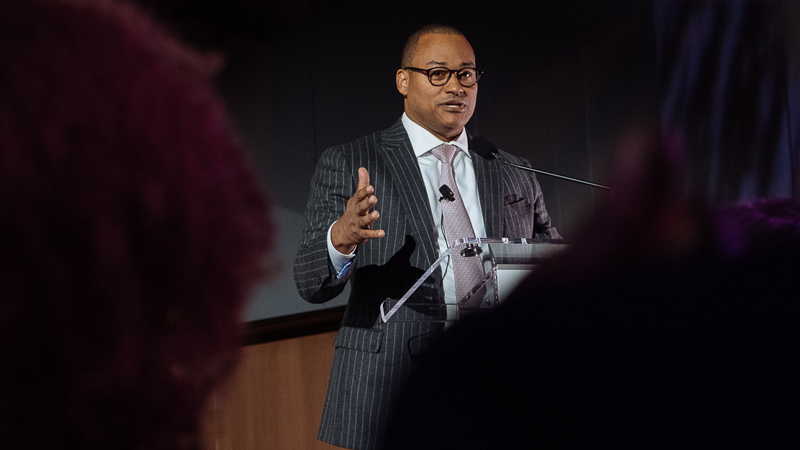 Stories
Exponential Value When Purpose And Profit Collide
The following article originally appeared in Forbes:
As JPMorgan Chase's Head of Consumer Banking for the Northeast Division, Sekou Kaalund oversees 1,000 branches and 10,000 employees at the largest retail bank in the country. Not bad for an accidental banker.
"My vision is creating growth for an inclusive economy. We know closing the racial wealth gap is good for all communities and for the country at large."
Sekou Kaalund, Head of Consumer Banking, Northeast Division, JPMorgan Chase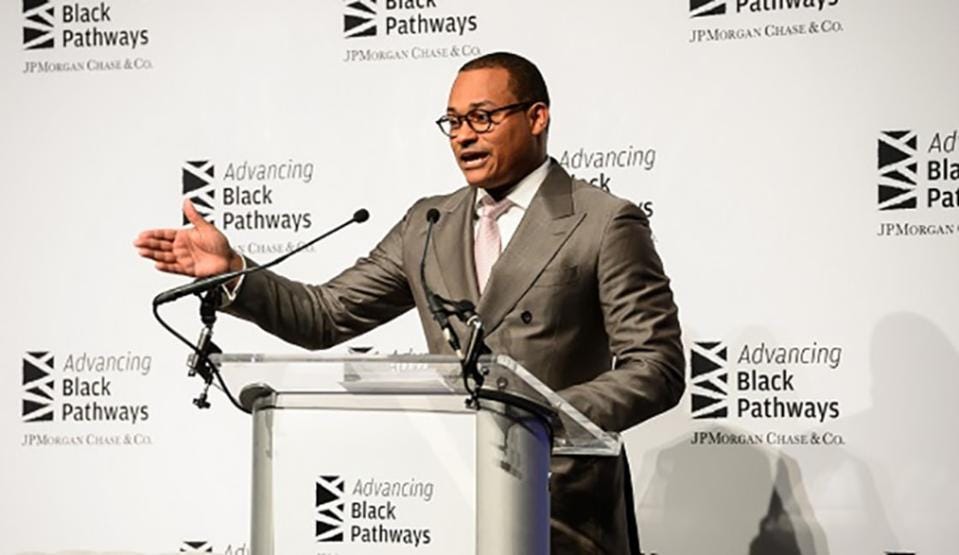 Photo of Sekou Kaalund, Head of Consumer Banking, Northeast Division, JPMorgan and Chase.

Jessica Pliska: Let's start big-picture. How would you describe your life's work?
Sekou Kaalund: It's more of a calling. My life's purpose has always centered on service to others; I've always known that with the greatest clarity. My work has been devoted to closing the income inequality gap, especially anchored in racial inequity―leveraging the resources of major institutions to create more inclusive wealth, invest in communities, and create true economic justice.
Pliska: Those are unusual words for a banker.
Kaalund: Performance matters, revenue matters, results matter. But people, culture, and community―and how my life can make an impact for others―these things anchor everything I do. I'm actually an accidental banker. I didn't aspire to banking. But I know how dramatically financial literacy, housing, wealth generation, good jobs and education drive inclusive growth.
Pliska: It can't actually be accidental.
Kaalund: No, because the sum of my experiences led me here. I saw the difficulties my parents faced running a Black-owned business, especially access to capital. When they lost the business and hit hard times, I remember our house almost going into foreclosure. I worked two jobs in high school―35 hours a week during the school week, in addition to my classes. I was eligible for free and reduced lunch in high school and was a Pell Grant recipient in college. For too many of my friends, I saw the lack of opportunities and pathways.
While my family's entrepreneurial journey didn't end in success, I still realized the importance of entrepreneurship in creating opportunities. I also learned first-hand how disruptors in your life can help you seize opportunities; my INROADS corporate internship underscored this point, when I went from making $3.35 an hour to $8.50, increasing my ability to save and build. I won a competition sponsored by the Executive Leadership Council, a group of the most senior Black corporate executives, and met leaders who controlled budgets and managed thousands of people. I saw how I could have an impact.
Pliska: You worked in the investment bank at JPMorgan over many years. You became a Managing Director at age 31. But you made an unusual pivot to leave the investment bank to help the firm launch, and to then lead, Advancing Black Pathways (ABP).
Kaalund: People thought I was crazy. But I saw it as the alignment of my passion and purpose. ABP's goal is to strengthen the economic foundation of the Black community, to reverse the historical legacy of segregation, housing discrimination, disenfranchisement and wealth disparity. ABP leverages the bank's resources to create greater opportunities for Black families to access capital, buy homes, improve financial health, start businesses and pursue education and well-paying careers. We know closing the racial wealth gap is good for all communities and for the country at large.
Pliska: You've now moved into an even bigger leadership role. What are your priorities?
Kaalund: My vision is the same―creating growth for an inclusive economy. I have tremendous gratitude for our thousands of employees proximate to communities, helping millions of customers make the most of their money to make the most of their lives. You have to have an active presence in communities. You have to show up and ask: How can we do more to serve you? And you have to listen. That's how you invest in people.
Pliska: Speaking of investing in people, you give an enormous amount of time to engaging with young people of color. What do you say to them?
Kaalund: I share my experience about how service and gratitude was a refuge for me at their age. I attended Hampden-Sydney College in Virginia, where I got a great education and was supported by some fantastic professors and allies⎯of all backgrounds. But at times, it was profoundly difficult. We had a 2% Black student body. I vividly remember being in class with White students making racist and ignorant comments, and a professor doing nothing to stop it. I had a few of these occurrences, one which threatened my safety. But I found an outlet through service, and I engaged with the local public school, working with students. I also tell young people to know their worth and how much they have to offer. They often don't know their own assets, what they can bring to the table, because of the challenges they've learned to overcome. Their resiliency is hard-earned and there is power in that.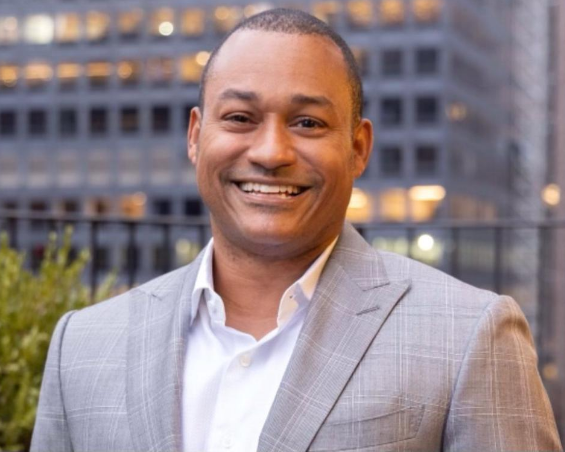 Portrait of Sekou Kaalund, Head of Consumer Banking, Northeast Division, JPMorgan Chase.

Pliska: I think a lot about this power of resiliency in young people of color―we celebrate it as the asset it surely is, but doesn't it co-exist with profound anger about having to be resilient in the first place, against challenges they didn't create and don't deserve?
Kaalund: Yes, they're angry. They have every right to be angry. This is a defining part of our existence. When George Floyd was killed, Black men like me, who keep this anger tamped down, day in and day out, had to release it. We couldn't hold it in anymore. I sat down with my young son to talk about it, and I had to run out of the house afterward to cry. So I'm not saying the anger isn't there or to deny the anger. But I have to decide what to do with it if I want to persevere. Anger can derail me profoundly. Anger can kill me. But I want to be here. I need to survive for my family. I want to do good for people. So I channel my anger through service and gratitude, which helps keep sight of the bigger picture and to manage through challenges.
Pliska: Thank you for sharing that with me.
Kaalund: You know what? It's nothing compared to what my ancestors went through. Yes, it's hard. But compared to what they endured? What they suffered? I'm humbled every day by what my ancestors went through for me to be here. I'm standing on the shoulders of giants.
Pliska: There's a humanity in how you describe your work that goes deeper and more elemental than financial equity or economic justice―about connecting with people.
Kaalund: I deeply love engaging with people. I just want to know about them. It's what energizes me. I love the exchanges and it's never transactional for me. I love thinking about what I can do for someone who's important to me. That's what drives me forward. I also like to inspire others to find their opportunity to make impact. I often think of the Maya Angelou quote that suggests people will forget what you say and do but remember how you make them feel. My hope is that what I say and do extends beyond a moment of an individual feeling good and unlocks a movement of radically empathetic, justice-seeking people creating generational change.