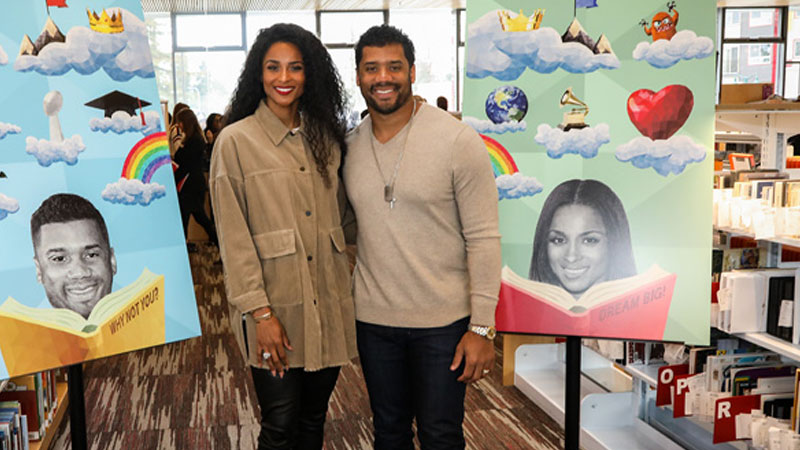 Stories
Seattle's Next Generation: Empowered, Educated, and Equipped with a Library Card
JPMorgan Chase partners with Russell Wilson and Ciara's Why Not You Foundation to educate and inspire Seattle youth through the King County Library System.
The Seattle area is consistently ranked as one of the most highly educated regions in the country and is home to some of the world's most influential entrepreneurs and educators. Considering the culture of learning, it comes as no surprise that close to 22 million items were checked out by King County Library System patrons in 2018.
Libraries are essential to fostering mindful, curious, and social citizens in all communities. And if knowledge is power, then a library card is the key to success.
To expand economic opportunity for Seattle's youth, JPMorgan Chase, which is celebrating its tenth anniversary in Seattle this year, has partnered with Russell Wilson and Ciara's Why Not You Foundation and the King County Library System and its Foundation to introduce DREAM BIG: Anything is Possible. The six-month campaign aims to promote access to the wealth of information, tools and support available to students at King County libraries and it all begins with a free, limited-edition, all-access library card.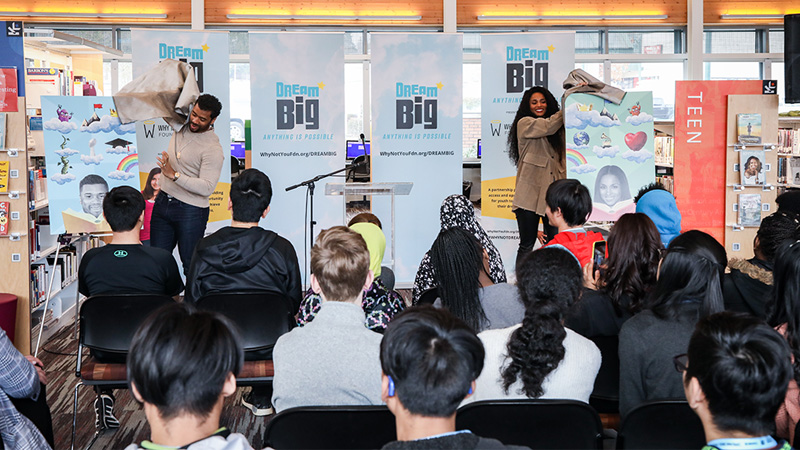 Now through June, students can get their library cards at any King County library or participating Chase bank branch within the county. The library card permits access to a wide-range of free educational resources, community events and workshops, including innovative technology classes for coding, internet and application training, and open creativity labs.
The goal of the campaign is to provide access and opportunity to young people from all backgrounds, by encouraging them to dream big and develop the necessary skills and knowledge for future success.
"One of the most urgent challenges we face is the need for more inclusive educational opportunities—we know that helping young people gain early access to library cards is a powerful strategy for promoting education and we are proud to support the campaign," said Phyllis Campbell, JPMorgan Chase Chairman of the Pacific Northwest.
The library's wide-range of programs, from language support and test prep to science, technology, engineering, arts, and math (STEAM) activities, seek to inspire participants to achieve their full potential, regardless of the challenges they may face. The library card provides students with an opportunity to combat the socioeconomic divides that may hinder their education, most notably language barriers and financial instability.
JPMorgan Chase has been a key player in empowering youth across the nation through its $75 million global New Skills for Youth initiative that aims to address the economic opportunity crisis facing young people today.
Similarly, the Why Not You Foundation, founded in 2014 by the Seattle Seahawks' quarterback, is dedicated to empowering today's youth to become tomorrow's leaders.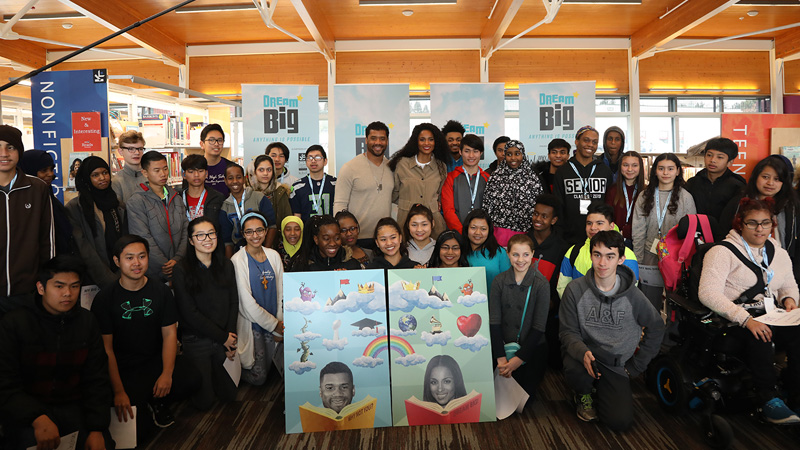 Russell and Ciara couldn't have achieved what they have without their education and support networks. Both have had their fair share of obstacles that could have derailed their dreams. For example, when faced with doubts about his career as an athlete, Russell's father consistently challenged him to approach life with a "Why not you?" attitude – the same message that the foundation emphasizes today. Likewise, Ciara - a confident, talented female artist - was unsure about her future at times. It wasn't until she summoned the courage to declare her dreams to be an artist that she was able to silence her doubts, leading to international fame, a Grammy, and the creation of her own record company.
Every young person deserves a pathway to success and access to educational resources is essential to help prepare and develop the next generation of leaders and grow the global economy.
"It goes back to believing in yourself, empowering yourself and saying that no dream is really too big," Ciara told the students at the King County Library. "Why not me? Why not you? Anything is possible."