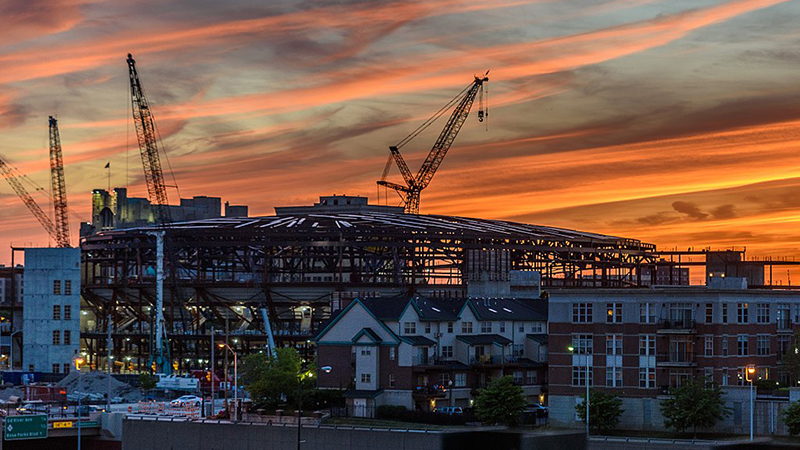 Stories
How Detroit is Boosting Small Business Growth, One Contract at a Time
The Entrepreneurs of Color Fund is providing business owners with the financing and technical assistance they need to succeed. 
Adrienne Bennett, Michigan's first female master plumber and founder of the plumbing contractor Benkari, was thrilled to learn that she'd won a $600,000 contract to help build Detroit's $860 million Little Caesar's Arena. It was 2014 and construction projects were returning to the Motor City after the painful economic recession and municipal bankruptcy. She'd just landed her biggest job yet.
But as she did the math, she realized that she might not be able to accept the contract.
"We had everything in place, credit lines with our suppliers, all of it. But we weren't sure we'd be able to pay our workers," says Bennett, who describes her role in her company as "the bottle washer, the window washer, the person who does whatever it takes to get the work done right."
Bennett was bumping against an age-old obstacle that routinely stops small business owners in their tracks – uneven cash flows. The problem was one of simple arithmetic. Were Benkari to accept the contract, the company would likely not receive payment for its work for the first three months. In the meantime, Benkari was obligated to pay its workers weekly, among other ongoing costs. Because the project would require Benkari to invest hundreds of thousands of dollars up front in permits and equipment rentals, the company wouldn't have the money to cover its weekly and monthly bills.
Determined to accept the contract, Bennett turned to the Entrepreneurs of Color (EOC) Fund, a loan fund supported by JPMorgan Chase, that provides financing and technical assistance to minority-owned small businesses.
While the challenge of accessing capital plagues most small business owners, the problem is especially acute among entrepreneurs of color. Minority-owned businesses are three times more likely to be denied loans than their white counterparts, and those who are approved frequently receive lower loan amounts and pay higher interest rates, according to the Brookings Institution. Further, the disparities in businesses' ability to get credit persist even among firms with revenues topping $1 million. Black-owned businesses apply for credit at a rate that is 10 percentage points higher than white-owned firms, but their approval rates are 19 percentage points lower.
These challenges are especially concerning given that a modest increase in the number of employees hired by existing small businesses (one to three employees per business) could help create enough jobs to employ nearly everyone looking for a job in cities across the country.
"Detroit has roughly 50,000 small businesses owned by entrepreneurs of color. The vast majority of them are smaller, owner-operated, often even home-based businesses that are just starting out. As a foundation focused on racial equity, it was critical for us to ask how can we assist them to develop and grow their businesses to the next level where they hire other people, especially residents of Detroit," says Ed Egnatios, program officer at the W.K. Kellogg Foundation – one of the founding organizations behind the fund. Since 2015 the Kellogg Foundation has invested $5.5 million in the Fund as part of its long-standing commitment to Detroit families and children.
Among other products and services, the EOC Fund offers a product rarely available to small business owners – a contractor line of credit of up to $200,000 designed to address the exact problem facing Bennett.
"Currently, none of our contractors would be eligible for a general line of credit from a traditional financial institution because they are too small. But Detroit is coming back, and right now there are so many opportunities for small business owners to get involved in the rebuilding. We don't want them, the people of Detroit, to miss out on those opportunities," says Ray Waters, executive director of the Detroit Development Fund, a nonprofit that supports small businesses in southern Michigan and administers the EOC Fund.
By any metric, the EOC Fund is working. Since its founding in 2015, the EOC Fund has lent more than $4.5 million to more than 40 minority entrepreneurs in Detroit – more than half of them women – creating or preserving more than 600 jobs. Thanks to its strong performance record, the EOC Fund, with JPMorgan Chase's help, is attracting new investors and recently almost tripled in size from $6.5 million to over $18 million in response to the continued demand by small business owners for capital. Based on what the firm has learned through its work in Detroit, and in an effort to scale impactful programs, funds based on the same model as the EOC Fund will also come to San Francisco and New York in early 2018.
"The fastest-growing group of entrepreneurs are people of color, and supporting them with the financial resources and tools to start or grow their business is good for the economy and good for business," said Andrew Kresse, CEO of Business Banking at Chase. "Expanding trusted alternative funding sources for business owners that are unable to qualify for traditional capital is a huge priority for us. It's a cornerstone of our Small Business Forward initiative and we're proud of the success we've seen with Detroit's Entrepreneurs of Color Fund."
"What's unusual about the Fund is that it combines components that are usually available in isolation to create a model that is not only really effective, but also very scalable," says Ted Archer, Vice President of Small Business Forward at JPMorgan Chase.
As both the Kellogg Foundation and JPMorgan Chase see it, the secret to the success of the EOC Fund is its three-pronged strategy. First, the EOC Fund explicitly acknowledges racial inequities in access to capital, enabling it to effectively market the fund to a targeted audience. Second, the EOC Fund provides customized, technical assistance to small business owners both before they qualify for financing, in order to get them loan-ready, and also once they have closed on the loan, to ensure their success. Finally, it offers the types of flexible financing that are critical to small businesses and early-stage companies.
It's a powerful model, says Bennett.
"Being able to do the Arena project, that one project, teleported us to a whole different level. We are getting looked at now by contractors that wouldn't have known who we were two years ago, and are looking at bigger and better opportunities than we would never have been able to even consider before that project."
---
Read more about our Detroit initiatives.