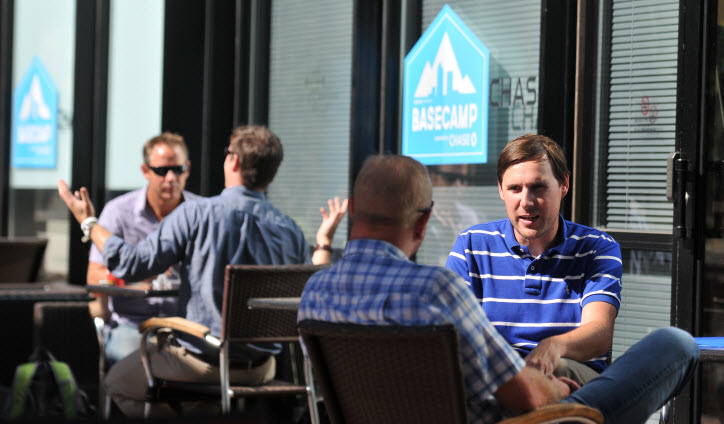 Stories
Startup Week Denver
Establishing Denver's place in the world of technology, entrepreneurialism, innovation and ingenuity.
If the success stories from the past three years are any indication, this year's Denver Startup Week promises to further establish Denver's rightful place in the world of technology, entrepreneurialism and ingenuity.
"It's great for the rest of the country to see the fruits of the labor of entrepreneurs in this community, and that story is only starting to come out; those businesses are only just starting to truly emerge," says Tami Door, president and CEO of Downtown Denver Partnership, which works to create an economically vital downtown through economic development, public policy, large-scale events, and urban planning and development.
We sat down with Door and Erik Mitisek, CEO of Colorado Technology Association, to find out more about Denver Startup Week.
Meet two of the people behind the program.

Tami Door
President and CEO Downtown Denver Partnership

Erik Mitisek
CEO Colorado Technology Association
How did Denver Startup Week come about?
TD: We were seeing significant increase in entrepreneurial activity, but it was all happening in various pockets and we weren't being recognized nationally for all that was happening here. We started to explore ways in which we could bring it all together in a highly visible way, so people could see it in one place.
EM: From the onset we had a portfolio of founders who have really built this from the ground up, and many who were involved in 2012 are still leading the organization today. It's truly been a community-led activity, which has made it so successful.
What are some of the successes you've seen come out of Startup Week?
TD: One success — aside from individual successes — is that Startup Week has put Denver on the national radar in terms of entrepreneurship. That's important because now that we're getting this level of recognition, it brings with it national resources, investors and other individuals looking to start and launch companies. Now, when individuals from all over the country are wondering where to start their companies, it's obvious that Denver has an active, engaged, inspired and thriving entrepreneurial community, and that we're a really great option for them.
What are the biggest challenges that you see entrepreneurs facing?
TD: They really need access to those more tangible components that they need to drive their business – whether it's access to capital, partners or an inspired community – and Denver Startup Week helps to build that bridge to access and sense of community that others are in on the entrepreneurial journey.
EM: Totally agree, and I think the #1 challenge for entrepreneurs is a sense of hope around building your business — so yes, access to resources, talent, mentorship, mindshare matters — but also, you get the feeling that everyone is in it together, which accelerates entrepreneurial development.
What can other cities learn from what's happening in Denver?
TD: There is no question that visiting other cities and benchmarking their practices is an awesome way to learn and think differently, but the reality is that what was created here in Denver was created in a manner and way that works really well for Denver. What people can take away from here is the goal to identify what their community's own biggest strengths are, leverage those, and then let the community make it happen.
What is the future of Denver entrepreneurship?
TD: Following the businesses that come out of Denver and maintain a strong presence in our city and region will be exciting. As these companies grow and get national recognition, we'll be watching to see what happens. We're already seeing this with some of our companies here, but it's only going to accelerate with the pure quantity of startup and mid-stage companies that we have.
EM: We've also got this fast decoupling of traditional work environments, and the ability to produce in a co-working space or rent a workspace by the month. We're in the midst of matching global skills with employers and people who are choosing to live locally. What's so exciting about the Denver entrepreneurial system is we have an amazing growth of these types of facilities and people want to live in the city. As people start to build more flexibility around hanging their own shingles, Denver is uniquely situated to benefit from that.
If success stories and available resources isn't enough to make Denver Startup Week shine, perhaps the passion of the people involved really puts it over the top.
"In Denver, we believe that if you show up with a dream and an idea, we will do everything we can to give you access to the people, resources and community to support the growth and development of that vision into a business," says Door. "And we'll continue to help from there."
For more on Denver Startup Week, visit http://www.denverstartupweek.org/
Since 2013, Chase has been a lead sponsor of Denver Startup Week and has since expanded to 6 more cities.
By Cheryl Lock
Cheryl works and lives in Denver where she writes for newspapers, magazines and websites.