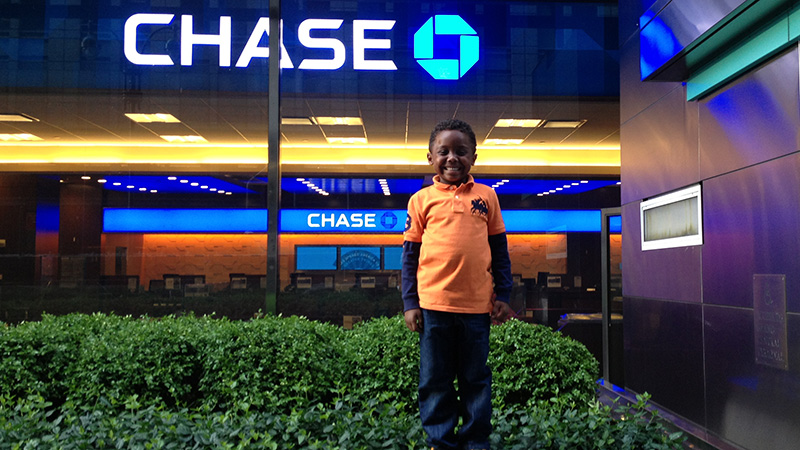 Stories
An Unlikely Meeting Reveals a Decades-Long Connection
When JPMorgan Chase's Doug Krinsky started building relationships in D.C., he never thought he would uncover a story that would bring him to tears.
Doug Krinsky had a plan.
When Chase opened its first branch in Greater Washington, D.C. recently, Doug, an executive director in Commercial Banking's Government Banking team, immediately started building relationships in the area.
Aside from forging new Chase relationships with consumers, branches provide Commercial Banking with new opportunities to serve government and municipal clients. So after doing some research, Krinsky secured a lunch with Alethia Nancoo, a public and infrastructure finance partner at Squire Patton Boggs with important regional relationships.
From a business perspective, the lunch was a success. But it was the discovery of Nancoo's personal connection to the firm—one that stretches back generations—that demonstrates the significance of the firm's expansion into new markets.
During the lunch, Nancoo revealed that her mother immigrated to the United States from Jamaica in 1965. She obtained a green card and went to work as a domestic helper for a family in New York. While working there, a friend of the family encouraged her to apply for a position at The Chase Manhattan Bank. She did so and was hired as a federal funds clerk in 1967.
"I remember when I was six or seven years old sitting in the courtyard at One Chase Manhattan Plaza waiting for my mother at the end of the workday and seeing a slew of people in suits and carrying briefcases," said Nancoo. "I saw my mother walk out of the building, and I remember being so proud that she was a Chase employee."
Nancoo's mother remained at the firm until 1992, retiring as a supervisor. Over the course of her employment, others in Nancoo's family—including aunts, uncles and cousins—came to the United States and worked at Chase after members of the firm sponsored their employment.
"My aunt calls me every September 12," said Nancoo. "That's not only my birthday, but it's also the anniversary of her starting at The Chase Manhattan Bank. She was able to then sponsor her husband and her eight children from Trinidad. They all came here, lived in Queens and received educations that they would not have been able to get in their home country."
To say that the firm has had a positive impact on Nancoo's family would be an understatement.
"Chase to our family is equivalent to a Ford Motor Company plant in Detroit," said Nancoo. "It's a place where there was opportunity."
In 2007, when Nancoo gave birth to her son, she named him, appropriately, Chase.
"I named him Chase because I wanted my mother's story to live on," said Nancoo.
When Nancoo saw advertisements that Chase was opening branches in the Greater Washington, D.C., area, she was ecstatic at the opportunity to become a customer.
"To me, it's a sense of legacy," said Nancoo. "It's respecting my mother and an institution that was really good to my family. I couldn't imagine banking anywhere else because of it."
Krinsky sees Nancoo's story as a vital example of the importance of market expansion in Washington, D.C., and more recently in Pennsylvania and Massachusetts.
"I was choked up hearing this story. I sat back and it hit me that this branch means more to people than just a bank," said Krinsky, adding that he spoke with others at the opening ceremony in Washington, D.C., who relayed similar stories demonstrating their personal connections to the firm.
"We have a great story to tell," said Krinsky. "It's incumbent upon us—especially in an expansion market—to meet people and connect with the community."
The D.C. branch opening is part of the firm's broader initiative to add 70 new branches, hire 700 new employees and commit substantial investments designed to boost economic growth. In addition to the greater D.C. area, the firm recently opened branches in Dedham, Mass. and Philadelphia, Penn.