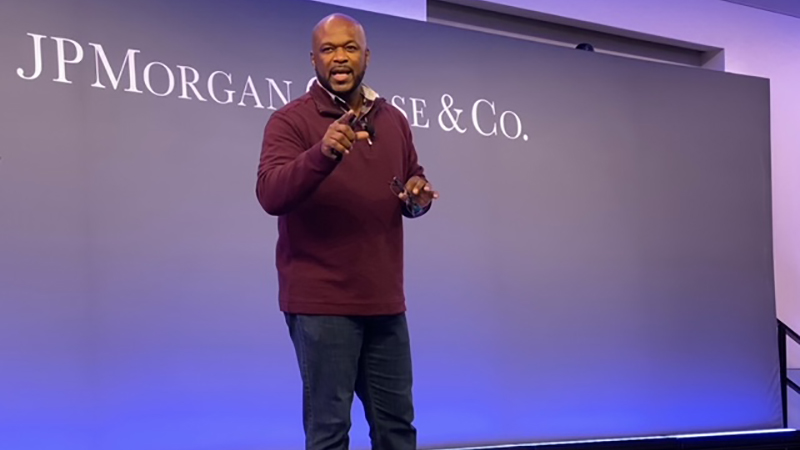 Stories
Dancing to Diversity: How a Workout Class Helped Tackle Inclusion in the Office
Taking dance workout classes with his wife, Chris Thompson soon learned how the dynamics of diversity, equity & inclusion worked in the dance room—and in the boardroom.
When Chris Thompson, Executive Director, Head of Diverse Advisor Experiences at JPMorgan Chase, recalls his first visit to a hip-hop exercise class, he always mentions his wife. At the time, the demands of work and family meant that the pair didn't spend as much time together, and his wife had proposed the class as a way to rekindle their connection.
Thompson, who lives in Columbus, OH, was apprehensive—most of the people in the room were women, and he was worried that he wouldn't be able to dance and would look foolish. But he soon realized that, much like a one-room schoolhouse, the students' abilities ranged widely, from the beginners at the back to the experts up front. He wanted to take a spot in the back, but as his wife walked into the middle of the room, he followed and took his place by her side.
An hour later, Thompson had burned over 600 calories—and was completely hooked. "It was exhilarating," he recalls. "It became a mild obsession. I began going a couple of times a week." Before long, he had lost 30 pounds, getting back to his college football weight, and had found a new connection to his wife.
"It became our thing."
Teaching in a One-Room Schoolhouse
As Thompson's weight dropped and his skills improved, he began to draw the attention of his instructor, who suggested that he might be a good prospective teacher. He asked him to lead one of the songs on the class' playlist, "Lights, Camera, Action" by Mr. Cheeks. Before long, Thompson was leading the song every time it played—and others in the class began asking the instructor to play it a lot.
After a discussion with the head of the company, Thompson worked up a routine to a song of his choosing—Eminem's "Lose Yourself." "That became my song," he says. "Before long, the owner offered me a job. I was hired to teach six classes per week, at first on my lunch hour, then in mornings, too."
The one-room schoolhouse looked different from the front of the class. Surveying the other participants, Thompson realized that, despite their vast differences in age and ability, everyone shared a common trait: They all wanted to be seen and appreciated. His job as teacher was to make them all feel seen, included and involved. "When you walked in, you got a smile and a high five," he says. "You got to forget about your problems."
That sense of inclusion continued during class, as he helped the people at the front, encouraged the people in the back, and pulled students from the middle of the room, pushing them to embrace—and show off—their growing skills. "I learned how to make everyone feel important and valued for 60 minutes," he recalls. "We helped each other become whole."
Thompson's class took off—before long, he had an enthusiastic following, with students regularly showing up at his 5:45 AM morning workout class dubbed the "Breakfast Club."
He considered teaching hip-hop classes for a living, but realized he wouldn't be able to make enough money. At the same time, he was offered a job that touched upon one of his greatest passions: Vice President of Diversity, Equity & Inclusion at JPMorgan Chase.
From the Classroom to the Boardroom
Three years later, Thompson's work at JPMorgan Chase has helped him continue creating communities—first as Executive Director of Diversity, Equity & Inclusion and now as Executive Director, Head of Diverse Advisor Experiences. But, while his job has allowed him to promote diversity, equity & inclusion at one of the world's largest banks, he still uses the lessons he learned as a hip-hop instructor.
"Working in the classroom gave me the ability to understand group dynamics," he says.
That focus on the needs and viewpoint of every person has been key to his work in diversity, equity & inclusion. "In the classroom, everyone needed to feel like the only person there," he says. "My job was to build a community, with everyone supporting one another."
The same, he says, is true of diversity, equity & inclusion. "When you're talking about diversity, equity & inclusion, no matter who you are, your perspective matters," he says. "In my case, someone saw something in me—both in the hip-hop class and at JPMorgan Chase. I want to be the person who finds something in someone else, regardless of where they are."
Understanding inclusion, he says, involves understanding who's being excluded. "When people are excluded from discussions that impact them, we can only guess about what solutions will solve their needs," he says. "It's vital to recognize who's not in the room, then invite them in so we can get a better understanding of their problem and solve for it.
"And, as the room becomes more diverse, the chances of finding a good solution rise exponentially."
Thompson still remembers his first visit to a hip-hop classroom, when he felt like an outsider walking into a space filled with women and felt afraid of dancing in front of them. The fact that he had a guide—his wife—helped make it a place where he could share, perform and excel. It created a space for him to eventually become a leader.
"That's the difference between diversity, equity & inclusion," he says. "Diversity is being invited to the party. Inclusion means that you're on the party planning committee. You're in the room where the decisions are being made."