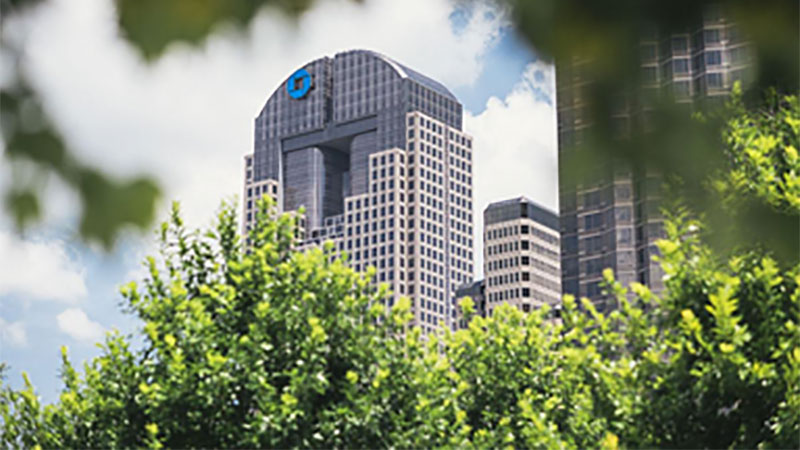 Stories
History of JPMorgan Chase in Dallas
JPMorgan Chase's presence in Dallas dates back to 1916, when The Mercantile National Bank was founded. A local Dallas man, Robert Thornton, and three friends, pooled their savings to open a private bank, even though critics said Dallas would never grow enough to need another bank. The new venture made a name for itself by soliciting business from the everyday people of Dallas — ice wagon drivers, farmers and street-car conductors. To distinguish itself from the already established large Dallas banks, Mercantile offered more convenient banking hours and was the city's first to offer automobile loans. Several other JPMC predecessors, notably Bank One and Chemical Bank, played a major role in the growth of Dallas banking over the years.
Mercantile received a Texas state banking charter in 1917 and in 1923 obtained a national charter. Over the years, Mercantile grew into a large, successful Dallas institution, erecting the tallest building in the city in 1943 with innovative banking features.
In the early 1970's, Texas Commerce Bank, headquartered in Houston, acquired several banks in the outlying areas of Dallas-Fort Worth, and in 1975 it acquired five small banks in north Dallas. A long sought after presence in downtown Dallas came in 1977 when Texas Commerce acquired Main Street National Bank of Dallas (founded in 1964).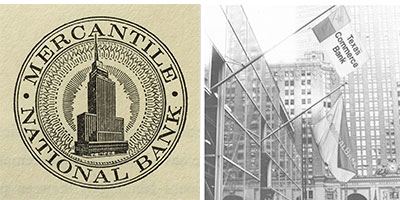 Dallas Timeline
1984
The merger of Mercantile National Bank of Dallas and Houston-based Bank of the Southwest created MCorp, which became the second largest banking entity in Texas.
1989
Banc One Corp. bought the assets and liabilities of 20 MCorp affiliate banks with 63 branch offices in major markets throughout Texas, forming Bank One, Texas NA. With the 1990 purchase of Bright Banc Savings Association of Dallas, Banc One became the fourth largest financial institutions in Texas, with the largest branch network in Dallas.
1993
Texas Commerce Bancshares, Inc. (bought by Chemical Banking Corp.in 1987) acquired major components of First City Bancorporation of Texas, which doubled the number of facilities in the Dallas-Fort Worth Metroplex.
1997
Following the merger of Chase and Chemical Banks, Chase Texas became the primary bank for more large corporations and middle market companies than any other bank in Texas, while maintaining a strong consumer banking presence in key Texas markets through its 124 locations. Additionally, Chase Texas was the largest bank for personal and corporate trust services in the southwest.
1998
J.P. Morgan & Co. opened an office in Dallas as a base for serving high-net worth clients in the Southwest.
2016
JPMorgan Chase purchased a 49-acre parcel of land at Headquarters Drive and Communications Parkway at Legacy West in Plano —the future site of a new state-of-the-art, multi-building Dallas Corporate Center.
JPMorgan Chase is one of the largest employers in the Dallas-Fort Worth area. In the past 12 years we've grown from 36 branches in Dallas-Fort Worth to more than 240.