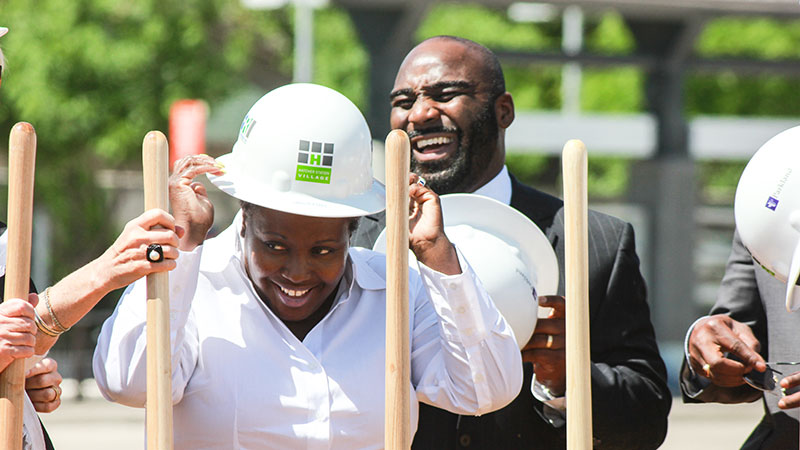 Stories
Does a Thriving Neighborhood Economy Start with Community Health?
At Parkland's Hatcher Station Health Center in Dallas, the Frazier community is getting healthier, in every sense of the word.
Dorothy Hopkins knew the nonprofit she leads was making a difference when she began hearing positive comments from residents of the Frazier community. As president and CEO of Frazier Revitalization, Hopkins leads an organization dedicated to improving the health of the neighborhood—physically, emotionally and financially.
For residents in this neighborhood, daily life can be a struggle. In the ZIP Code that includes Frazier, the median household income in 2008 was estimated at just over $16,000 with 58.6 percent of the population living below the poverty line.
Turning around a low-income neighborhood takes time. But progress in Frazier is apparent. It started with the Hatcher light rail station in 2010, which linked the neighborhood with the rest of the city. Then Hatcher Station Village—a new development that was spearheaded by Frazier Revitalization—prompted Dallas County's public hospital, Parkland Health & Hospital System, to open an affordable care clinic in 2015. Since then, Frazier Revitalization has helped launch a market for residents to sell their own goods locally, a community legal center and an afterschool network for at-risk children.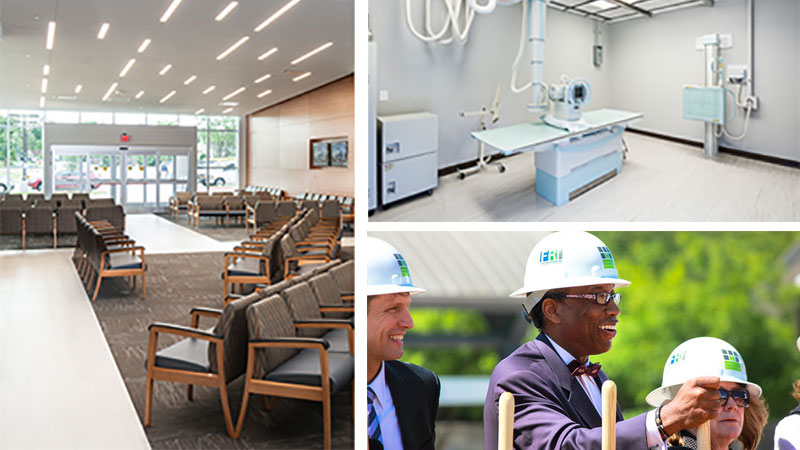 Little by little, the nonprofit chips away at systemically eradicating poverty from the area and aims to bring better opportunities to a neighborhood that has been marginalized for decades. The mission closely aligns with JPMorgan Chase's belief that neighborhood revitalization plays a critical role in strengthening the overall economy. To help expand Frazier Revitalization's efforts, JPMorgan Chase contributed $4.2 million as part of a $15 million New Market Tax Credit allocation that helps spur economic activity in communities that need it most. "It was our connection with JPMorgan Chase, and their working with us and being patient that got Hatcher Station Village off the ground," Hopkins said. "We could not have done it without them."
Addressing Health from All Angles
One of Frazier Revitalization's shining accomplishments was the development of the 44,000-square-foot Parkland Hatcher Station Health Center, which relocated from East Dallas in May 2015. To better serve the local population, it offers community health and wellness programs, nutrition assessments and counseling, and women and infant care as well as laboratory, radiology and pharmacy services. The much-needed and well-received clinic expects to have more than 80,000 patient visits in 2016.
But the clinic also looks beyond the stereotypical markers of good health; patients who come in for preventive care often reveal other stressors in their lives. "They'll come in for a cold but then tell the doctor that they can't pay the utility bill," Hopkins said. "It's not just 'Do you have high blood pressure?' It's 'Do you have adequate access to education, healthy foods, jobs?'" Parkland's social workers can then assist, connecting people with essential services to put them on an improved financial path. Hopkins adds, "All of that factors into the health of a community, and our goal is to really alleviate all of these issues."
JPMorgan Chase is proud to champion communities and businesses in Dallas-Fort Worth. Read more about our involvement.