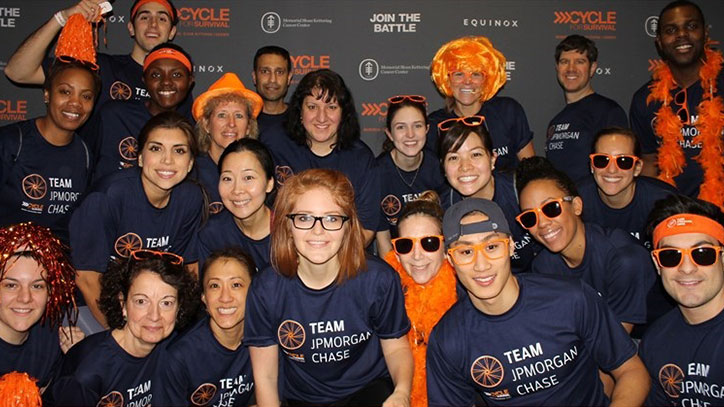 Stories
Employees that Cycle Together, Save Lives Together
In 2016, JPMorgan Chase employees will participate in the 10th year of Cycle for Survival
If you had the chance to-bring new, more effective treatments to cancer patients, would you take it? Since 2007 Cycle for Survival has been motivating people across the nation to do just that by raising money for research to fight the battle against rare cancers.
This year marks Cycle for Survival's 10th year of rides and our firm is excited to be participating in events across the country for the third consecutive year. The countdown is on as employees in at least 15 locations prepare to ride in events that kick off on Saturday, February 5 and run through March 13.
Last year's fundraising event in Connecticut held special meaning for David Maccarrone, a J.P. Morgan Asset Management employee. After riding the last hour with his team, and raising more than $20,000 in personal donations as the leading fundraiser, he took to the stage to share his personal story as a cancer survivor.
"The reason why I have been unusually successful in fundraising is that I just completed chemotherapy treatment at Memorial Sloan Kettering in February for cancer of the small intestine," he said after the event, where his closing comments drew supportive cheers and applause from his colleagues and friends.
Data and research are limited with such rare cancers as cancer of the small intestine, Maccarrone said, noting his doctor at Memorial Sloan Kettering is only treating three others for his type of cancer. Also, no oncologist has been willing to provide him with a five-year survival rate since he was diagnosed.
"There are no clinical trials going on and there is little focus on this particular disease, given the number of diagnoses each year," Maccarrone commented.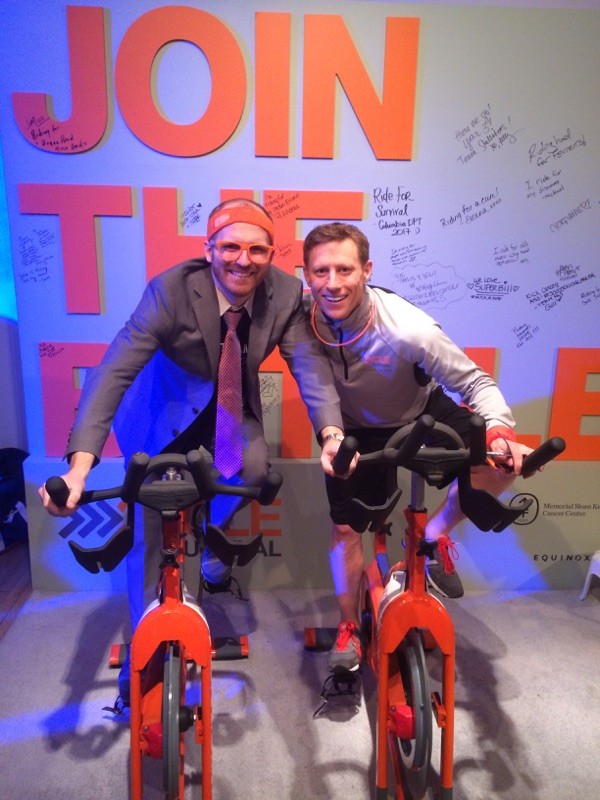 Riders network with colleagues, get active and have fun while fundraising for an amazing cause.
"So when I heard about Cycle for Survival, it immediately resonated with me. I felt even more compelled to take part after learning how efficient the charity is with respect to both overhead and allocating the money for immediate research."

Most of us have been touched by cancer - whether personally or through caring for a loved one. What many may not realize is that "rare" cancers account for approximately half of all cancer diagnoses, and research on these cancers is often severely underfunded.
Cycle for Survival brings attention to these diseases by bringing communities together to help fund clinical trials, studies and research initiatives led by Memorial Sloan Kettering Cancer Center.
Last year more than 1,600 of our employees raised $457,800 – a JPMorgan Chase record, making Team JPMC Cycle for Survival's biggest national team. One thing each of our past participants had in common was a desire to make a huge difference in the fight against rare cancers.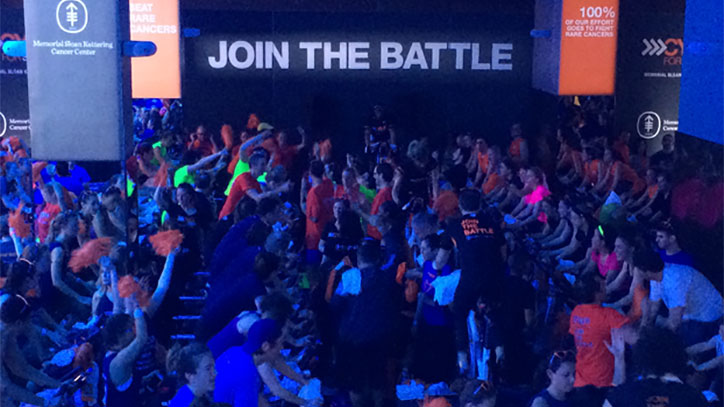 Cyclists and their teams ready to pedal in the battle against cancer.

"I rode for my mom, who is surviving a rare spinal cancer, and I thank everyone who made it out to our event and those who raised funds," said Consumer & Community Banking's Derek Medlin, who led the last year's event in New York City amid a snowstorm.
We're extremely proud of all of our employees across the U.S. who climbed on stationary bikes to pedal for a great cause. Since 2007, Cycle for Survival has raised more than $81 million and this is our opportunity to help again. We hope to see even more employee cyclists show up at our fundraising events this year to join the fight against cancer.
Anyone can get involved. Join Cycle for Survival today!