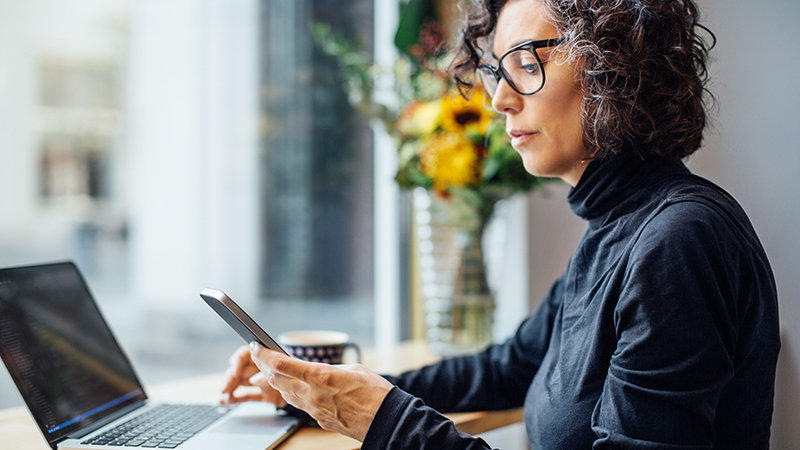 Stories
How COVID Is Targeting Women...And What Your Household Can Do About It
Women are taking a disproportionate hit from COVID-19-related financial difficulties, but there are ways for households to protect their finances and speed up their recovery.

Women are on the front lines of economic turmoil as the COVID-19 pandemic sweeps the economy—and they're finding that it's having a major impact on their household finances.
Even though nearly half of Americans were living paycheck-to-paycheck before the pandemic, the fallout is affecting women disproportionately. They're more likely to be on the forefront of treating the sick, since 75 percent of healthcare practitioners are women, according to the World Health Organization. Women are also losing their jobs at a higher rate than men because they tend to be overrepresented in the sectors that shelter-in-place orders have hit, such as retail, food, and hospitality.
This problem directly affects households: Over 75 million women participate in the labor force, and they are the primary breadwinners in 40 percent of American households. In other words, the pandemic's impact on women's earnings closely affects the economic fate of many—if not most—American households.
But there are several tools to help households that have lost income, are dealing with a health issue, or are facing an uncertain financial situation. Here are some of the best:
Understand the Household Budget
One helpful step is building an emergency budget. Begin by getting an accurate picture of the existing household budget—how much money is coming in, as well as all the recurring and variable spending that is going out. It's important that this accounting is complete—it should include quarterly or annual payments like insurance or subscriptions.
Find Places to Save
Based on this full picture of income and expenditures, households can evaluate their expenses through the lens of must-haves and nice-to-haves. For example, some households can save money by cancelling or pausing auto-contributions they aren't using, like commuter expenses for people who are working remotely or not working during the pandemic, as well as subscription services and memberships. Similarly, households facing cash flow issues might consider paying only the minimum due on debts right now, instead of keeping with an aggressive debt-payoff plan.
Another thing to consider is the pandemic-related resources and options that companies are currently making available to their customers. Many mortgage banks, credit card companies, and car insurers—among others—many have pandemic-relief measures in place for customers.
Build Emergency Savings
After reducing spending, the next step is to focus on building—or rebuilding—an emergency savings fund. A good way to start is by setting a small savings goal—for example, putting away enough money to cover a flat tire or another expense. After achieving that goal, the next step is saving up a month's worth of expenses...and then three months and so on.
Automatic savings, or automatic deductions from paychecks, can also be a great tool for building an emergency fund.
Regularly Monitor Household Finances
To really keep a handle on household expenses, it's important to get proactive about financial health, especially by monitoring credit scores and credit reports. Luckily, there are several tools available for checking credit.
One of the biggest risks to credit scores is missed payments or bills sent to collections. For households unable to make important payments, it's vital to reach out to lenders or landlords before missing a payment to see if it's possible to work out an agreement.
Loans and Credit Cards
For households that don't have enough emergency savings to see them through economic hardships, it might help to consider borrowing options. Lower-interest choices, such as lines of credit or installment loans, might be available. Shorter-term needs that can be paid off reasonably quickly can be financed on a credit card—but this should be done carefully, as credit card interest rates are often high.
Long Term Goals
In households that are unable to pay all their bills, it may be necessary to pause retirement contributions, but it's still best to leave retirement account untouched. Early withdrawals from retirement accounts can trigger penalties and tax consequences. Note that under the CARES Act, individuals impacted by the coronavirus pandemic can access up to $100,000 from their 401(k)s and IRAs without penalty. Even so, it's a good idea to talk to a tax advisor before making any withdrawals.
Fraud Threats
During the pandemic, criminals are increasingly trying to take advantage of people online. It's important to protect private information, like personal details and account numbers. Some tips about precautions against financial fraud are available here.
Pandemic-Specific Resources
Some households may be able to access support through the federal CARES Act, stimulus checks, increased unemployment benefits or relief assistance. Federal, state and local resources might be available to help many households weather COVID-related economic insecurity.
No one knows how long the pandemic or its financial ripple effects will last. It's important to be proactive and preserve their cash flow now—regardless of current household income and circumstances. The key, ultimately, is being prepared—and knowing the tools that are available to help.
---
Learn more about how JPMorgan Chase is advancing women at our Women on the Move page.