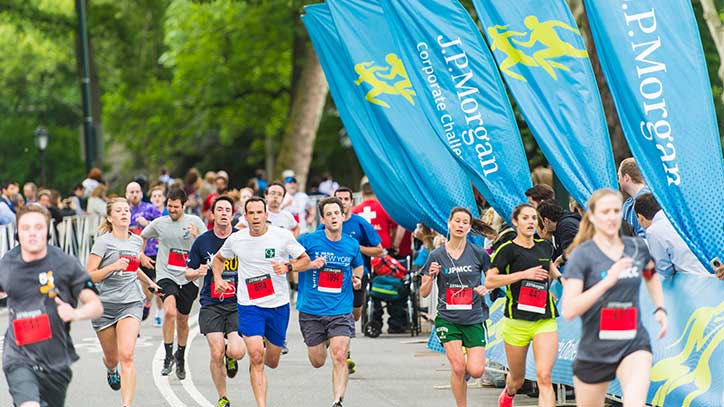 Stories
Why Did 255K Participants Show Up for 16 Races in 7 Countries across 5 Continents?
J.P. Morgan Corporate Challenge brings communities together around the globe.
Starting in Johannesburg and ending across the globe in Sydney, the J.P. Morgan Corporate Challenge Series was a success this year with 255,270 runners from 7,677 companies participating in these races happening all over the world.
What began in 1977 as an offshoot of the Manufacturers Hanover Bank's (a JPMorgan Chase & Co. predecessor institution) sponsorship of the New York City Marathon has since grown into what is generally acknowledged as the largest corporate, international sporting event. The June 17 Frankfurt event, with 70,239 runners, is the largest road race of any distance in the world as of December 1, 2015.
Back in 1977, the race garnered attention and support from marathon runners Bill Rodgers and Grete Waitz. "America was on the cusp of a running boom, and [this gave us] instant credibility," said Ariel Johnson, project manager for the event. "From there, the companies became the stars as they embraced the Corporate Challenge enthusiastically."
Now in its 39th year, this popular corporate sporting event has expanded its reach overseas to feature 3.5-mile road races in seven countries on five continents.
Our races follow a long-standing tradition of supporting local charities in the cities of where the Corporate Challenge events are held. Approximately $2M total has been donated to not-for-profit organizations in Corporate Challenge markets over the past three Series years.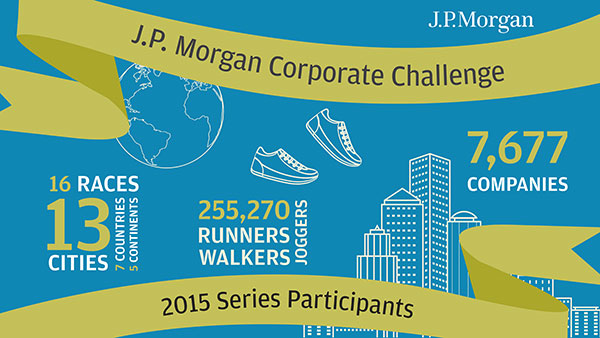 What differentiates the Corporate Challenge is the requirement for runners to compete in teams of at least four, which adds team-building aspects that appeal to corporate leaders and encourage new runners. "The company team element is what separates the Corporate Challenge from all other road races," said Johnson. "It promotes teamwork and camaraderie, and there is strength in numbers in going out to do something that requires physical effort."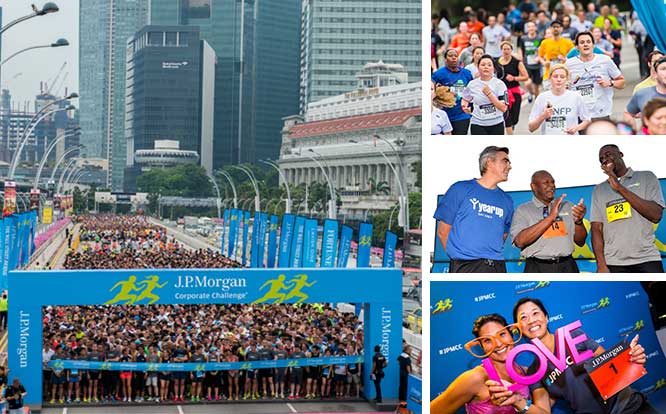 Participating in the Series also isn't so much about winning the race as it is to building connections and relationships with new people.
The race provides an opportunity for everyone to gather together and come face to face in a casual setting outside of the office. "You might meet people new to the company or people you've never encountered before in your day-to-day work," said J.P. Morgan Executive Director Renee Minott. "You forge new friendships. You get to know your co-workers more deeply. And then when you're working together on a project, it's easier to go to them if you need something. You have a common connection."
Sharing a common experience also breaks down the barriers of job titles. "That's one of the really cool things about the Corporate Challenge. A C-level executive is on equal footing on race night with an entry-level employee," mentions Johnson.
To keep up with the latest on J.P. Morgan Corporate Challenge news and to register for a race in a city near you, visit http://www.jpmorgan.com/cc for more information.