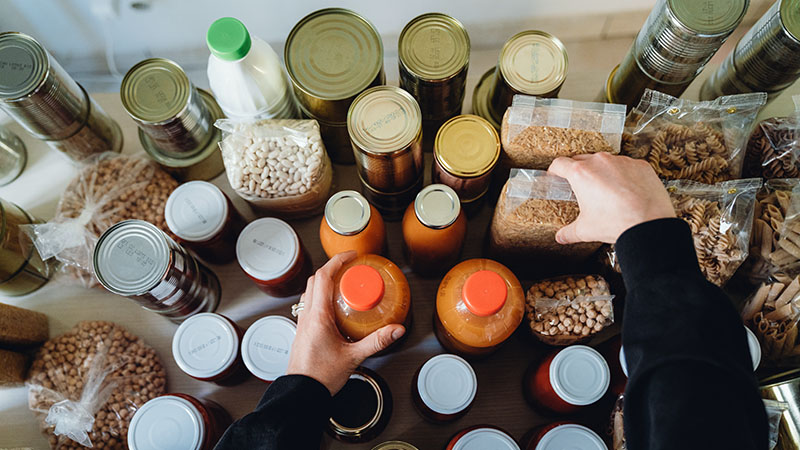 Stories
Connecting the Dots: Mobilizing—and Feeding—a Community
Food insecurity afflicts millions of Americans, and the problem only became worse during the pandemic. Here's how JPMorgan Chase's Luis Burgoscolon is trying to help.
It's 6 PM on a Friday and Luis Burgoscolon is in the basement of St. Aloysius Interfaith Food Pantry in Great Neck, NY filling grocery bags. While his work week at JPMorgan Chase has ended, his second shift has just begun.
For the past four years, Burgoscolon, President of the Society of St. Vincent de Paul, Great Neck, has been serving his community through the parish's onsite food pantry, growing it from a small closet to a multi-room operation.
Burgoscolon retired from the US Army seven years ago, after serving more than 20 years as a Transportation Officer in supply chain management. He landed at JPMorgan Chase Commercial Banking when a friend of a friend referred him to a Know Your Client Officer role just 29 days after retirement. He quickly adapted to the new job, utilizing his analytical and communication skills honed in the Army to ensure proper due diligence and controls for his clients in the Diversified Finance Warehouse, Insurance, and Banking industries.
After settling into civilian life, Burgoscolon became compelled to do more to serve those who had fallen on hard times. Feeding America projects that up to 1 in 8 Americans, or 42 million people, may experience food insecurity in 2021, and that an estimated 19 million Americans live in food deserts, areas with limited access to affordable and healthy food. And while the food pantry at St. Aloysius had been successfully operating for over 20 years, its impact was limited by its modest size. Burgoscolon realized that he could help expand the organization to feed even more community members, with his skills and experience from the Army and JPMorgan Chase leading the way.
Today, the volunteer-run pantry aids about 110 families, or 350 people, every two weeks. It distributes healthy foods, toiletries, school supplies, furniture, and cash assistance for bills, rent, or medical expenses. It even tailors its food offerings to its clients' religious or dietary needs. Burgoscolon credits much of the pantry's success to his ability to connect dots: to foster meaningful partnerships and fill resource gaps through unexpected sources.
While Burgoscolon became involved through his church, he has reached beyond its doors, developing relationships with other religious organizations in the area. Many have become regular contributors, and they occasionally mobilize individual volunteers, getting them to help in ways that extend far beyond monetary donations: "People often come to me wanting to help, but they don't know how. That's where my experience in the Army and at JPMorgan Chase comes in," he says. "I know how to connect people's skills with the greater community's needs."
In 2020, as the COVID-19 pandemic pushed many into food insecurity, the number of families showing up to the pantry doubled, a number that held consistent through April 2021. Still, Burgoscolon has risen to the challenge, finding ways to meet this demand through his strong personal network and the occasional stroke of luck.
"At the beginning of the pandemic, I had heard that a friend of a friend, who was in the shipping business, had a huge delivery of toilet paper intended for a restaurant," he recalls. "The restaurant refused the shipment because it was preparing to shut down, so I reached out to this contact and he offered to donate the entire shipment to the food pantry – a wonderful gesture at a time when toilet paper was scarce."
Burgoscolon's plans for the food pantry don't stop at feeding the hungry – he regularly uses the pantry to help close other access gaps in his community. In the past, he has added stations where visitors could complete the 2020 Census, get a health screening or flu shot, and meet their elected officials. Most recently, he signed up nearly 100 community members for COVID-19 vaccination appointments.
For Burgoscolon, there is no action to small or too large to ensure his neighbors feel supported. Which is why he's there at 6PM on a Friday, filling bags of food.
Adding canned tuna to each bag, he explains, "I love helping in any way – from being able to extend a hand, to providing any form of assistance or support, to simply taking the time to have a conversation."