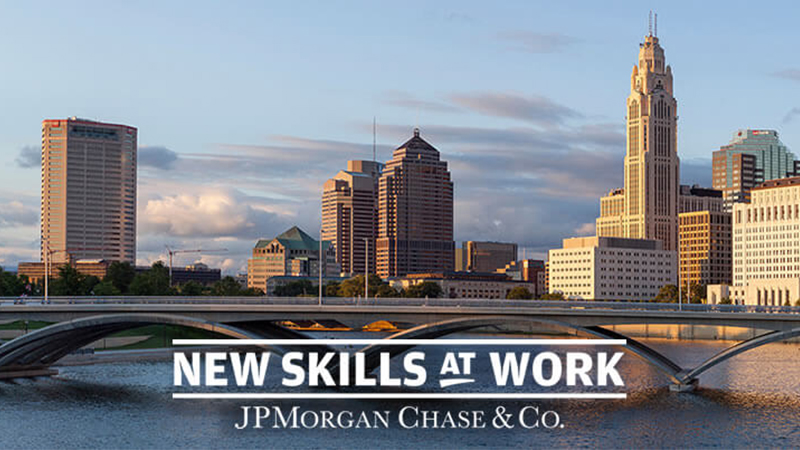 Stories
Matching Skilled Workers with Businesses In Need
Columbus Skills Gap Report
JPMorgan Chase sought to uncover and address the mismatch between job seeker skills and business needs (the skills gap) because of the negative impact it can have on a region's competitiveness. Fortunately, Columbus area employers, education institutions and other leaders have come together to develop a set of strategies to address local workforce challenges. The following outlines several key findings from the Skills in Demand report created to support the efforts underway in Columbus.
The Columbus region is recovering from the recession and is enjoying strong gains in jobs, incomes, population and employment:
Gross regional product rose 11.6% from 2010 to 2013, exceeding 6.1% growth for the U.S. economy
The region added 84,000 new jobs from January 2010 to September 2014
Per capita income is up 14.2% from 2010 to 2013
The region's unemployment rate of 4.3% for September 2014 is well below national and state averages
Population is increasing at an annual rate of 1.3% making Columbus the second fastest-growing metro area in the Midwest
One reason behind this recovery is the growth of middle-skill jobs and continuing demand to fill these positions.
GROWING CHALLENGES IN FILLING MIDDLE-SKILL JOBS
As in many regional economies, some employers in Columbus are having difficulty filling certain middle-skill positions, despite the region's economic strengths. The challenges are expected to grow, with more projected openings over the next 10 years. Meanwhile, there are thousands of unemployed and underemployed Columbus residents who need good jobs but who don't have the right skills for the available positions.
Learn more about the key findings, recommendations and data from the entire report on Columbus' skills gap