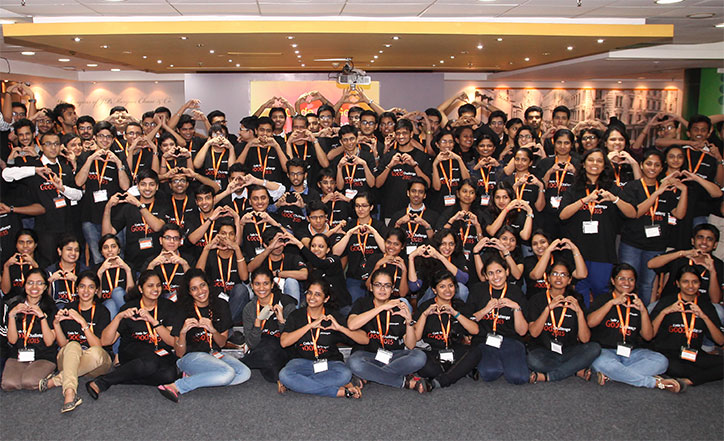 Stories
Good Code for a Good Cause
24-hour coding challenges are staffed by hundreds of employee volunteers.
More than 200 of India's top technology students turned out for two of our "Code for Good" events held in Mumbai and Bangalore this summer. Organized by our Technology for Social Good team, the 24-hour coding challenges are staffed by hundreds of JPMorgan Chase volunteers to benefit local and global change-making organizations from the surrounding communities.
"Code for Good provides a platform for aspiring students and our employees to contribute to a larger cause."
Praveen Kumar, Chief Information Officer of the Global Service Centers
In Mumbai, the students coded to solve four challenges facing the Happy Hearts Fund, a nonprofit foundation dedicated to rebuilding safe, resilient schools in areas affected by natural disasters. Happy Hearts was founded by Czech model Petra Nemcova after she survived the 2004 Indian Ocean tsunami, and has built 118 schools in nine countries.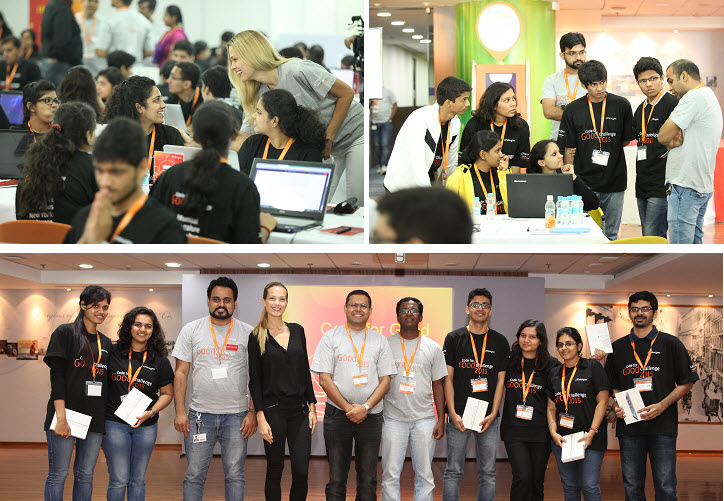 ALL HANDS ON DECK: (Top left) Czech model Petra Nemcova, founder of Happy Hearts Fund, gives advice to student coders. (Top right) The coding floor abuzz with energy at JPMorgan Chase's Prism Tower in Mumbai. (Bottom) Mumbai's winning code challenge team has a photo opp with Nemcova, and Praveen Kumar, Global Service Center CIO.
Three nonprofit organizations participated in the Bangalore event: Pratham, Dream School Foundation and the India School Leadership Institute, with each organization presenting a challenge to the students related to improving the quality of education and the development of school leaders in India.
JPMorgan Chase technologists serve as mentors and subject matter experts as the students code throughout the night, developing prototypes and technology solutions that address the challenges or frustrations experienced by the social organizations.
"The students' enthusiasm and eagerness to develop solutions for the Happy Hearts Fund was incredible and inspiring," said Nemcova, who personally attended Mumbai's event. "The ideas will not only have a major impact on our organization, but also will allow us to build more schools and uplift more children's lives."
Additional Code for Good events are planned for Columbus, New York, Delaware, Glasgow and London.
Join in on the excitement and sign up for a local Code for Good event in your area by visiting our JPMorgan Chase careers site. Take a look to learn more about our Technology for Social Good initiatives.
---
Learn more about technology career opportunities at JPMorgan Chase & Co.