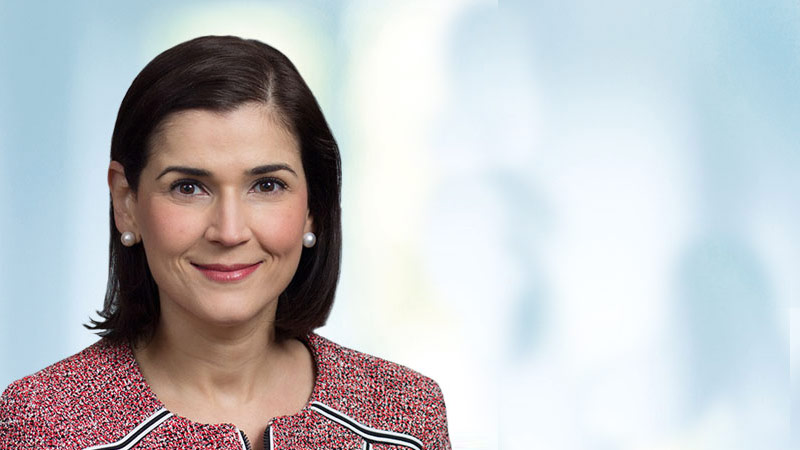 Insights
'For Me, Inclusion was an Inside Job'
It took nearly a decade for Carolina Jannicelli, Head of the Private Bank Law Firm Group, to find the confidence to bring her full self to work.
I can still remember the day I walked into the Museum of Fine Arts in Boston, I was in college and spontaneously decided to take an art appreciation class at the museum. I always had an interest in art, but didn't think much of it at the time. Yet, as I sat in the auditorium taking in masterpieces capable of depicting the full spectrum of human emotion, I was blown away.
Art was always in the background of my childhood. I grew up in Nicaragua and Costa Rica and our home was covered with paintings by local artists. I was also deeply influenced by my paternal grandfather, who loved art and would even pick up a paintbrush every once in a while.
I didn't realize it at the time, but I was drawn to art because it depicted the human experience in a way I could relate to and connect with. Ironically, it would take me years to fully embrace my own experience.
Working Hard and Opening Doors
Art wasn't the only interest my parents instilled in me, they were both hard working entrepreneurs. Even at home, the work never stopped, weaving into the fabric of our family conversations. Inspired by their entrepreneurship, I was determined to make a positive impact in Latin America.
After graduating college, I joined JPMorgan Chase and moved to New York. I fulfilled my goal by working with Latin American clients to help them access global capital markets. This capital helped Latin American companies grow, created jobs and fostered regional development.
A few years later, I had the chance to join the Private Bank, also covering Latin American clients. Over time my responsibilities grew and new opportunities emerged, including a chance to develop of the Latin American High Net Worth business. In the 22 years since I joined, I have held seven different positions, covering three continents, across three distinct businesses, and have managed hundreds of people – all in one company.
Inclusion is the opposite of thinking, acting, and speaking like everyone else, it is about fitting in by enhancing and expanding the dialogue with different ideas and approaches.
Transformational Power of a Conversation
While my professional career was booming, I was struggling in silence. I was one of the few Latina women advancing as fast as my male counterparts and was afraid that asking for help or displaying any sort of uncertainty could be used against me. I was portraying a persona, stifling my own experience to fit in.
In retrospect, I wish I had developed a support system. If I had to offer one piece of career advice to women, it would be to build a tribe, a group of friends and mentors who care about you and will give you honest advice. Women, especially Latinas, need to get comfortable with the fact that challenges will come and they do not need face them alone. I learned that there is transformational power in a simple conversation where you're just sharing what you're feeling. That's how things suddenly shift, and you're able to gain insights and a better perspective.
Inclusion Starts with Me
As my career progressed, I learned to fully embrace my background as my strength. Early on, I was hyper-aware of my differences and my instinct was to blend in, to neutralize my Latina heritage. It affected my interactions with others and devalued my perception of myself. The way I talked to myself in my head was more debilitating than the judgment of others could ever be, "Do you really have what it takes? Who are you kidding?" But over time I came to the realization that I cannot expect others to accept me if I haven't accepted myself. That's when it started to click.
Inclusion started with my ability to reframe what made me different. I was broadening the palette of ideas and experiences brought to the table. Inclusion is the opposite of thinking, acting, and speaking like everyone else, it is about fitting in by enhancing and expanding the dialogue with different ideas and approaches. Bringing my whole self to work helped me find my voice, amplify my impact and build better relationships with colleagues and clients who, in turn, got to know the real me.
For me, inclusion was an inside job, one of self-acceptance, and building connections with others. But much like the works of art that move me, all great things take time to create -- and there's no extra credit for doing it alone.
---
About the Author:
Carolina Jannicelli is the Head of the Private Bank Law Firm Group at JPMorgan Chase