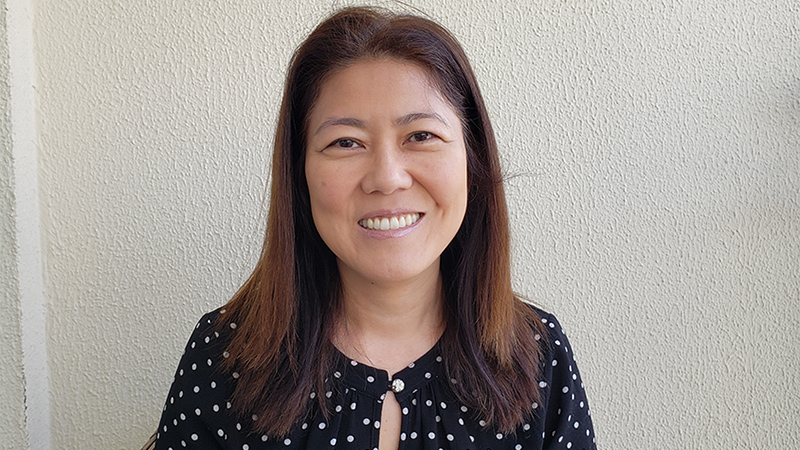 Stories
Childhood Lessons Led to a Lifelong Commitment to Diversity, Equity & Inclusion
Gloria Kojima's childhood in an immigrant family taught her about the challenges that come from being different. Today, her work championing diversity has brought her international recognition as an awardee of the HITEC 50 most influential professionals in the technology industry.
Gloria Kojima's embrace of diversity, equity & inclusion came early: Her father, a Japanese immigrant, moved to Brazil to raise his family. Watching him adapt to his community, she learned the value of embracing difference.
As an adult, Kojima's career path led her to JPMorgan Chase's Global Technology program, where she was able to put her passion for diversity, equity & inclusion (DEI) to work. She is a leader in Women on the Move, the company's initiative to promote women's professional and economic advancement, and is part of the Global Technology Initiative DEI leadership team.
"I'm fortunate to work for a company that actively promotes inclusiveness," Kojima says. "More than ever, it's imperative that all of us have conversations about inclusion, to educate ourselves and work against any kind of racism or prejudice."
Kojima spent time with us recently to share her career journey and thoughts on diversity, equity & inclusion.
What does success look like to you?
To me, success is the sensation of joy and happiness that comes when you complete something. It can be when I bake a cake; it can be when I finish an important project at work; or it can be when I learn something new or when I´m able to help someone. Any experience in our lives, small or big, professional or personal, can bring this feeling of contentment.
Who has been the biggest influence in your life?
There a lot of people who influenced me, but if I had to pick one it would be my father. I was born in Brazil but my father was Japanese. He moved to Brazil and learned how to speak a little Portuguese all on his own. He was a huge advocate for education and he told me to study all the time. He inspired me to learn, and I believe my education is one of the things I am most proud of—and which has been most important to my career success.
What has been the biggest obstacle in your career?
I am a very shy person. I am more of a listener than a talker most of the time. I quickly realized that there will be moments in my career when I must speak. I took an acting class to help me with this. In doing so, I was able to create different personas of "Gloria" that I can utilize when needed. Being able to create these characters helps me tremendously when I have to come out of my shy demeanor.
What personal actions have you taken to get through the pandemic?
In the beginning of the year, I decided to take meditation courses. I was something I wanted to do for me as a way of taking life one day at a time. I never realized how important it would be for me this year until the pandemic hit. I meditate daily and it really helps me manage my day and my life. It is important to help balance work and life right now.
What brings you joy?
It's funny you ask that, because I am always smiling. To be honest, there isn't just one thing. It my nature, my core, to smile for all things. When I finish my daily accomplishments that brings me joy. When I finish my workout routine that brings me joy. I believe that, when we smile, we attract positivity in our lives. Especially now, during the pandemic, we need to find reasons to smile.
What led you to JP Morgan Chase?
The mobility opportunities within the firm. It is a great place to work because we have a different approach and focus on diversity, equity & inclusion. I am proud to work for a company who is so committed to diverse people. There are so many good people that we get the chance to work with.