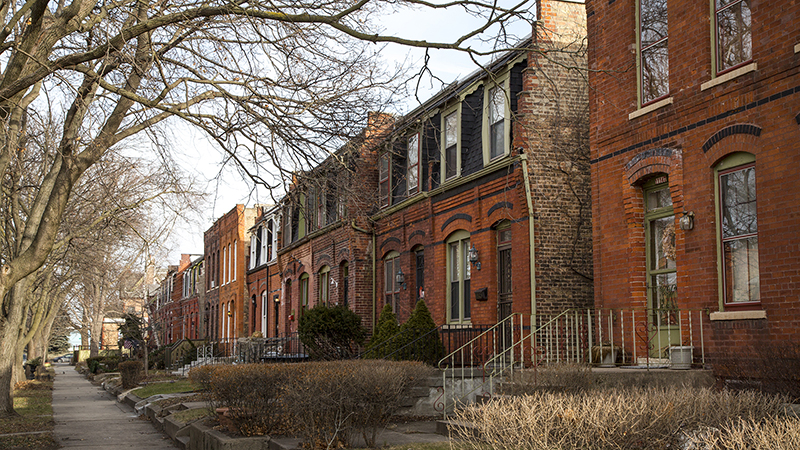 Stories
Chicago's Time to Reflect
The inaugural AdvancingCities Challenge winner is investing in opportunity for the West side.
Looking up at the famed "bean" sculpture in Chicago's Millennium Park, you can see your reflection framed against Chicago's grand skyline. There really isn't a better metaphor for the spectacular city: it's a place both grand and intimate. A place where you can be yourself, but also be part of a much bigger community. Equal parts hard work and celebration, history and future, Chicago has a diverse culture, grounded in Midwestern hospitality.
It's also the third largest city in the country. But what defines Chicago isn't its sprawl or its size, but rather the intimacy and personality of its many neighborhoods. From River North to Albany Park to Little Village, each part of the city has a unique culture and character.
This is especially true of the West side. Historic and diverse, the sector has produced—and inspired—many of the city's most famous residents, from Saul Bellow to John Belushi, L. Frank Baum to Benny Goodman. But it's no secret that the West side has fallen on hard times: many of its residents don't have the skills they need to get good-paying jobs and build financial security.
Not surprisingly, this has an effect on West siders' health and well-being: residents of the area have average life expectancies that are 16 full years shorter than those in more affluent neighborhoods. But the West side is also home to several major educational, cultural and medical institutions. And what many people don't know is these "anchor institutions," with their deep roots in the area, are vital to the strength of a neighborhood and an entire city.
So Chicago is engaging its anchor institutions – which happens to be one of JPMorgan Chase's 7 traits of Advancing Cities – to address community health in the neighborhoods. The partnership between these anchors, local residents and city leaders will play a vital role in lifting up surrounding neighborhoods, fostering community engagement and recruiting other businesses to support the local economy.
A big part of that work is West Side United, a group of anchor healthcare institutions that is committed to creating greater economic opportunity with the goal of improving health outcomes in West side communities. To do this, it is connecting low-wage healthcare workers to well-paying career pathways in hospitals, and supporting small businesses with procurement opportunities to help them grow and create local jobs.
West Side United just got a huge boost to accelerate its progress. It is one of five collaborative groups that won $3 million from JPMorgan Chase's AdvancingCities Challenge, an annual competition that promotes innovative and sustainable solutions to address the most persistent problems facing communities.
Chosen from more than 250 proposals across 143 communities, Chicago will be able to get some of the resources it needs to revitalize its underserved communities.
It's going to take time and dedication, but if there's one thing Chicagoans know, it's how to roll up their sleeves and get to work. Together with AdvancingCities, Chicago's leaders are working hard to make sure that everyone can gaze up at the city's glittering skyline and see themselves represented and reflected.
---
In Chicago, West Side United brings together Rush University Medical Center, Sinai Urban Health Institute, the Chicagoland Workforce Funders Alliance, Chicago Cook Workforce Partnership, Skills for Chicagoland's Future and Accion Chicago to implement a plan to benefit residents of Chicago's West side.
This is part of a five-part series on the inaugural winners of JPMorgan Chase's AdvancingCities Challenge. To learn more about AdvancingCities visit here. To learn more about the firm's 7 Traits of Advancing Cities, visit here.