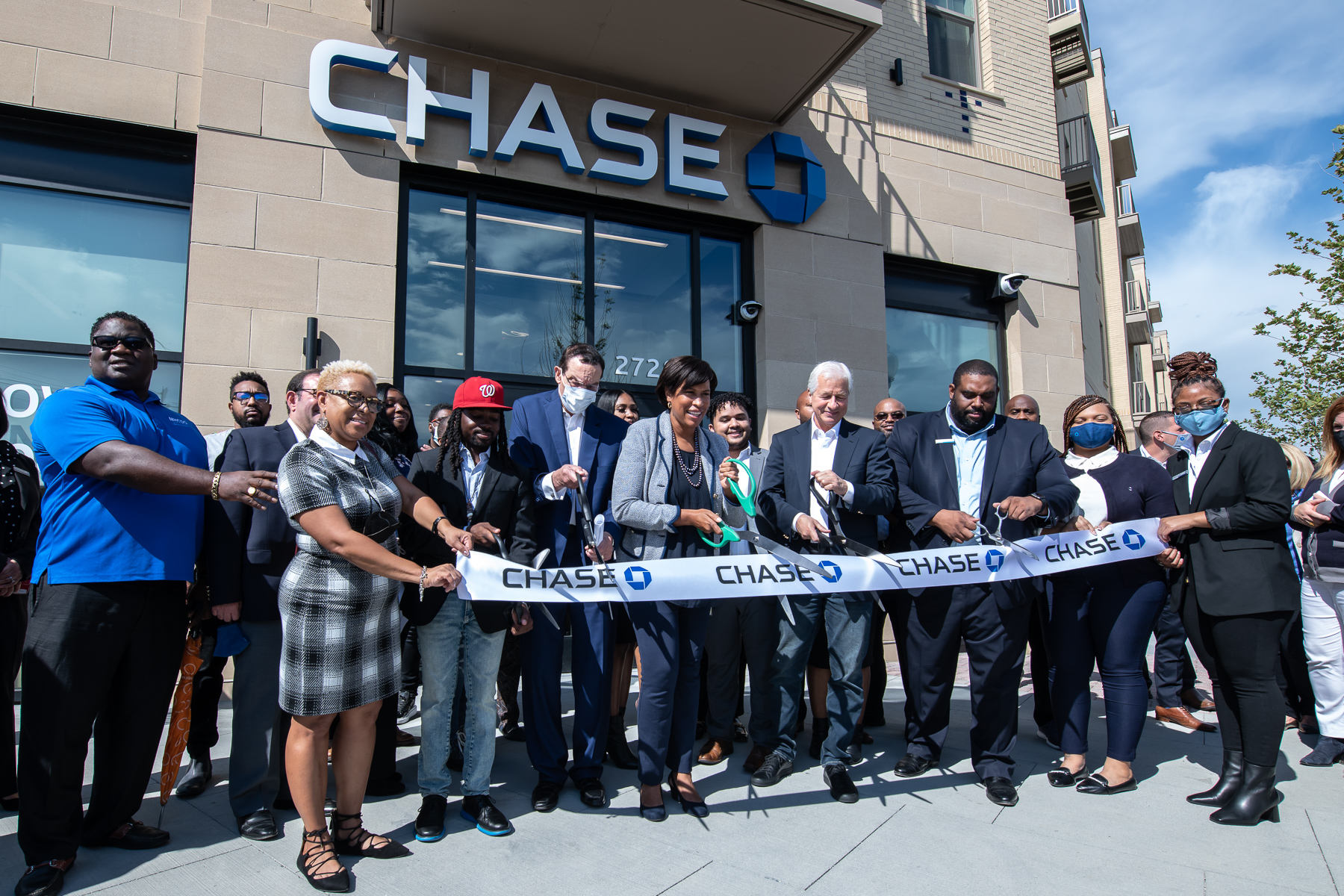 Stories
Chase Opens Innovative Branch in Skyland Town Center
Washington D.C. Ward 7 location features new community-inspired model to host financial health workshops, small business pop-ups, skills training
September 28, 2021 (Washington D.C.) –JPMorgan Chase has marked the grand opening of a completely new branch experience at Skyland Town Center in Ward 7. The branch is the first of its kind in the Greater Washington region -– an innovative, community-inspired model – and only one of 11 among Chase's 4,800 branches nationwide. This new branch format is part of the firm's continued $30 billion national effort to help advance racial equity and its business expansion and community investments in the region.
According to the FDIC about 1/4 of Washington's population is either unbanked or underbanked, and 26 percent of the D.C. area are below 200 percent of the federal poverty line. (Kaiser Family Foundation)

The branch's mission is to help Ward 7 and 8 residents and local small businesses realize a better financial future through free financial health and home buying workshops, business mentorship, skills training, and fintech solutions. Customers can enjoy free Wi-Fi and non-profit organizations and residents can access community space for a variety of uses.
"Our new Skyland Community Center is another example of our commitment in action. We want to help people build a strong financial foundation so they can thrive and build wealth," said Khamla Erskine, Chase's Head of Community and Business Development for Chase Market Expansion. "We're moving beyond community banking to community building and are deeply committed to Ward 7 and 8 so that residents can participate in the District's continued recovery."

"Business has a responsibility to help solve challenges facing the customers and communities it serves, and that includes addressing long standing racial and economic inequities that affect far too many neighbors," said Jamie Dimon, Chairman and CEO, JPMorgan Chase & Co. "We are excited to continue investing in Greater Washington because we see business, government and community leaders working across state and city lines toward a common goal of creating economic opportunity for more people."
Hiring Locally to Serve the Neighborhood

The branch includes a full-time community manager – a new role created by the bank. Ward 8 resident Brian Atkins was hired to engage the community and businesses to increase awareness of available resources and tools and help connect residents with financial health education and access banking and lending services.To date, Atkins has organized dozens of money management financial health workshops with local groups such as National Association for the Advancement of Returning Citizens (NAARC), Martha's Table, and Congress Heights Community Training and Development Corp.

A new Chase for Business program accelerates minority small business growth. Entrepreneurs will be matched with a senior business consultant who will provide three to six-month advisory services such as mentorship, business development coaching, and financial planning to help strengthen sustainable business growth.
Wards 7 and 8 will also have access to a full-time community home lending manager focused on helping more Black, Hispanic and Latino consumers achieve affordable and sustainable homeownership, and receive guidance for how to navigate the homebuying process.
"The Chase Skyland Community Center is going to help us give more residents and local entrepreneurs a fair shot," said D.C. Mayor Muriel Bowser. "The community worked for years to make the Skyland Town Center a reality, and now we want the results to benefit residents for many years to come. Supporting Washingtonians as they start and grow businesses and buy homes in D.C. is one way we can keep prosperity in the community and ensure the Skyland development lives up to the vision of the Ward 7 community – a site with new housing, a grocery store, good amenities, and jobs and opportunity for DC residents."
Skyland Builds on Chase's Long-Standing Commitment to Greater Washington

Since the announcement of Chase's Greater Washington expansion in 2018, JPMorgan Chase has exceeded its initial $25 million philanthropic commitment investing nearly $50 million to bridge the racial wealth divide in the Greater Washington region from Baltimore to Richmond by connecting more residents and small businesses with economic opportunity.

By combining a unique set of business, data, policy, and philanthropic resources, the firm is committed to improving the financial health, housing affordability and stability, as well as homeownership and small business opportunities for Black, Latino and Hispanic households with a focus on also supporting women of color. The firm also intends to share what it has learned from efforts with business, government, and community leaders and help drive further investment in the region.

The philanthropic commitments JPMorgan Chase has invested throughout the Greater Washington region has helped the firm's community partners to:

Assist: 10,526 small businesses with technical support
Deploy: $90M loans to small businesses
Create or retain: 11,951 quality jobs
Support: 4,893 units of affordable housing for low-income individuals below 60% area median income (AMI), and 2,822 units of affordable housing
JPMorgan Chase has been doing business in Greater Washington since 1999 and serves more than two million consumers and 70,000 business clients in the region. By the end of 2023, Chase will have opened more than 70 branches from Baltimore to Richmond and have hired more than 700 new Consumer and Community Banking employees.
###
About Chase: Chase is the U.S. consumer and commercial banking business of JPMorgan Chase & Co. (NYSE: JPM), a leading global financial services firm with assets of $3.4 trillion and operations worldwide. Chase serves more than 60 million American households with a broad range of financial services, including personal banking, credit cards, mortgages, auto financing, investment advice, small business loans and payment processing. Customers can choose how and where they want to bank: More than 4,700 branches in 38 states and the District of Columbia, 16,000 ATMs, mobile, online and by phone. For more information, go to chase.com.