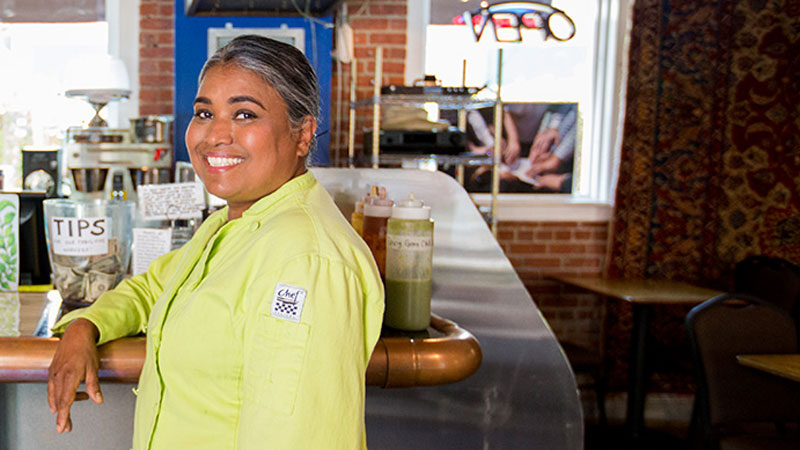 Stories
Serving Food, Creating Community
How an Indian Restaurant became a Chapel Hill Hub
As the folks in and around Chapel Hill enjoy Vimala Rajendran's cooking, they get talking, usually in superlatives. Some insist it's the best Indian food in the state; others say it's the best food they've ever tasted, period.
For over a decade, Vimala ran an underground takeout restaurant from her Chapel Hill house. It began when neighbors caught enticing aromas coming out of her kitchen and encouraged her to cook meals to make a little money. Once a week, people came by with plastic containers to bring home cardamom-scented dishes she had learned to make growing up in Bombay. Many diners ended up chatting or helping clean up. The meals grew to become community dinners, sometimes with live music and over 100 people.
Eventually, Vimala heard about an available restaurant space. Her neighbors loaned her the necessary $80,000 to start a licensed Cafe.
"We have been put into business by this community," she says. "People rallied around our family and came to our table."
In 2010, Vimala and her husband, Rush Greenslade, opened Vimala's Curryblossom Café, and immediately gained a devoted following. For the grand opening, 1,000 people showed up in the rain. "It's just because the community loves Vimala," says Rush, who is also the Cafe's general manager. "They know that her heart wants to give them the very best food that she can." Beginning with six staff members, the restaurant now employs 25 people.
Vimala supports the community every way she can. She sources food locally, reduces solid waste and keeps prices affordable. "We are a triple bottom-line small business," she explains. "We emphasize people, planet, profit."
"Vimala and I have lived here for 30 years and we believe that the small businesses are the heart and soul of this community. They are rooted in this community. Their employees are from this community. The money that goes to our local suppliers stays in the community."
Rush Greenslade, General Manager
Believing that healthy, fresh food is a human right, Vimala and Rush collect donations for those who can't afford a meal at the restaurant. "There is so much food in this great, affluent country of ours that no one should be turned away," Vimala says. "We always knew we wanted to feed everyone who came in the door." A donation jar on the counter allows diners to participate in this mission.
Vimala loves cooking and talking with customers, but it's been challenging to run a small business. "One of the things I didn't know coming into this is how pieces had to come together: financial management, public health compliance, staff training," she says.
A $100,000 grant from Chase will ease this strain. This September, Vimala's Curryblossom Café received one of Chase's 20 Mission Main Street Grants®. The grant will allow Vimala to expand.
"Being a Chase Mission Main Street Grant recipient means the world to us," notes Vimala. "With the grant money, we hope to maybe launch a food truck, so the food can go far and wide. We hope to have a little padding so we don't worry about the cash flow every single day. We hope to hire one or two employees who can help grow the business even further."
Learn more about Mission Main Street Grants®
By Rebecca Dalzell
Rebecca is a journalist who lives and works in New York City.