News
Gift More Gifts: Chase Freedom Cardholders Can Earn 10% Cash Back This Holiday Season
November 27, 2015 – In time to help holiday shoppers tick through shopping lists while saving time and earning cash, Chase Freedom will offer cardholders an extra 5% cash back (for a total of 10%) on up to $1,500 in new combined purchases at Amazon.com, Zappos.com, Diapers.com and Audible.com from November 23 through December 31.
Shoppers will be able to easily gift themselves something fun with their Chase Freedom rewards.
Cardholders will have their current quarterly bonus maximum dollar amount reset on November 23 so they can earn the total 10% on up to a full $1,500. Cardholders earned 5% on up to $1,500 in combined purchases in these bonus categories from October 1 –November 22. Cardholders who are not activated for the current quarter bonus categories earn need to do so by December 14. New Chase Freedom cardholders can now receive a $150 bonus for spending $500 in their first three months.
This season, shoppers will be able to easily gift themselves with something fun by redeeming their Chase Freedom rewards using the Chase Freedom Mobile App available on both the Apple App StoreSM and Google Play™, at the register of many of America's favorite holiday shopping locations. Thirty popular merchants including Toys"R"Us®, Target®, and Lowe's® are already Chase Freedom Mobile App merchants and last week, 9 new merchants came aboard, including Nordstrom®, Barnes and Noble®, Forever 21®, and more.
With these exciting promotions, savings and rewards, it's the perfect time for holiday shoppers to gift something fun for themselves. Chase Freedom's new survey reveals that self-gifting is part of the American holiday shopping spirit and other fun holiday shopping habits:
47% of Americans who have self-gifted say holiday shopping puts them in a good mood, which encourages them to buy a gift for themselves
33% look forward to holiday shopping for others because it gives them the opportunity to shop for themselves as well
60% of holiday shoppers who have a credit card that offers rewards or points are likely to spend their rewards on gifts for others
77% of holiday shoppers who have a credit card that offers rewards are likely to use the rewards they earn holiday shopping on gifts for themselves
Learn more facts from our survey in this infographic below: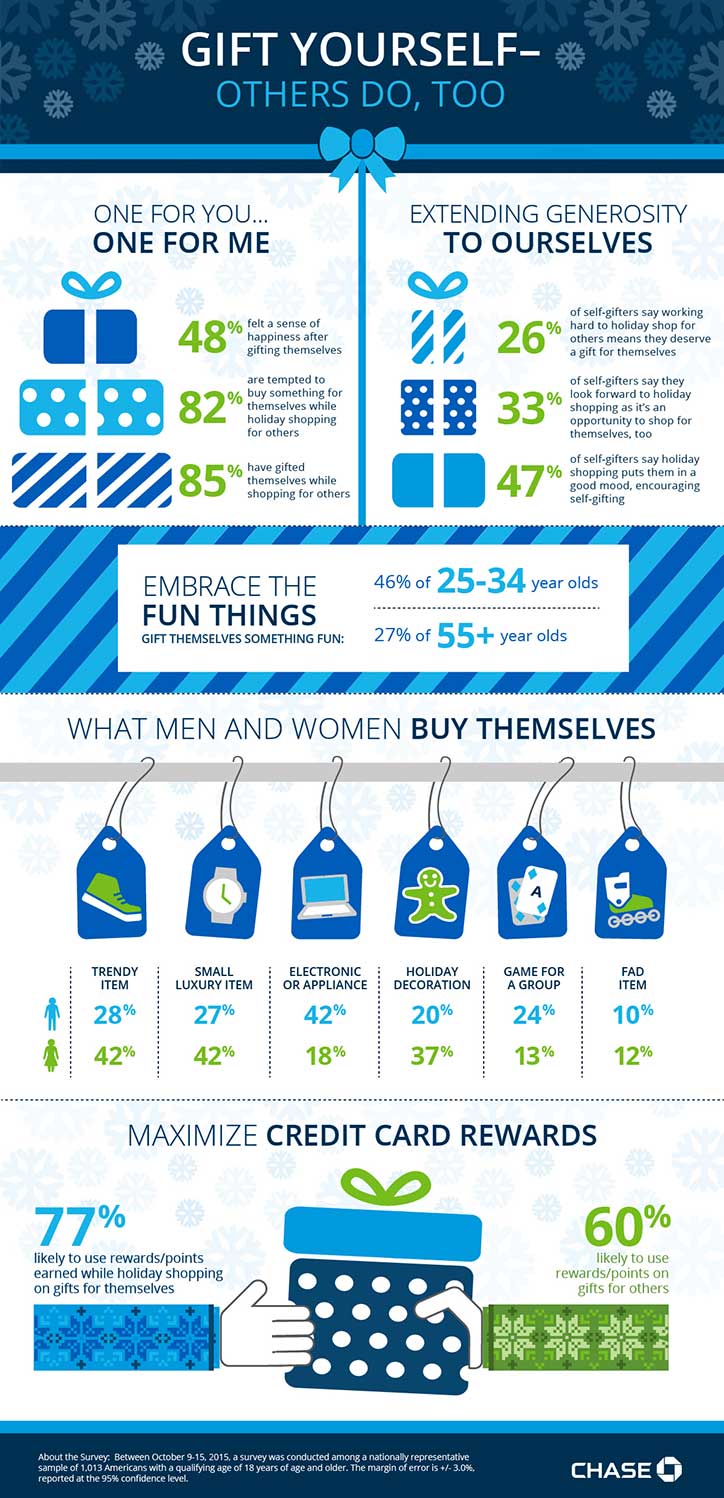 About Chase
Chase is the U.S. consumer and commercial banking business of JPMorgan Chase & Co. (NYSE: JPM), a leading global financial services firm with assets of $2.4 trillion and operations worldwide. Chase serves nearly half of America's households with a broad range of financial services, including personal banking, credit cards, mortgages, auto financing, investment advice, small business loans and payment processing. Customers can choose how and where they want to bank: 5,400 branches, 18,000 ATMs, mobile, online and by phone. For more information, go to Chase.com.